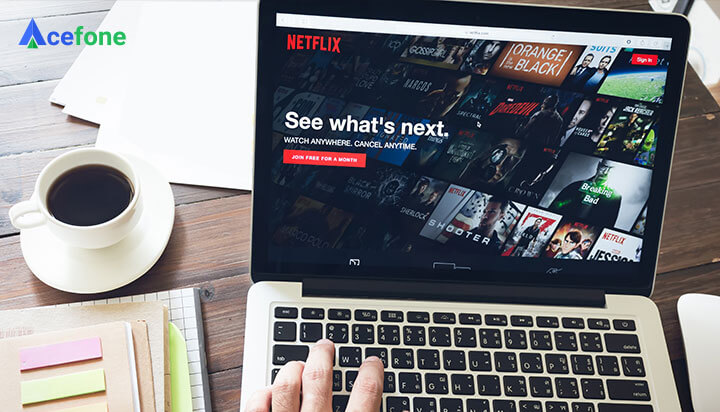 It's a cold, lazy Friday night, and you have no plans whatsoever—thanks to the exhausting week at work.
But who said Friday nights are meant for parties anyway?
No, instead imagine this: You curl up in bed in your cosy pyjamas, get some snacks, and binge the latest content on Netflix—all alone, enjoying every bit of it.  
Founded less than 20 years ago, Netflix has now become the biggest OTT (over-the-top) content platform and streaming service in the industry. It has been reported that Netflix, as of the third quarter of 2020, had 195.15 million paid subscribers worldwide—not even counting the people sharing accounts. This popularity is due to Netflix's huge catalogue of films, documentaries, TV series, and even original content—all personalised according to the viewer's preferences.
But as many of you veteran movie buffs may know, Netflix did not start off as a content streaming company. 
When Reed Hastings and Marc Randolph founded Netflix in 1997, its business model was based on a DVD rental system sent by mail to the entire United States. That is, in their initial years, they mainly sent physical copies of films, shows, video games, and other media through the American standard mailing system in a pay-for-use model.
What started as a frictionless DVD rental business evolved into a gamechanger for the industry—pioneering the popularity of online streaming and original content. 
However, one thing remained constant through all these years—Netflix is customer-obsessed.
Todd Yellin, Netflix's VP of Product Innovation, in an interview with The Guardian, stated that "We own the Netflix customer experience from the moment our customers sign up, and for the whole time they are with us, across TV, phone and laptop."
Keeping its user-base at the core for all decision-making and business strategies have worked wonders for the brand. Netflix has emerged as the undisputed king of the entertainment industry.
Let's dig deeper and explore some customer service lessons we can learn from Netflix and how they perfect their user experience.
1. Personalisation all the way
"If the Starbucks secret is a smile when you get your latte, Netflix's secret is that the website adapts to the individual's taste." – Reed Hastings
Think finding the perfect binge-worthy series on Netflix is a coincidence? Think again. 
It is all due to multiple AI algorithms that identify and present personalised content to each user. (yes, your own customised home screen!)
When you browse the homepage, the first thing you see is a list of media to "continue watching", followed by categories like "see it again", "you may also like" and "because you watched XYZ". 
Netflix's key to personalisation is offering content to users based on things they've already enjoyed—so they end up binge-ing one series after another.  
The company has developed cutting edge machine learning algorithms to determine its users' preferences. In fact, if you open up a certain movie or TV show summary on the site, you can see a percentage indicating how much the chosen media matches your interests. 
Such dedication to personalisation and customer experience keeps the clientele happy and loyal. 
This formula can be applied for businesses of every type. If you know what your audiences like, you can tailor their needs accordingly and build better relationships. 
Here's how to do it:
Deploy AI algorithms and feed recommendation engines with relevant and sufficient data to learn from.
Essentially, allow your customers to choose their story and their journey with your brand. 
2. Keep the customers engaged
Customer retention and engagement are two really important factors when it comes to a subscription company. If customers start doubting the product, become dissatisfied, or fall out of love with it, you risk high abandonment rates. 
To battle this issue, Netflix has strived to keep changing and improving. It incorporated a new viewing experience for users with its children shows (kids mode), while the release of the interactive movie Black Mirror: Bandersnatch was a fresh move to engage adults. 
Netflix is the best example of the use of data in the media industry. It conducts over 250 A/B tests each year, to gather data and analyse how customers respond to it. 
Here's how to do it:
Offer new value to customers every time they visit your site. Conduct surveys to gauge public opinion and create more accurate buyer personas. You can use this data to add elements that will appeal to your target audience especially.
Keep them engaged by enhancing their product experiences and offering more than what they asked for. 
3. Use the right tools for the right job 
Technology plays a crucial role in creating memorable customer experiences. The only reason Netflix has been able to cater to such a wide array of audiences in a personalised manner is because of its heavy technological investments.
Simple, yet essential tools like accurate landing pages, personalised emails, and complex tools like live chat and artificial intelligence can all be used to create the perfect experience. 
The recommendations on the site are based on customers' searches, views, scrolls, and rating data, as well as the time, date, and device to predict viewers' interests. 
They also incorporate open-source software tools like Hadoop, Java, MySQL, and dozens of other systems to bring for us The Black Orphan and The Walking Dead (and much more).
And what's even better is Netflix's efforts to engage customers through collecting data and providing content via customer devices. For example, Netflix is finding ways to connect with IoT devices like Fitbit and even socks (to monitor if the user has fallen asleep).
Here's how to do it:
Invest in the latest technology—it will not disappoint. Cloud-based tools are the way forward for improving customer experience across industries. 
4. Be customer-obsessed from day one 
Netflix is a customer dedicated company. They are well aware of the fact that each viewer has a unique preference and experience while choosing their own narrative.
Moreover, the company has made it easier for customers to navigate through the app and explore the content of their choice. 
Overall, they extend exceptional customer service and help their users onboard smoothly while giving them complete autonomy to cancel their subscription anytime they want. 
Wrapping Up
Netflix's technological and innovative transformations have always kept customers at the centre point of consideration. Experiments with deep learning technologies bring extended personalisation to the way it delivers content.
Providing best-in-class customer service is synonymous to a company's growth. Thus, organisations must focus on creating client-centric brands that keep consumers at the heart of everything they do. 
Explore our content repository to gain access to more customer focussed content: visit https://www.acefone.com/blog/.
Or get to know more about the scope of cloud communications for your business by getting in touch with our experts at 0800-084-3663 or [email protected]. 
Kritagya Pandey is a creative and technical content writer, editor, and strategist. She has been writing on customer experience, customer service, artificial intelligence, cloud communication, and more.
She invests her time researching the current business, market trends, and studying about social media strategies.
https://www.acefone.com/blog/wp-content/uploads/2020/12/delivering-perfect-customer-experience-with-Netflix.jpg
412
720
Kritagya Pandey
https://www.acefone.com/blog/images_acefone/logo.png
Kritagya Pandey
2020-12-14 08:57:53
2023-03-24 11:12:16
Delivering Perfect Customer Experience With Netflix: See What's Next