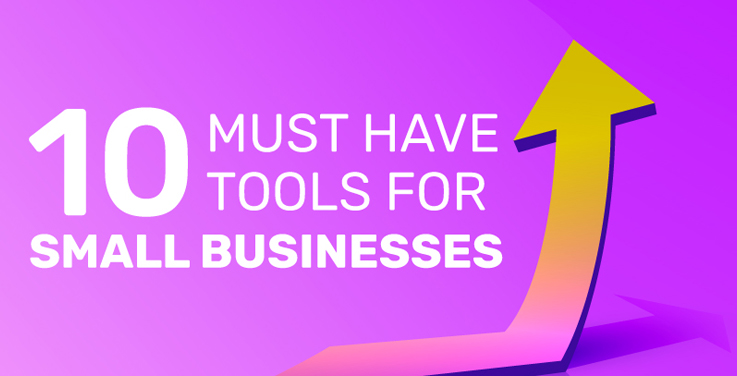 A new business is often loaded up with a lot of different tasks and in order to keep up with those tasks while also maintaining high efficiency in the business, it is crucial to implement helpful tools.
With so many applications available to you currently, it can be hard for any business owner to select the best for their business requirement.
We understand how much time consuming it can be to pick the right tools to work with. After all, you have to be precise with what your team can best work with.
To save you from such a hectic task and make you work smarter instead of harder, we have shortlisted 10 of the must-have tools that your small business can implement to improve productivity.

1. Slack
Slack is an instant messaging app that creates a room for the entire company or specific teams.
Slacks provide a conversation platform so that instead of exchanging several emails you can simply chat with each other.
You can organise your company communication by creating several personal and private groups based on teams, departments, projects, or any other business requirement.
Slack also enables file-sharing, phone calls, and other features to improve employee interactions
2. G Suite
G Suite is a business suite of cloud computing services, productivity tools, collaboration tools software and products developed by Google cloud.
G Suite comprises of Gmail, Hangout, Google Drive for storage, Docs, Sheet, Slides, Keeps, etc. It also offers an admin panel to manage users and services for your business.
You can also get your domain and set-up custom emails for your organisation.
3. Google Analytics
Google Analytics is a statistics tool for your business website.
You can track all the activity on your website like where do most of your users come from, what pages they visit, how much time they spend on each page, the demographics of your target audience, etc.
It displays data in a user-friendly manner which charts and graphs which make it very interactive.
 4. Square
Square offers many payment services for business, out of which the most popular is the portable card reader that attaches to your mobile phone or iPad to make and receive payments.
Your business doesn't have to miss out on any sale if the customer does not carry cash, with Square, you can carry your credit card machine with you at all times anywhere.
5. Acefone
Acefone provides cloud-based VoIP services for your business such as Hosted Phone System, Free Phone Number, and Contact Centre Solutions that provide you with uninterrupted communication.
Because of the need for no physical hardware, it is cheaper than the traditional phone system. Acefone provides a variety of features like IVR, Music on Hold, Call conferencing, etc. to simplify your communication with employees as well as customers.
With Acefone's hosted solutions, you can still have excellent customer interactions even while working from home as they offer remote access to their portal, making sure you get Seamless Communication, Always.
6. Evernote
Evernote is an information organisation tool that offers 3 basic features – capture, find and access. Evernote is uniquely designed to help you manage your tasks.
It also enables you to save relevant information as notes from the internet. The notes can be saved as texts, images, or any kind of web content that you like. It is available on all the platforms and even offers a free version.
7. Toggl
Toggl is a web-based application used for tracking time and reporting. It allows you to track your time across different platforms and gives you detailed insights on how you spent your valuable time.
With an in-depth analysis of your time, you can easily improve your workflow and manage your time better.
It can also keep track of all your customers and agents and can be synced with different projects and management applications.
8. Paypal
Paypal is a widely known application for online money transfers. Paypal enables international money transfer and connects directly to your bank account.
It is a very secure and reliable application for money transfer. It accepts all credits to minimise payment hassles. It even connects to your online store and handles processing, security and mobile compatibility.
It can also generate invoices for your business and is capable of converting payment in any currency to the currency that you prefer.
9. MailChimp
MailChimp is one of the most popular email marketing platforms out there and is widely used by businesses of all scale. It offers an all-in-one platform for marketing to businesses that help in managing customers.
MailChimp provides you with attractive email templates that are easy to use and modify and also helps in improving conversions.
You can use MailChimp even if you have no tech or designing knowledge and still ensure a lot of traffic to your website or even creative pleasing forms that your customers could interact with. It offers free and paid plans depending on your business needs.
10. Buffer
Buffer is a software application which is designed to manage social media accounts by allowing you to schedule posts for Twitter, Facebook, Linkedin, Instagram and Pinterest.
It also enables you to track the performance and analyse the results of each post and also engage with the community. Buffer is available for both web and mobile devices.
Conclusion
Only you know what is best for your team and business. Small business owners are always looking for ways to be more successful and stay ahead of their competitors.
These tools will help you connect with your customers better and make your business processes easy.

Ratnam is an SEO enthusiast and content writer working as a Digital Marketer with Acefone. He is fond of traveling and new experiences. He is a huge Marvel fan and is always open to learning.
https://www.acefone.com/blog/wp-content/uploads/2020/06/must-have-tools-small-businesses.jpg
376
737
Ratnam Sinha
https://www.acefone.com/blog/images_acefone/logo.png
Ratnam Sinha
2020-06-29 07:40:28
2023-01-20 11:36:38
10 Must Have Tools for Small Businesses [Infographic]