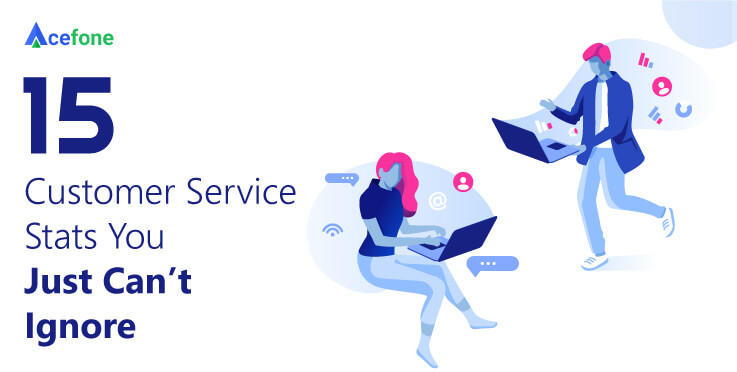 Ever wondered why most people visit their favourite coffee place again and again? Why is it that some brands are able to retain most of their customers? And, more so, how can one ensure the same customer sticks with them in the long run?
The answer lies in the degree of customer service brands offer to their clients. 

Let's go through some revelatory customer service statistics that will make you realise the importance of excellent customer service and why you should extend it!
Keep Customers Happy: These Numbers Will Show You The Way
1. A customer is four times more likely to buy from your competitor if they face service-related problems rather than price or product-related issues. – Bain & Company
2. 68% of customers leave brands because they feel that they haven't been treated well by them. – U.S. Small Business Administration
3. 64% of customers cited shared values as the primary reason for a strong brand relationship. – Harvard Business Review
4. It costs five times as much to attract a new customer than to keep an existing one. – seohosting.com
5. 73% of businesses trust recommendations from friends and family, while only 19% trust direct mail. – Forrester Research
Impact of Positive Customer Experience on Your Customers
1. Customers are likely to spend 140% more on a brand after a positive experience with a business than customers who report a negative experience. – Deloitte
2. Businesses that establish an emotional connection with customers out shadow the sales growth of their competitors by 85%. – news.gallup.com
3. 59% of customers feel that companies should provide cutting-edge digital experiences to feel their business. – salesforce.com
4. Companies that earn $1 billion a year will see an average gain of $700 million within three years of investing in customer experience. – Deloitte
5. 80% of customers say they are more likely to do business with a company if it offers personalised experiences. – eplison.com
Role of Customer Service Channels
1. 66% of consumers have used at least three different communication channels to contact customer service. – Microsoft
2. 33% of customers have contacted a company using Facebook and similar social channels. – Forrester
3. 66% of customer service teams use knowledge bases, compared to 82% of customers who use knowledge bases (e.g., online FAQs). – salesforce.com
What is The Cost of Bad Customer Service?
1. After facing one negative experience, 51% of customers will never do business with that company again.  – helpscout.com
2. 74% of people are likely to switch brands if they find your purchasing process too complicated. – instantsearchplus.com
Get in touch with our team by dialing 0800-084-3663 or drop a mail at [email protected] to get started on your cloud journey.
Kritagya Pandey is a creative and technical content writer, editor, and strategist. She has been writing on customer experience, customer service, artificial intelligence, cloud communication, and more.
She invests her time researching the current business, market trends, and studying about social media strategies.
https://www.acefone.com/blog/wp-content/uploads/2020/09/customer-service-stats.jpg
372
737
Kritagya Pandey
https://www.acefone.com/blog/images_acefone/logo.png
Kritagya Pandey
2020-09-14 11:20:16
2023-01-23 05:49:31
15 Customer Service Stats You Just Can't Ignore [Infographic]