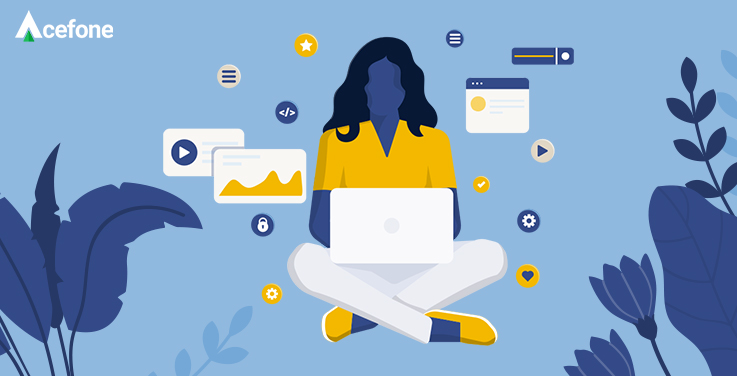 Businesses have left no stone unturned to provide uninterrupted services to their customers amid the current pandemic situation. With the majority of the workforce working in a remote environment, it has become cardinal to explore mediums that ensure unified and streamlined communication across a distributed working setup.
Though fully-established organisations have the luxury of opting for communication systems irrespective of their pricing, SMBs are compelled to choose from the solutions that fit their budget. However, they shouldn't compromise on the quality of services or features offered. This constraint is taken charge by Unified Communication as a Service model (UCaaS). 
Let us understand more about UCaaS.
What is UCaaS?
Unified Communication as a Service is a cloud-based communication system ideal for businesses of all sizes. It comes with several features that include telephony and voice, audio and video conferencing, real-time messaging, and presence.
Adopting UCaaS has numerous advantages. To begin with, it eliminates the need to invest in any physical infrastructural set-up on-premise, being a cloud-based technology, setting up UCaaS is completely taken care of by your service provider. Also, your service provider will work on continuous updates and maintenance. This means you will have the advantage of tapping into the latest disruptive technology in the market at no additional costs.
Not just this, but UCaaS comes with customisable pricing plans that suit every specific requirement of your organisation. This comes as a boon in disguise for SMBs since they can choose the pricing plans according to their requirement and upgrade whenever they want. 
So, how do these customisable pricing plans prove to be another feather in the cap of unified communications? Check out right away!
1. Boosts the adoption rate
According to a report by Markets and Markets, the global UCaaS market size is expected to grow from USD 15.8 billion in 2019 to USD 24.8 billion by 2024. This is a compound annual growth rate of 9.5%.  
The key factors driving this growth are the increase in demand for UCaaS in large scale organisations and SMBs along with the growing preference towards mobility and Bring Your Own Device (BYOD).
Unified communication as a service aims to eliminate issues that you may encounter during communication with your connected workforce. It majorly focuses on delivering high-end voice communication. However, it is coupled with the capabilities of AI that include intelligent call routing and sentiment analysis. 
UCaaS has the competency to escalate a message from the customer to a phone call or a video call if the need arises. 
Traditional communication systems demand the need to establish an on-premise infrastructure setup that may consume a lot of costs. Moreover, not all organisations are equipped with the technical know-how to develop and accommodate a communication system. 
UCaaS is a cloud-based communication system that offers centralised communication across a distributed environment. Your service provider ensures to facilitate and take care of all the initial infrastructural and technical requirements. This means you will be charged only for the services you have opted for.
These benefits help to attract more organisations and compel them to use the UCaaS model in their working environment to ensure undisrupted services. Again, the capability of UCaaS to offer uninterrupted services improves productivity and growth of organisations thereby creating a win-win situation.
2. Offers better scalability
The current pandemic situation has left several businesses grappling to survive due to major economic slowdown and reduction in sales. Consider a scenario where you have adopted an on-premise communication system. You may have spent a sizable amount on the initial infrastructure. 
As these systems demand continuous maintenance and updates, you may have to hire a dedicated team for consistently updating this communication system.
In the middle of this pandemic, when your employees work from a remote environment, there are chances for your usage levels to decrease or even increase based on the need for your products and services. Your on-premise communication may not be able to adjust based on your infrastructural requirements. 
This may either result in you wasting the infrastructural space or working with a lack of the same. 
This huge concern is taken care of in cloud-based UCaaS systems. Your service provider will be able to size up and down based on your specific infrastructural requirements. You will just need to inform them when there is a need. 
The feature of customisable pricing helps reduce money spent on unused and idle infrastructural space.
3. Proves to be flexible
UCaaS comes with features of high-end flexibility and can be used based on the particular needs of your organisations. This cloud-based communication system drives uninterrupted operations across geographical locations. 
Now when your employees work from remote locations, they will need to be equipped with tools that support them during work. This includes file sharing, document updating, and file transferring to name a few. They may also need access to centralised repositories of data. Integrating different business tools within your organisation might help streamline this entire process. 
UCaaS offers customisable pricing plans that are best suitable for your requirements. You will need to inform your service provider about the details of the integrations required. Your payment includes just the additional development work implemented. 
This kind of flexible approach supports you from adding state-of-art capabilities to your technical environment whenever required in a hassle-free manner.  
4. Ensures additional benefits in disaster recovery, security, and business continuity
UCaaS, a cloud-based communication system, comes with disaster recovery capabilities that ensure business continuity. A cloud system makes sure to take constant back-up of your data. 
This enables you to immediately restore business-critical data in case of a crisis. Disaster recovery includes many features like data transfer facilities and archive data repositories. They may also include data processing tools.
You will need to choose the features your organisation will need in case of a crisis. You should consider several scenarios ranging from a cyber attack to a fire in your data centre. Again, this doesn't mean that you cannot scale up the features. You are free to add capabilities to your list when you need them.
Furthermore, your service provider will ensure that your communication system is compliant with industry security measures. However, as your business includes customer sensitive data, you may prefer to add a few more security procedures based on your market need. This can be easily incorporated by your service provider.
Making sure of business continuity even after downtime is one of the major capabilities of cloud-based communication systems. This primarily includes identifying and checking for resiliency synchronisation in between business processes and IT infrastructure. 
However, your service provider may perform a complete business continuity consultation if you need it. This will include steps like an assessment of your communication system, planning, designing, implementation, and testing of the system.
Your bill is solely based on the plans and features you choose. This ability to customise and adjust according to your requirement makes UCaaS the most preferable communication system amongst businesses. 
5. Provides cost-effective services
As mentioned above, UCaaS does not need an upfront investment for the initial infrastructural setup. It offers you access to enterprise-level technology without additional costs. You will not need to spend on hiring a dedicated technical team to maintain the communication system.  
All these are taken care of by the service provider at no cost or minimum expenditure. If you require additional updates or access to extra technologies, your bill is customised based on your tailor-made needs. This nature of customisation helps reduce IT spends along with helping you to dedicate your time and funds to core business activities. 
Parting Words
The need for organisations to have a unified communication system in place has grown over time. Businesses will have to cut across geographies to collaborate amongst their teams and also augment their customer base. 
Unified Communication as a Service proves to be an effective system that helps organisations establish hassle-free connectivity. Hopefully, the above-mentioned points offer a peek into a few of the advantages of customisable pricing plans UCaaS provides to businesses.
Contact Acefone at 0800-084-3663 or send us an email at [email protected] to get your UCaaS solution today. 

Olivia is an outgoing person who enjoys writing, is an SEO enthusiast, and often interacts with others in intellectual conversations. She enjoys listening to music in her free time. Connect with her on Linkedin
https://www.acefone.com/blog/wp-content/uploads/2020/12/customisable-plans-in-ucaas-solution.jpg
376
737
Olivia Trott
https://www.acefone.com/blog/images_acefone/logo.png
Olivia Trott
2020-12-29 12:04:46
2023-03-23 11:44:59
How Customisable Pricing Plans Are A Plus in a UCaaS Solution?