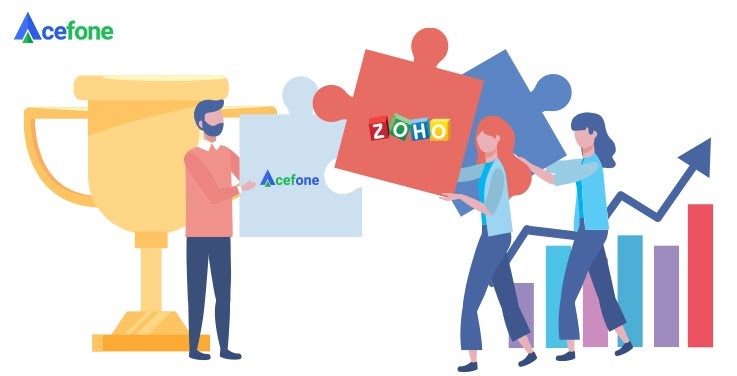 Opting for a hosted business phone system is always a good idea. Getting it from Acefone is even better!
Acefone is the leading cloud communication service provider in the UK, offering tailored solutions to meet all your business needs. From measuring agent performance to monitoring each call, we've got it all covered.
Similarly, Zoho CRM provides the best-in-class omnichannel communication platform that unifies all your business processes and helps you streamline your work. Detailed insights on the portal help you manage all customer interactions from a single platform.
Both Zoho CRM and Acefone provide with powerful features. As robust as they are separated when combined, they can take your operations further up a notch. This would be one of the best decisions for enhancing your business communications! 
Here are a few things about the Acefone and Zoho integration that you absolutely need to know.
1. Click to call
Why not make your agents' lives much easier? This service, as the name suggests, allows you to initiate a call with a single click straight from the Zoho CRM platform. 
Once the Zoho PhoneBridge is enabled, all your Acefone contacts will be synced with the CRM. With click to call service at hand, your staff will save time otherwise spent on manual dialling and switching devices and apps. Agent productivity also witnesses a boost. 
2. Caller information
Once your agents connect on a call through the Zoho CRM platform, a business card will pop up on the screen. This card will show all the relevant information about the customer, including details of the previous interaction—if they have made a purchase before, any issues previously faced, etc. 
The business card helps your reps prepare for the calls better, and in turn, provide an excellent customer experience. This not only boosts agent performance but also improves your firm's quality of service, thereby boosting your brand reputation.
3. Follow-up
After successfully integrating Acefone with Zoho CRM, agents can create a new contact for the lead during the call. This means they don't have to wait for the call to end and then retrieve the information shared by the customer. 
Additionally, agents can also add follow-up activity detail for the lead to ensure appropriate actions are being taken to help the client. Even if the agent that added the follow-up detail is not available on the date requested by the customer, other agents can easily access the stored information. This leads to maximum customer retention, and therefore,  increased profits.  
4. Lead management
With this seamless integration, you can view the entire call log from Acefone on your CRM platform. Maximise your conversion rate by enabling agents to pick out quality leads from the ocean of data. When your reps get deep insights into the customers, they can connect with them better. If the same lead is connected again, all the details of the previous conversation can be retrieved immediately.
5. Real-time analytics
Acefone and Zoho integration brings one of the most useful features for businesses—real-time analytics. And why is it so important? It lets you monitor each call just as it is happening. You can check on every agent that is on call and even listen to their conversations to assess the quality. 
If needed, you can enter an ongoing call using whisper or barge features to aid your employees with efficient query resolution.  Moreover, the dashboard is updated in real-time with useful insights. You can check the average call duration,  first call resolution, the number of missed calls, the average duration of each agent on call, and other such metrics on the Acefone dashboard.
In a nutshell
After integrating Acefone with Zoho CRM, you can easily manage all your business activities and simplify your work processes. You get the benefit of two, in one single platform. This allows you to boost your business results and increase agent satisfaction as well. 
With simpler ways to build connections and crucial information in hand, your staff performs better and converts more leads into loyal customers. As a result, there is a boost in your business productivity as well as agent performance. You can take your business to new heights and become the top provider in the industry.
Have you integrated your cloud phone system with a CRM yet? If not, what are you waiting for? Contact our sales team at [email protected] or call 0800-084-3663 to get started now.

Ratnam is an SEO enthusiast and content writer working as a Digital Marketer with Acefone. He is fond of traveling and new experiences. He is a huge Marvel fan and is always open to learning.
https://www.acefone.com/blog/wp-content/uploads/2020/09/acefone-zoho-crm-integration.jpg
376
737
Ratnam Sinha
https://www.acefone.com/blog/images_acefone/logo.png
Ratnam Sinha
2020-09-28 11:18:11
2022-04-26 06:29:31
Things You Need To Know About Acefone+Zoho CRM Integration