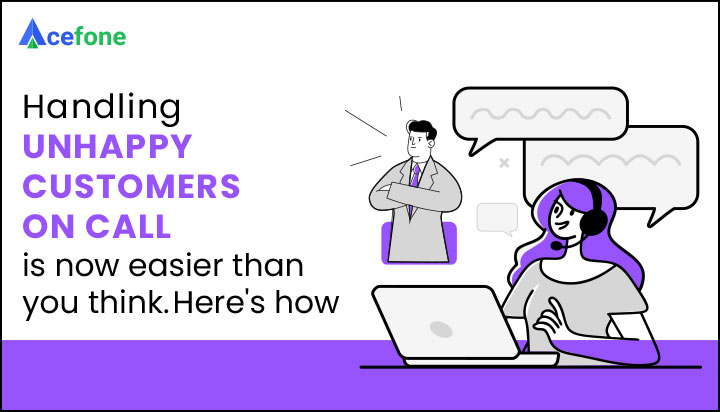 Handling customer calls all day long can be daunting and tiresome.
You will come across a variety of customers. While some of them are really courteous, others can be a nightmare and an unpleasant experience altogether. 
Sometimes, you may have to deal with irate customers who are unhappy with the product or the experience they may have had with the company. 
However, you can pacify such irate customers through the skillful use of language and presence of mind.
Golden rule of customer service: Show empathy
While this may sound a bit obvious, it is essential to empathise with your angry customers. You have to understand that their situation arises out of their purchasing experience, failure of the product, or maybe due to the quality of service.
After all, it can be really frustrating for customers to spend money on products and services that do not live up to their expectations. What can be worse is an unsympathetic and non-helpful approach of the agents. 
The first way to calm down your infuriated customers is to acknowledge their problems. Ask them questions to understand what about the product upsets them and then look for the possible solution. 
The next step would be to apologise to customers for the inconvenience even if it is not the firm's fault. You can say something like, "I am sorry you had to deal with this; I will just resolve the problem." 
What else can you do to prevent customer rage?
1. Apologise – Sincerely and personally
The key is to be a 'truly empathetic-not sympathetic' customer service agent. Take into consideration the customer's problem and pacify them with a sincere apology. 
2. Stay calm and courteous
To deliver high levels of customer service, it is essential to stay calm and polite. Shouting back at the customers is a big no-no as it will definitely worsen the situation. 
3. Develop a common 'answer-database'
To maintain an equilibrium between the frontline and backline employees, develop a common answer base. It will help the backline employees to coincide with the turnaround time quoted by the customer service agents and hence, improve the quality of service. 
Let's walk through the infographic to understand some ways in which you can effectively handle unhappy and angry customers-

Kritagya Pandey is a creative and technical content writer, editor, and strategist. She has been writing on customer experience, customer service, artificial intelligence, cloud communication, and more.
She invests her time researching the current business, market trends, and studying about social media strategies.
https://www.acefone.com/blog/wp-content/uploads/2020/12/tips-to-handle-unhappy-customers.jpg
412
720
Kritagya Pandey
https://www.acefone.com/blog/images_acefone/logo.png
Kritagya Pandey
2020-12-15 11:54:19
2023-03-24 11:11:43
Handling Unhappy Customers Is Now Easier Than You Think. Here's How. [Infographic]