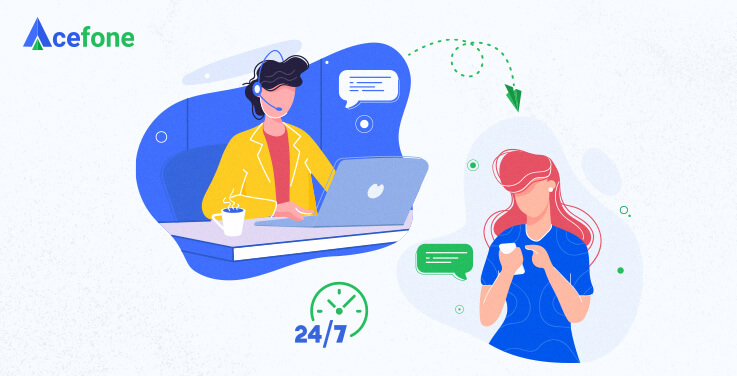 Modern customers expect quick responses from businesses. And these expectations have only risen with the proliferation of social media platforms. Studies have shown customers do not hesitate to switch brands when exposed to poor service.  
One successful strategy to keep service levels high is by improving your customer response times. Doing so helps you resolve customer queries speedily and efficiently, effectively allowing you to win and retain more customers than your competitors.
This article will delve into how your business can use modern technologies, like hosted phone systems, to exceed customer service expectations and deliver results in a prompt manner. 
Use free phone numbers to encourage inbound calls
Businesses must make themselves easily accessible. This can be achieved by establishing a contact centre. Without this, your customers might have to resort to a whole range of independent communication methods to reach you—SMS, emails, calls and the likes. 
A contact centre combines these disparate mediums into a unified platform for easy access to information. 
One way you can encourage inbound calls is by using free phone numbers. These numbers are free to call, giving customers an incentive to reach out to your business.  
Having a free phone number attached to your hosted phone system makes your business appear more professional and service focused. However, the solution will only work well if you have the staff to deal with the volume of inbound calls your free phone number will bring in.
Transition to a hosted contact centre
Hosted contact centres are a great way to ensure you offer optimum service to inbound callers. With minimal set-up costs, cloud contact centres enable your agents to connect with customers from anywhere in the world. 
Hosting your contact centre also lets you hire talent from across the globe. Since your operations are not limited to just one geographical location, it will help to have team members from different time zones and countries. Your contact centre can then serve callers 24×7. 
A hosted contact centre facilitates quick support delivery, as callers can be transferred to the right agent without any delays or errors. This cuts out all the long email threads and enhances the client's experience with your brand. 
And the benefits don't end there. 
A sophisticated contact centre software lends agents the ability to access interaction history and deal with concerns contextually. Thus, reps don't have to repeatedly ask the same questions. They're also able to update records as and when the interaction progresses so that the next agent is equally prepared to handle the matter. 
Managers too are able to ensure top-notch performance with tools such as scheduled reports, and call monitoring, recording and whispering. And metrics such as average handling time, CSAT and first call resolution help improve the efficiency and productivity of the entire team. It's not just calls that can be monitored in real-time, though—managers can also monitor social media and live chat feeds.
Incorporate chatbots and live chats
The benefits of live chats are two-fold—they improve your response time by giving customers quick responses and increase the time a customer spends on your website, giving them an opportunity to learn more about your offerings.
Live chats can be managed right within your hosted phone system, so your staff don't need to switch between programmes and risk missing a message. Having everything in one place is not only convenient for them but also ensures clients receive consistent messaging across platforms. 
Offering an additional medium for query resolution also helps you keep incoming call volumes at a manageable level and also enhances the customer experience. There is nothing worse for clients than waiting in a queue on the phone when they could have got an answer online.
Use hosted phone system features to improve customer response times
Hosted phone systems offer customers and agents a range of modern features that enable easy connections and speedy resolutions. 
One such feature is the IVR (Interactive Voice Response). An IVR system allows businesses to record messages that help customers navigate through the different service offerings and choose the right department. Thus, businesses are able to enhance response times and first call resolution.
Hosted phone systems can integrate seamlessly with many CRM systems too. CRM and third-party integrations help agents record customer preferences and share them in real-time.
Other team members will be able to access this information and use it to better support customers in the future.
With such features available to help make customer communications quick and easy, it is no wonder that many businesses are turning to hosted phone systems.
Enhance customer response times and win more customers
The range of features available in a hosted contact centre set-up greatly improves agent efficiency and business performance. By using your cloud phone system cleverly, you can enhance customer response times and deliver great customer service with every call. With everything they need at their fingertips, your team can work together from anywhere in the world and provide seamless customer experiences.
To ensure your business has all the tools it needs to slash response times and provide outstanding service, get in touch with our team today at  0800-084-3663 or email us at [email protected].

Olivia is an outgoing person who enjoys writing, is an SEO enthusiast, and often interacts with others in intellectual conversations. She enjoys listening to music in her free time. Connect with her on Linkedin
https://www.acefone.com/blog/wp-content/uploads/2021/08/how-to-improve-customer-response-time.jpg
376
737
Olivia Trott
https://www.acefone.com/blog/images_acefone/logo.png
Olivia Trott
2021-08-31 11:08:46
2023-02-22 10:07:58
Keep the Conversation Going: How Improving Customer Response Time Can Win You Customers