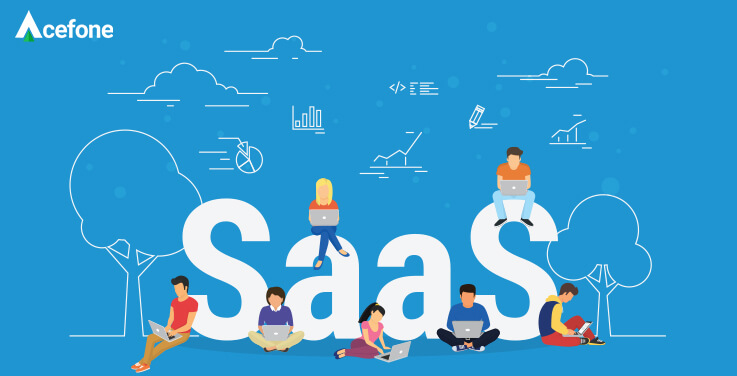 Voice over Internet Protocol (VoIP) is fast becoming the primary phone service option preferred by most consumers and businesses. Global Insights Market Inc. projects that the VoIP market will hit $55 billion by 2025. A significant factor contributing to this growth is the increasing popularity of workforce mobility and extensive features that VoIP offers, like the SaaS contact centre. 
A SaaS contact centre is a dynamic VoIP plug-in that allows you to route and escalate calls, view analytics, and help agents handle each client appropriately. It also streamlines storage and eliminates data entry for increased usability and collaboration. 
This article will outline powerful capabilities that make a call centre management system a must-have VoIP feature for every business.
1. Centralisation
Bringing together service operations in a centralised location is key to improving customer communication and agent productivity. Unfortunately, most call centres rely on multiple applications rather than a unified solution. This ultimately results in agents winding up on a call without the information they need to provide desirable service. 
A cohesive SaaS contact centre solves this issue by managing all business communications via VoIP and analytics on a customer relationship management (CRM) tool. 
With all the information easily accessible, agents provide a more personalised and seamless experience. SaaS solutions also ensure that your agents spend less time on mindless administrative work and overcome barriers to building brand trust.
2. Multiple integrations
Considering the time call centres agents spend on different processes, the advantage of cloud-based solutions is their ability to provide robust integrations. This increases internal collaboration and allows agents to access quick support and escalate questions and any interactions that need additional help. 
Implementing these integrations also leaves significant room for scalability and to revolutionise customer journey management. A CRM integration gives you useful information about customer actions and the factors driving their decisions. With greater access to relevant insights, you can make a better home office and address issues without wasting consumer time, resulting in increased satisfaction. 
3. Comprehensive reporting
Reports are an integral aspect of helping customer service kiosks understand and evaluate agents as well as customers. However, reporting can be challenging when you need to navigate heaps of data to unlock key operational insights. 
A powerful call management software empowers managers to review agent activity and detailed metric reports to determine bottlenecks and take corrective measures. 
It also provides you with an in-depth view of all agent activities—from checking the number of calls answered or transferred to their availability status. This way, you can initiate training measures to help agents become more competitive, which ultimately translates to increased business sales and profits. You can check this compiled VoIP software list from FinancesOnline to find a SaaS contact centre that delivers comprehensive reports. 
4. Software mobility
As the pandemic reshapes call centre operations, managers have to adjust to constant changes to thrive in the increasingly competitive customer service space. A powerful call management solution helps by easing the process of moving your physical call centre. 
Unlike other solutions, SaaS can store business phone numbers in the cloud, allowing you to route calls through the web to any connected softphone or IP phone. It can also increase customer satisfaction since agents can access applications easily from any platform. 
Most call centres traditionally update and store data in different applications, which usually results in managers having to spend extra time to train agents. SaaS helps managers ensure their team members have the right tools to deliver exceptional customer service.
5. Less maintenance
Maintaining call centre VoIP solutions is far from easy. Managers have to ensure that their technology is SIP-compliant and need to perform the necessary upgrades to comply with industry standards. This can be taxing, ruining your bottom line and objective of providing desirable customer support. 
However, SaaS contact centre solutions are managed by the provider, not the on-site IT department. Moreover,  cloud-powered solutions do not require specialised IT experts. So, if need be, they can be easily managed in-house even by those who're not tech-savvy.  
This means, you no longer have to worry about software updates and maintenance; any changes will roll out automatically. Automated updates guarantee less downtime so you can focus on providing quality service rather than managing technical processes. Overall, your productivity is highly benefited. 
Choosing the right provider
Selecting the right VoIP solution with a dynamic SaaS contact centre solution can be challenging, considering the number of providers in the market. Organisations must carefully assess the VoIP features and contact centre capabilities, or else they'll end up wasting considerable financial resources and time. 
So, why wait? Call our experts at 0800-084-3663 or drop an email at [email protected] any time to get started. Our dedicated agents will be glad to assist you.

Acefone provides a broad range of cloud communication services to businesses of all sizes, which includes Hosted Phone Systems, Free Phone Numbers, and Cloud Contact Center Solutions. Being the UK's leading provider of VoIP service provider, we always strive to provide excellent customer service and high-quality custom solutions to our customers.
https://www.acefone.com/blog/wp-content/uploads/2021/03/5-capabilities-that-make-saas-software-a-must-have.jpg
376
737
Acefone Editor
https://www.acefone.com/blog/images_acefone/logo.png
Acefone Editor
2021-03-25 10:32:22
2023-03-21 08:39:24
5 Capabilities That Make SaaS Contact Centre A Must-Have