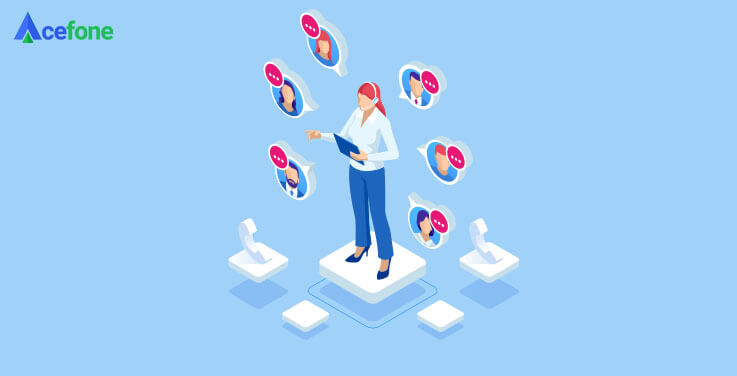 Keep the customer experience up and running even when you aren't available by smartly routing calls to the most relevant agent. Call routing is a brilliant feature that comes complimentary with your hosted phone system.
It gives you the opportunity to make sure each call goes to the best-qualified department or agent. Additionally, this simple feature is powerful enough to change your customer experience in the long run.
In this article, we will explain how a simple feature can greatly affect your contact centre and how you can use call routing to boost your customer service.
1. You can Direct Calls to the Right Department
When a customer calls you, they want to be directed to the right person as soon as possible. Once you have gained relevant information from a customer, you can then direct them to the needed department or agent using a sophisticated IVR menu. 
Customers will be delighted that you are directing them to the right person, as they may be unsure of who to speak to, particularly if they are new customers. Call routing can help you deliver excellent customer service by easily putting calls through to the relevant department, as a longer wait time is likely to leave customers dissatisfied. 
If an agent is unsure of a customer complaint or query, it is better to pass it onto someone who would be able to help them efficiently. This makes the customer confident in your service—a simple gesture that saves a lot of hassle while dealing with escalating customer queries or complaints as well. 
2. It can Help get Customers to the Next Available Agent Quickly
Call routing will automatically send incoming calls to the next available agent. There is no manual element involved, therefore, calls will be connected quickly and efficiently without your agents taking any further action.
This means that customers will not experience long waiting times and in fact, will be pleased that their call is being dealt with efficiently. Moreover, as a manager, you will be able to see real-time data for your incoming calls and also add or remove agents as per the call flow.
3. You can use IVR Systems to Help Customers Select Who to be Routed to
IVR systems give customers the ability to route their own calls to the department they would like to speak to. It can be completely personalised according to your business needs, and can often save your agents time and effort in finding the right person to deal with a customer query. 
4. It can give you the Best Possible Chances of Conversion
If a customer gets the information they need quickly and efficiently, they will be impressed with your service and would be more inclined to make a purchase. On the other hand, if they have to wait around, they might move to a competitor who can help them better. Therefore, one must not underestimate the power of a quick reply. 
Call routing can greatly assist, as agents can immediately transfer calls internally to a more qualified agent or to someone who is better suited to answer their query. With IVR systems too, there are plenty of ways in which call routing can help increase customer satisfaction and therefore give you better chances of closing a sale.
5. Choose a Custom Number and Route the Calls to Local Agents
Custom numbers can help you create ties in local communities anywhere in the world. Furthermore, customers will feel much more comfortable calling a local number than an international one. When they do call your local number, you can choose where their calls are routed, either to the next available agent or to a locally-based agent.
This means you can have agents across multiple time zones, speaking multiple languages, and the customer can go straight to the most relevant person. It is the simplest way to open up your business to a global market!
6. Manage all Calls in your Online Portal
With hosted phone systems, business owners and managers have access to an online portal where they can control every aspect of their phone system. They can re-route calls to different agents based on priority, see exactly how long the wait times are and direct calls to the right department, all in just a few clicks.
If they find they are receiving more calls than what their agents can handle, they can simply add more remote agents to help deal with the call flow. Call routing can help managers successfully deal with incoming calls, ensuring excellent customer service.
Your customers will never have to jump in between agents for a resolution. The time saved by call routing can be used effectively by agents to undertake training or to deal with more calls. The choice is yours.
If you would like to find out more about call routing and how it can solve common business headaches, call our expert team on 0800-084-3663.

Olivia is an outgoing person who enjoys writing, is an SEO enthusiast, and often interacts with others in intellectual conversations. She enjoys listening to music in her free time. Connect with her on Linkedin
https://www.acefone.com/blog/wp-content/uploads/2020/08/everything-about-call-routing.jpg
376
737
Olivia Trott
https://www.acefone.com/blog/images_acefone/logo.png
Olivia Trott
2020-08-14 11:45:11
2023-01-23 05:44:27
All You Need To Know About Call Routing