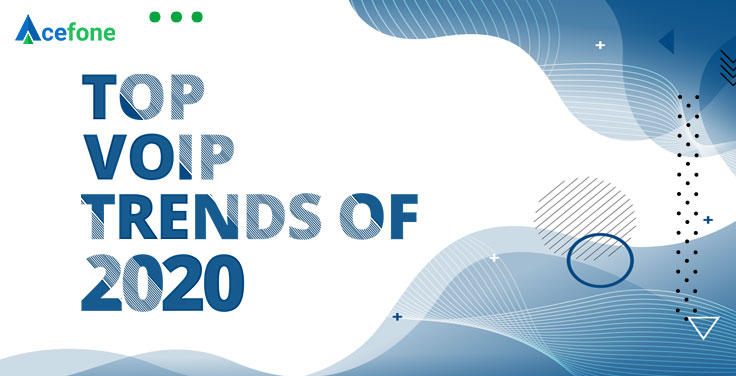 Many businesses have switched to VoIP from analog phones because of the benefits that the former provides. As we are stepping into 2020, every business is aiming to increase productivity and promote collaboration through enterprise mobility.
VoIP technology has simplified, streamlined, and improvised the way business communicates, and it is here to stay, grow, and transform even more in the future. It's a new year and a new beginning for everyone, so its time to take one step ahead to improve how you connect and communicate internally as well as with the customers.
This infographic describes some of the VoIP trends which we will experience in 2020.

Let's explore in detail.
1. 5G
5G has already been introduced, but it is yet to become mainstream. It is expected to go mainstream in 2020.
So, what can you expect from it?
You can expect superfast browsing speeds, uninterrupted internet connection with lower latency, which means less dropped calls, and smooth communication. It promises to provide a high-quality of calling experience and can transfer heavy files in a burst.
2. Integration with WebRTC
WebRTC is a free and open project created to provide real-time communication in web browsers and mobile applications via simple APIs (Application Programming Interfaces).
It is expected that VoIP will be integrated with WebRTC in the near future.
WebRTC makes your business communication more flexible. With this integration, you can directly call from the website, live stream, and can do web conferencing in a better way. It does not require any extra plugins, widgets, or extension in your contact centre software.
3. AI for Contact Centre
A research by Gartner predicts that 85% of customer interactions will be handled without humans by 2020.
Contact centres can be benefitted in many ways by incorporating AI. Artificial Intelligence provides self-help options to customers that provide them quick solutions.
Customers do not have to wait for their phones to be picked up. The contact centre agents can focus on other issues that require more attention. You can also get insights into customer behaviours through chatbots. These insights can be used to plan marketing strategies in the future.
In the coming year, we can expect contact centres to utilise chatbots to provide a better customer experience.
4. Popularity of UCaaS
According to a research, the Unified Communications as a Service (UCaaS) market is expected to reach $17.8 billion by 2022.
With Unified Communications, users can access all the communication medium such as call, video conferencing, e-mail, and instant messaging on a single dashboard.
It is cloud-based; thus, you can access it from anywhere provided you have a robust internet connection.
It saves cost as you have to purchase only one communication system rather than purchasing separate channels/tools for communication. UCaaS is very flexible and is highly scalable as you get the latest updates and upgrades along with the option to scale resources up or down.
Data is stored on the cloud and can be retrieved anytime, even during disasters or data loss. These benefits make UCaaS one of the top VoIP tend to watch in 2020.
5. Rise of Mobility
According to a report by T-Mobile, 7 in 10 global enterprises cite mobility as a top priority.
Mobility has brought many new opportunities with it. VoIP technology promotes mobility, which, in turn, improves productivity. You can connect and share files from anywhere in the world and on any device.
More and more companies are using VoIP because employees can work remotely as long as they have an internet connection.
6. Improved Security
VoIP technology is internet-based and hence is vulnerable to cyberattacks such as phishing and network intrusion. One of the trends to watch in 2020 will be what measures companies are going to take to ensure the security of their communication system.
The best practice an organisation can follow is to select a reliable and secure VoIP service provider. Make sure that they host your communication system and data on secure servers and locations where they conduct routine security audits to reduce the risk of data breach.
7. VoIP and IoT
With the improvements in technology, VoIP and the Internet of Things (IoT) are integrated together for delivering the best user experience.
It is expected that by the year 2020, the use of IoT will keep expanding as it will be added to more products and technologies.
VoIP is one such technology; when integrated with IoT, VoIP can connect and manage other devices conveniently from anywhere. You can control your lights, TV and air conditioner from your phone, to make your lives easier.
Conclusion
Another trend that you may see in the upcoming year is more and more businesses incorporating free phone number, and we can thus see number portability as a trend. After all, it took you so much of time and effort into building your customer base, and it should not be affected when you change your location or switch to other VoIP service providers.
If any of the above trends prove out to be true in 2020, then it will be a revolutionary year for the businesses. Is there any trend that we missed out? Please share it with us in the comment section below.

Ratnam is an SEO enthusiast and content writer working as a Digital Marketer with Acefone. He is fond of traveling and new experiences. He is a huge Marvel fan and is always open to learning.
https://www.acefone.com/blog/wp-content/uploads/2020/02/top-voip-trends-in-2020.jpg
376
736
Ratnam Sinha
https://www.acefone.com/blog/images_acefone/logo.png
Ratnam Sinha
2020-02-04 12:03:07
2021-08-02 15:08:04
Top 7 VoIP Trends To Watch In 2020 [Infographic]