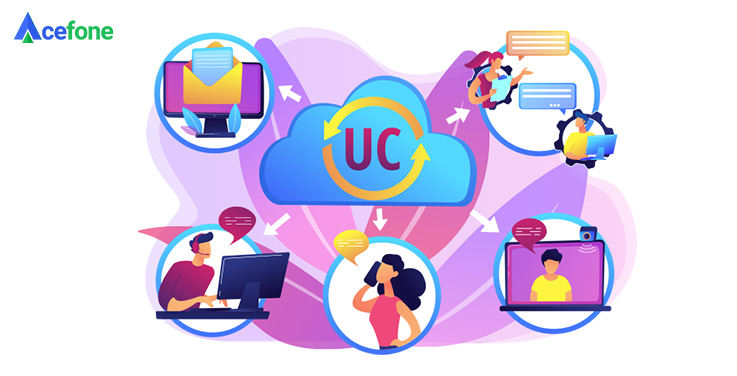 Unified Communications-as-a-Service (UCaaS) is redefining the way business is done in many ways, all for the benefit of business owners and customers alike.
Coronavirus has forced many businesses' hands on the subject of remote working, but those with a UCaaS solution already in place were able to adapt quickly where some businesses struggled.
The future of business lies in more flexible working, working from home and opening your business to the world; but how do you do this without sacrificing productivity?
UCaaS Gives Your Business Flexibility And Productivity
In one package, your UCaaS system can provide everything you and your staff need to work flexibly without missing a beat.
We understand that, if you have not worked flexibly before, it can be a daunting prospect to let your staff work from wherever they need to be unmonitored.
However, it does not have to be scary as UCaaS solutions come with plenty of analytics and monitoring software which are easy for anyone to get to grips with.
These tools let you see exactly what your team is doing, see their call waiting times, access recordings of their calls and much more so you can run your business remotely from anywhere in the world.
UCaaS solutions give business owners the confidence they need to let their staff work flexibly, therefore keeping up with more modern ways of working.
Large corporations like Twitter are now letting staff work from home whenever they want on the back of successes seen during Coronavirus.
So it is important that when lockdown restrictions are lifted in your area that you can match your competitors by offering staff the flexibility to work as they wish.
Giving staff freedom shows you trust them and can also boost their productivity, which is a win-win for both parties!
UCaaS Increases Collaboration
When your staff can easily connect with each other to share their expertise, you foster a team environment – even if that team is spread across the world.
With a few simple clicks, staff can connect with any of their colleagues right in your phone system, through video calling or simply a voice call.
They can share ideas and come up with innovative ideas which might not have been shared by a staff member on their own.
Customers can also benefit as staff will learn from each other and therefore each agent will become more knowledgeable.
With staff all over the world, it could be difficult to make teams inclusive and build a team spirit between staff members.
However, staff can connect for free whenever they want with conference calling – with crystal clear communications over your internet connection, there is no annoying lag, just productive team meetings and brilliant idea-sharing.
If you have many different branches in your business, this provides another opportunity to connect them through UCaaS.
Staff can simply dial the extension and be put through to the other branch at a low cost-sharing customer, stock, ideas and much more in a few clicks on their phone systems.
Track Customer Journeys Through UCaaS 
Gone are the days where lots of paperwork was needed for customer files, with UCaaS you can simply let your phone system track the customer through from call to purchase and beyond!
Integrating seamlessly with your CRM system, UCaaS solutions can give you detailed insights into the customer journey, with the opportunity for your staff to make detailed notes so any staff member can pick up where they left off.
With no need for the customer to wait for a dedicated salesperson who may be away or dealing with another client. 
With knowledge of your customer journey, your marketing team can step in and make tweaks and changes to your website to ensure everything is as user friendly as possible.
If customers are having difficulty on a certain page and end up calling you rather than processing the order online, the information you have can help your marketing team identify and rectify this easily.
You can also keep track of your marketing campaign performance, by seeing exactly where customers came from and whether they were more likely to make a purchase after clicking one of your campaigns.
UCaaS Makes The World More Accessible
Before UCaaS it may have been difficult to deal with clients in other countries across the world due to time differences, language barriers and more.
With UCaaS this is no issue, as you can hire customer service or sales representatives throughout the world.
These remote workers can connect to your phone system using their internet connection and can work seamlessly with your team as if they are sat in the office with them.
These workers mean you can break into new markets and have people who speak the same language on the other end of the phone.
Your small business could potentially become multinational in just a few clicks on your phone system, revolutionizing the way you do business and opening up all-new markets with a minimal cost to your business.
Wherever your clients are based, you can have someone at the end of the phone when they need them and can even set up local numbers in different cities or countries.
This increase trust and give potential clients a local number to call rather than making an international call which might make them think twice about calling.
UCaaS opens up so many doors to your business and gives you the opportunity to completely revolutionize your marketing and sales campaigns to include a worldwide audience.
Clearly, UCaaS is revolutionizing businesses across the globe and has proven to be essential during the Coronavirus pandemic to keep business moving.
Going forward, when the world returns to normal, workers are going to expect to be able to work flexibly where possible and a UCaaS system ensures that this is not only possible but is productive.
If you would like to know more about this exciting new development for your business, speak to our expert team on 0800-084-3663.

Acefone provides a broad range of cloud communication services to businesses of all sizes, which includes Hosted Phone Systems, Free Phone Numbers, and Cloud Contact Center Solutions. Being the UK's leading provider of VoIP service provider, we always strive to provide excellent customer service and high-quality custom solutions to our customers.
https://www.acefone.com/blog/wp-content/uploads/2020/05/ucaas-redefining-business.jpg
376
737
Acefone Editor
https://www.acefone.com/blog/images_acefone/logo.png
Acefone Editor
2020-05-21 08:58:31
2021-08-03 14:48:40
How UCaaS Is Redefining The Way We Do Business