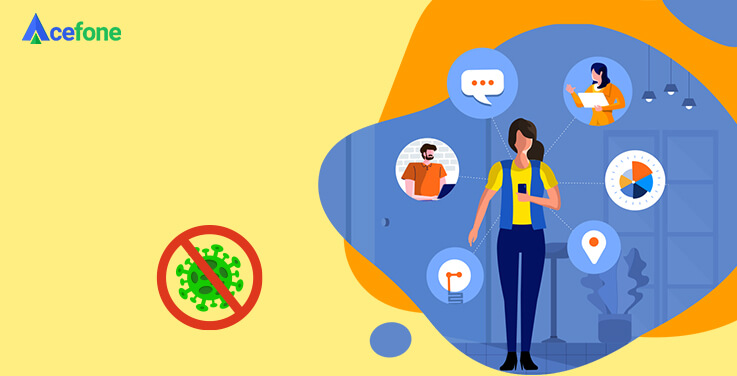 With the threat of Coronavirus around the world, this can be a really difficult time for businesses. Navigating the conflicting advice can be difficult and knowing when to send your staff home to minimise risk is an integral part of ensuring your staff and families are safe.
VoIP phones can help you navigate through this difficult time by ensuring that wherever your staff need to be they can get on with their work without any problems.
Remote Working
Much of the available government advice is suggesting that staff may at some point need to work from home to stop the spread of COVID-19. This is not a problem for businesses with VoIP phones as they can simply connect their staff to the phone line from any device they want to use – as long as they have an internet connection, they can use a phone system seamlessly as if they are in the office.
Remote working with a hosted business phone means that no matter what happens, your staff can continue their job and not be behind when any restrictions are lifted. If your staff do unfortunately fall ill with coronavirus, you can easily hire temporary remote workers to fill in, so you do not miss out on any business while your staff recover.
Low Costs
Keeping costs down at a time like this is important to keep a small business afloat, so ensuring that your call costs do not eat into your profits is vital to keep your business going through a tough period.
VoIP phone systems ensure low costs wherever in the world you are calling; this allows you to deal with customers effortlessly across the world without worrying about your profits.
Keeping costs down is important to mitigate the effects of coronavirus as this pandemic could potentially be costly to small businesses, so anywhere you can make savings will help your business continuity and even thrive through this difficult time.
VoIP phone systems allow you to work without an office space, so even if you are isolating, or your shared office needs to shut down, your staff can continue to work from anywhere. So, you will not need to spend extra money finding somewhere suitable for team to work if your office building should shut down.
Keep Track Of Agent Performance
With the help of a web dashboard, small business owners can keep track of all of their agent's performance no matter where they are. You can monitor active call time, waiting time and more performance indicators to ensure that they are working effectively from wherever they are based.
If there are ever any complaints from customers, you can use the online portal to review call recordings and get an accurate view of the conversations which have taken place.  So, no matter where you are, you can effectively deal with any customer complaints or queries.
Feature-rich Telephony
The features of a VoIP system can also help your business work through the coronavirus or any similar issues you could face. With a virtual assistant added, you will not miss a call from a client even if you are working with minimal staff; a virtual assistant can take messages twenty-four hours a day, and you can pick them up when you are ready.
Call conferencing can also help you and your team stay connected even though you are not in the same office. You can connect with no charge and enjoy crystal clear communications with your team, so you can keep up with your staff and not miss a meeting or important update from your staff.
Calls can also be redirected to mobile phones or any other phone, so you can use this feature to ensure you do not miss out on a lead. If you are working from home you can not only work on your mobile, laptop or any other device but you can redirect your calls, so they come straight through to your landline if this is more convenient for you.
Remote Contact Centre
VoIP phone systems are robust enough that they can host a reliable contact centre with staff based all over the world. This may help small businesses who may not be able to go into their office building but still need to provide customer support packages to their customers.
Small business owners can allow their staff to connect to the phone system from wherever they are, as long as they have an internet connection and can monitor staff performance throughout their shifts.
Staff can also transfer calls from department to department to ensure that customer queries are being answered quickly and efficiently. So, customers will receive the same high standard of service and will not even notice that your staff is not office based as they will only hear the same crystal clear communications they are used to from your business.
Coronavirus is a worry for businesses, but it does not need to mean a loss of money or that your business is going to grind to a halt. With cloud telephony, you can continue business as usual while keeping your staff safe in their homes until the threat of the virus is over.
If you'd like to find out more about hosted phone systems and how they can help your business through a crisis, call on 0800-084-3663 to talk to our expert team.

Acefone provides a broad range of cloud communication services to businesses of all sizes, which includes Hosted Phone Systems, Free Phone Numbers, and Cloud Contact Center Solutions. Being the UK's leading provider of VoIP service provider, we always strive to provide excellent customer service and high-quality custom solutions to our customers.
https://www.acefone.com/blog/wp-content/uploads/2020/03/voip-phones-help-businesses-against-coronavirus.jpg
376
737
Acefone Editor
https://www.acefone.com/blog/images_acefone/logo.png
Acefone Editor
2020-03-19 09:44:58
2021-09-24 07:41:14
How VoIP Phones Can Help Businesses Work In Situations Like Covid-19