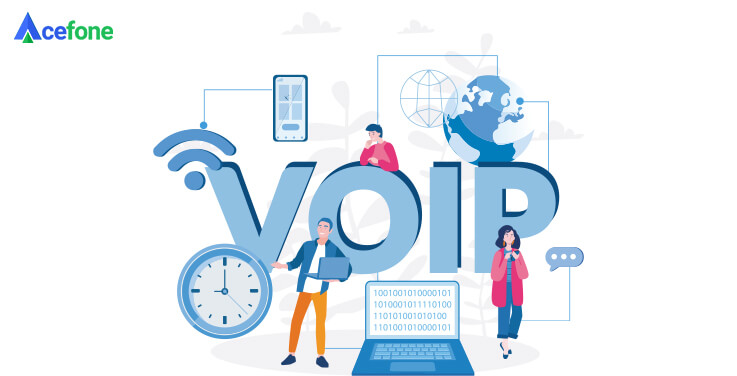 If you want a high performing workforce, you need to equip your staff with all the tools they need to succeed. An empowered team is a happy and productive team, and, therefore, boosting staff morale is important for maintaining a good work culture. 
This is where VoIP services come in handy. Hosted phone systems allow employees to do their best by not restricting them to desks.
If you're investing in VoIP phone system, you are also investing in productive ways to help your staff deliver great customer service.
1. Give your Team all the Information it needs
As VoIP integrates seamlessly with most CRM systems, agents can freely access all relevant information needed for customer service.
Your reps can easily pull up customer purchase information, call history, and preferences without needing to log into another system. They can access their VoIP phone on any device—laptop, mobile, or tablet. 
This wealth of information can then be used to deliver excellent customer service to each and every caller. A personalised service will encourage customer loyalty as people will feel that your team has their best interests at heart.
With this telephony system, employees can also leave detailed notes for the next agent, so queries can be addressed without interruptions. 
2. Give your Team Flexibility
Your team no longer needs to be confined to the office. The way we all do business has changed over time. It is important to keep up, and a VoIP phone system will help you do just that.
All you need is a stable Internet connection, and your employees can join the cloud phone system using their preferred medium. They can switch devices with ease, even during a call, and can enjoy crystal clear communications wherever they go. 
Empower your team to be able to travel where they are needed; if they're able to visit clients without worrying about missing out on other leads, you can ensure maximum productivity and a happy workforce.
3. Utilise Amazing Features to Free up Staff Time
Time is precious and often limited. Luckily, cloud-based phone systems are packaged with amazing time-saving features that free up your staff for critical work. 
One such feature is voicemail-to-email, which allows employees to attend meetings without fear of missing an important call or enquiry. Voicemails left on an agent's phone will automatically be forwarded to their email address as sound files. This allows your reps to be notified on the go and follow up with customers at the earliest convenience.
The ability to store detailed information about customers directly on the phone system, and to integrate it seamlessly with your CRM, helps free up a significant amount of time.
This means that agents can pull up any important information they need from customer accounts on a unified platform, without having to login and search through multiple systems. Since the admin does not have to input new data into multiple systems, this time can also be better utilised. 
4. Use Analytics to Ensure Team Development
Your VoIP system gives you access to useful analytics and insights for project management and overall development. Managers can access these reports and share relevant parts with their team to highlight problem areas.
These analytics can help agents take charge of their own development by giving them quantitative feedback on their performance. Insights into call times,  waiting time, and similar data concerning individual performance can help staff focus on improvements. 
In addition, the online portal gives agents access to call recordings that they can listen to later and understand where they need improvement.
5. Let Agents Choose where they Work
Once you switch to a VoIP phone system, your employees are granted the freedom to work from the place of their choice—as long as they have a steady internet connection. This means they can work from home if they have appointments or childcare concerns, without needing to take a leave. It also means that they can travel to meet clients and work in a café or hotel on the go. 
This flexibility can motivate and empower your team, so they feel valued and stay dedicated to your brand. Particularly during a stressful time such as the COVID-19 pandemic, remote work has become the norm.
Once the restrictions are lifted, employees may prefer remote work more often. You can enable them to do so by equipping them with all the tools they might need.
VoIP services can support your staff in a number of ways. You can give your agents more opportunities to perform to the best of their abilities, along with the opportunity to learn and develop. 
To find out more about how VoIP can be used to empower your team, dial 0800-084-3663 for a discussion about our services or read more here about the features of Acefone VoIP phone system.

Olivia is an outgoing person who enjoys writing, is an SEO enthusiast, and often interacts with others in intellectual conversations. She enjoys listening to music in her free time. Connect with her on Linkedin
https://www.acefone.com/blog/wp-content/uploads/2020/09/voip-services-to-improve-team-performance.jpg
376
737
Olivia Trott
https://www.acefone.com/blog/images_acefone/logo.png
Olivia Trott
2020-09-04 08:02:59
2022-10-26 11:35:36
Use VoIP Services To Improve Your Team Performance