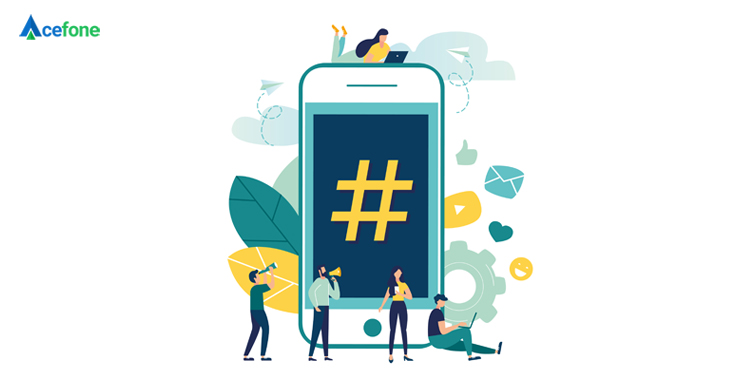 Well, who wouldn't enjoy free calls to get their problem solved? Free phone number is an excellent service of cloud telephony.
But what exactly a free phone number is?
It is a service offered by businesses, in which free helpline numbers are provided to the customers. So, that they can reach out to the company for any help or assistance that too at free of cost.
The company pays for all the incoming calls, and obviously, the customers are not charged. Also, it is a non-geographic number meaning that it is not location restricted. It is another term for a toll-free number.
Why Free Phone Number?
Despite other communication mediums, voice calls are the most preferred by the customers. Well, nothing is more frustrating than not getting connected with the right agent. The utilities of free phone numbers increase many folds when they are integrated with an IVR.  
IVRs also work as self-help tools for providing customer service, customers prefer interacting with humans. With a free phone number, customers do not hesitate to reach out to the customer service for assistance or any doubt while using or decision-making of a product or service.
Does your business offer a free phone number? If not, then why?
Providing a toll-free number to your customers and business prospects benefits your business in many ways. Customers don't like to put effort to reach out to you. You should make your business more reachable by offering a free of cost channel for business communication.
It is the best way to reduce their efforts in contacting your business. Further, it will improve their experience or customer journey.
Let's discuss the benefits of free phone numbers:
1. Improves Customer Satisfaction Rate
Free phone numbers make your business more visible and approachable to your customers. It also supports in brand building and adds to the credentials of the company.
Any company that opens a free of cost channel of communication with the customers increases the trust between the two. Customers feel valued when a business provides a platform for its customers to connect with them, effortlessly.
Free phone numbers can also have multiple extensions attached to the same number. It helps in handling the call volume and routing the calls to the available agents without any delay.
Multiple extensions ensure that there is always an open line for the callers. It also reduces the call waiting time and increases the customer satisfaction level.
2. Increases Revenue
Customers are more likely to call when they do not have to pay for the call. With a free phone number, you are more approachable, and hence potential customers would not think much before calling you. So, agents get more opportunities to speak with the customers, and that eventually helps in sales acceleration.
It also shows that you are ready to help them anytime. Call volume will increase, and thus, there is always a chance of sales. More the number of calls from potential customers, the higher the sales.
With improved sales, your ROI will increase. Inbound calls are more likely to turn into sales as the potential customer is already interested in your business.
3. Easy To Remember
From the customers' perspective, the number they wish to dial should be easy to remember and, that is what a free phone number provides you. A regular phone number is difficult to memorize.
A free phone number is thus divided into three parts, making it easy to remember. It is much easier to learn, especially when it is a vanity number.
For example – a free phone number looks like this: 0800-101-8010
On the other hand, a vanity number looks like this: 0800- Hosted Phone
A vanity number is much easier to remember than a numeric free phone number. Vanity number gives your brand recognition and tells more about the brand than just a free phone number.
You can use any term or any word as your business contact number. It helps you establish a brand image that people won't forget any soon.
4. Portability
If you have any plan to relocate your business, you can do so without worrying about your free phone number being changed. Your customers won't even get to know that you have changed the location of your business.
Your location does not matter at all as you can forward calls to your mobile or any other device. In this way, you won't lose your existing customers as you have the same number throughout the world.
Free phone numbers are easy to port. Thus, you can use the number with any device by registering the device with your service provider. You can even use the same number also if you switch to some other service provider.
5. Brand Recognition
Customers get impressed with a company that offers them a free phone number for contact. It shows that the company is available and is willing to solve their issues.
A company like this is effortlessly approachable, and customers without having a second thought would like to connect with them. Having a free phone number help business establish a brand image. This way, you can stand out from your competitors also.
6. Professionalism
Having a dedicated business number is more professional than to use your personal phone. Customers prefer a business contact number as it gives a positive and professional touch to the company. Also, with a free phone number, you do not have to share your personal number with your customers.
Using a dedicated number for your business not only shows professionalism but also gives you privacy. You also get detailed reports of the calls received on your free phone number.
Summing It Up
With a free phone number, customers do not have to think twice before contacting your business. It helps in increasing the number of inbound calls. Every incoming call is a chance for your agent to convert it into a lead. More the number of incoming calls, higher is the sales. It also enhances your company's brand image.
A free phone number does help in improving customer experience. It is beneficial for businesses of any size. Customers can reach out to you anytime and from anywhere.
If you are not using a business phone number yet, then switch to it immediately because you might be missing valuable opportunities to connect with your customers and business prospects.

Swastika Dhakal is working with the Digital Marketing team at Acefone. She is interested in technology and likes to write on it. She loves to explore historical places, as well.
https://www.acefone.com/blog/wp-content/uploads/2020/01/why-buisness-needs-free-phone-number.jpg
376
737
Swastika Dhakal
https://www.acefone.com/blog/images_acefone/logo.png
Swastika Dhakal
2019-11-05 10:34:00
2023-01-20 08:54:37
6 Reasons Why Your Business Needs A Free Phone Number