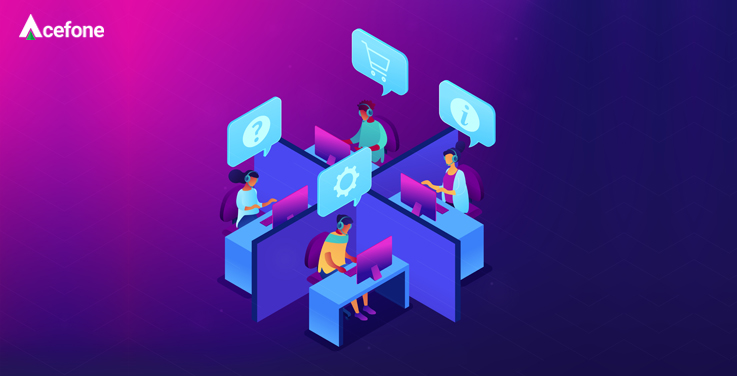 If you run a business, prioritizing your customers above everything else is the best way to progress faster. Inbound Call Centres happen to be the key to fulfilling this requirement. They are a platform for your customers to contact you to resolve their problems or addressing different needs. According to this source, call centres help you build customer confidence and loyalty.
Nowadays, it is much more difficult to retain an existing customer than to acquire a new one. The primary reason being a drastic increase in the number of competitors in the market.
Hence, customer satisfaction should be the primary goal of your business. Having an inbound call centre helps the customer to reach out to you conveniently without much efforts and wasting any time.
What are Inbound Call Centres?
Inbound call centres are departments where that receive incoming customer calls to address their queries and help them resolve their problems. The calls can be related to complaints, placing an order, or any other inquiry regarding the product or services.
Some common examples of an inbound call centre include the customer support department helping a customer deal with a defective product, or the billing department of a SaaS company helping people make timely payments.
Benefits Of Inbound Call Centre
There are many advantages of having an inbound call centre. While some businesses have been enjoying these benefits for a while now, there are some still struggling to decide whether they need a call centre or not. If you happen to be the latter one, this article will help you make up your mind.
1. Improves Customer Service
Inbound call centers can significantly improve customer service by providing a prompt and effective response to customer inquiries and complaints.
By having a dedicated team to handle customer calls, businesses can ensure that customer needs are addressed in a timely and efficient manner, leading to higher levels of satisfaction.
2. Boost Customer Loyalty
When businesses prioritize customer satisfaction and provide prompt and effective support, it creates a positive customer experience that can lead to loyalty.
Customers who are satisfied with the level of service provided by a business are more likely to become repeat customers, which can increase sales and revenue for the business.
3. Cost-Effective Support
In addition to enhancing customer loyalty, inbound call centers can also provide cost-effective customer support for businesses.
Outsourcing inbound call center services to a third-party provider can help businesses save on operational costs, as they only pay for the services they need.
This is particularly beneficial for small and medium-sized businesses that may not have the resources to invest in an in-house call centre.
4. Increased Efficiency
Call centres come with a bunch of automations and advanced features that reduce the workload on support agents.
Features such as automated dialers, scheduled callbacks, in-depth analysis, and multiple device compatibility allow agents to handle calls more efficiently.
Whether you get an in-house call centre, or outsource it to a third-party department, they can handle larger number of calls in a day without hampering the quality of service being offered.
5. 24×7 Support
Inbound call centers offer 24/7 support. This is a significant advantage for businesses with customers in different parts of the world or those that operate in multiple time zones.
Providing support around the clock ensures that customers can access assistance whenever they need it. It helps build trust, increase customer satisfaction, and loyalty in the long term.
6. Personalized support
Support agents can provide customers with customized support tailored to meet their unique needs. Whether a business requires technical support, sales support, or customer service, an inbound call center can be customized to address those specific needs.
This allows businesses to create a support infrastructure that aligns with their overall strategy, helping them achieve their goals and objectives more effectively.
7. Utilising customer information
Inbound call centers provide businesses with an opportunity to gather and analyze customer data, including feedback and preferences. This data can help them make informed decisions about product development, marketing strategies, and customer service improvements.
By leveraging this data, businesses can gain valuable insights into their customers' needs and preferences, which can help them provide more personalized and effective customer service.
8.Reducing abandoned rates
Businesses can significantly reduce call abandonment rates with this software. It is a critical metric for businesses that rely on phone sales or customer support. By providing prompt and efficient service, businesses can reduce wait times and decrease the likelihood of customers hanging up before their call is answered.
Features such as on-hold music, smart call routing, and Interactive voice responses (IVR) aid this process too. They ensure that customer calls are being timely answered and being provided with relevant solutions.
9. Informed Agents
Providing high quality customer service demands well informed support agents, and inbound call centre solutions make that happen. Cloud-hosted inbound call centres make sure agents possess all the critical information with quick accessibility.
These solutions provide all the customer information in the form of detailed reports which are available on the portal itself as well as the agent's inbox.
10. Result-Oriented Features
Features like the IVR and toll-free numbers make inbound call centres even more versatile. An IVR allows customers to redirect themselves to the right department by navigating through in-call menu options. The IVR interacts with the callers, collects their information and routes them to the appropriate agent.
Toll-free numbers help in providing customers with a medium to reach out to a business without bearing any call charges.
Conclusion
Inbound call centers can provide businesses with a range of benefits, from improved customer service to cost savings and increased productivity. By partnering with a reputable call center provider, businesses can create a support infrastructure that aligns with their overall business strategy, providing customers with the high-quality service they expect and deserve.
If you wish to enhance your customer services too, you can connect with us by calling at 0800-084-3663 or write an email to [email protected].

Swastika Dhakal is working with the Digital Marketing team at Acefone. She is interested in technology and likes to write on it. She loves to explore historical places, as well.
https://www.acefone.com/blog/wp-content/uploads/2020/01/why-business-needs-inbound-call-centre.jpg
376
737
Swastika Dhakal
https://www.acefone.com/blog/images_acefone/logo.png
Swastika Dhakal
2019-09-20 04:17:15
2023-03-16 11:04:56
Top 10 Reasons Why Your Business Needs An Inbound Call Centre