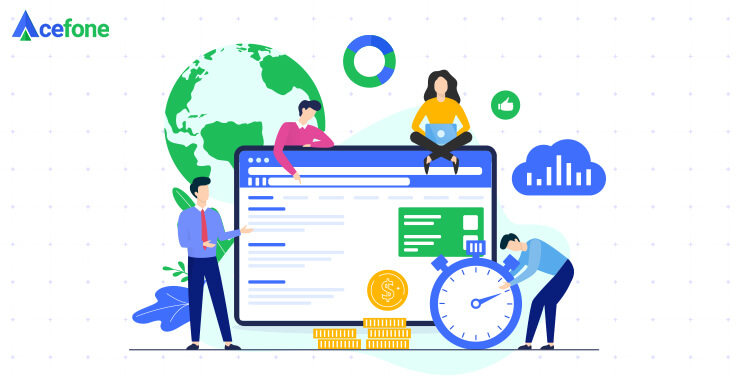 The year 2020 had its own share of ups and downs. 
With stringent restrictions on free movement, zero socialising, and major upheaval in the economy, it was a year full of challenges that none of us would want to go back to. 
However, with the vaccination going in full swing, 2021 is a better and brighter year to start a new business venture. 
With limited employment and no alternatives for livelihood, businesses have been burdened with the responsibility to pull themselves up and keep going. 
Therefore, you must implement constructive strategies to make your venture a hit. These strategies will not just arm your business with adequate resources but also protect you from economic damage in the future. To put it simply, you'll be prepared for the worst!
So, now that you have decided to equip yourself with the processes and technologies for the future, let's see how you can implement them.
It's simple—Cloud-based communication systems are the way to go!
And given the times, centralised accessibility and remote ecosystems will continue to rule the business world. 
What should you be looking for in cloud capabilities? Let's check them out right away!
What are cloud-based communication systems?
Traditional communication systems require phone lines and specific infrastructure to stay connected. Every call has costs that have to be incurred. On the other hand, cloud-based communication systems are provided by a cloud service provider. 
These calls simply require a strong internet connection and voila! You don't even need specific devices to complete your setup. Use any device like your mobile phone or desktop and get started.
The added bonus? It's scalable and affordable too!
The benefits of adapting to a cloud-based communication system are countless. Here are the ones that you may need to start your dream venture in 2021. 
1. Implement a Unified Communication system
Estimations suggest that the unified communication market is expected to grow from USD 15.8 billion in 2019 to USD 24.8 billion in 2024. 
The availability of information is cardinal for the successful operation of a cloud-based telephony centre. Working in kiosks can hinder the free flow of information, thereby negatively impacting the efficiency and productivity of processes.
For instance, a customer calls your contact centre. He is a returning customer with a query about the usage of the product he has bought from you. In a legacy-based system, your agent may not be aware of this. They may try to pitch a sale with the customer only to know that the customer has already made a purchase.
On the contrary, in the case of a unified communication system, your agent can easily retrieve data about the customer history, their purchase details, and preferences. They can proactively try upselling in this scenario. 
That's how important a unified communication system is. It weaves together the various facets of your telephony system and offers a holistic view of all the processes. 
This may include combining the CRM, different channels of communication like email, chat, text messaging, and video conferencing. Your agents can also use AI-powered analytics to predict outcomes and solutions for customers.
Therefore, unified communications are an unavoidable part of your new venture. 
2. Adapt Artificial Intelligence
Artificial Intelligence can make a groundbreaking difference in the cloud-telephony scenario. It helps predict customer needs and facilitate contextual conversations. Implementation of chatbots saves manpower and time. They provide the required assistance to customers without human intervention.   
Additionally, natural processing language, speech-to-text, and sentiment analysis are a few other capabilities that assist cloud-based telephony systems to function seamlessly. They help to:
 Understand the customer better

Transcript customer messages

Gauge the mood of the customer
Moreover, AI provides recommendations and suggestions to the customer based on this comprehension. 
Artificial Intelligence, though still in its nascent stages will help you take your big leap this year.
3. Improve team collaboration
The COVID-19 pandemic has introduced a not-so-familiar model of operating that includes remote work. This work ecosystem may fail tremendously if there is a lack of management tools. 
When we say management tools, it includes everything that can be utilised to improve team collaboration. For example, video conferencing tools, chat tools, instant messaging apps, and virtual conferencing tools. 
A cloud-telephony system builds an entire remote setup with these project management tools. They support stakeholders to reach out to their team in case of an emergency. Also, it allows your employees to ping their superiors when they need quick help. 
When you include these project management tools in your cloud telephony system, you:
Enhance communication between your employees 

Eliminate the chances of your remote workers feeling left out

Breed healthy communication channels
4. Incorporate high-end call screening
Call screening is an important part of a cloud telephony system. In the traditional call screening, all you can see is the name and number of the caller. However, in cloud-based call screening, the capabilities are multifold. 
You can view the name and numbers of your callers. They are asked to record their name while connecting the call which helps in avoiding unnecessary calls during work hours. 
In addition to it, you can also transfer calls, send them to voicemail, block them completely, or answer them.
Call screening tools come with spam shields. They check numbers on a database and ensure that they aren't spammed before connecting it. 
5. Include click-to-call
The secret behind a successful business? Seamless communication. 
You should strive to ease every mode of communication and ensure that your customers are easily able to reach out to you. 
The click-to-call capability can be your knight in the shining armour for this purpose. In the current competitive scenario, customers may not have the patience to note down your business number from websites or brochures to contact you. 
The click-to-call feature helps here. The Call to Action (CTA) button on your website or other collateral can be redirected to your cloud telephone to interact and build a connection with your representative. 
This option reduces the number of loops to reach out to you, thereby facilitating faster and seamless customer connections.
6. Track call analytics
Deriving intuitive insights are essential for the success of a business. Cloud telephony systems help obtain important analytics on-call performances across your organisation. These metrics help you measure, consolidate, analyse, and report call data. 
In fact, you can identify bottlenecks and rectify them well before they impact the bottom line of your business. 
For example, if you have triggered a marketing campaign for a particular industry vertical, you can quantify the responses you receive through these analytics.  You can perform a comparative analysis of different industry verticals and check which ones perform the best and others that need attention.
This repository of analytical data will help you to optimise your business.
7. Maintain call recordings
Cloud telephony system comes with this in-built capability of recording calls. It records all customer calls made across an organisation. 
Call recording is an important feature for monitoring and evaluating the quality of calls. It may not be possible for supervisors to listen to calls in real-time. However, recorded calls can help identify areas of improvement—both in agent skills and organisational processes. 
For example, if an agent is spending more than the required time to resolve a customer issue, the supervisor can work towards finding the root cause and implement a workaround.
Additionally, call recordings can help new joiners to get trained. These recordings are important to provide them with real-time work experience without actually doing it.
8. Support BYOD
Remote working culture has become the norm. Your employees may prefer taking calls from their mobile phones, desktops, or devices provided by your organisation. 
Security and accessibility play an important role in this case. When you choose a cloud telephony system, you have the option to synchronise all these mediums of communication. You can attend calls from either of these devices and also transfer calls from one device to another based on your comfort and availability of devices, securely. 
This way, your agents can attend calls even when they are out-of-office or travelling. 
Wrap up
Maintaining data on the cloud has become a norm rather than an exception. With a hybrid working environment to continue even in the future, it has become important to consider the capabilities of the cloud to facilitate work and uninterrupted processes. 
If you are new to this arena, the points discussed above will give you a peek into the various capabilities you should consider in a cloud communication environment.

Olivia is an outgoing person who enjoys writing, is an SEO enthusiast, and often interacts with others in intellectual conversations. She enjoys listening to music in her free time. Connect with her on Linkedin
https://www.acefone.com/blog/wp-content/uploads/2021/07/8-tips-to-start-you-own-dream-business.jpg
376
737
Olivia Trott
https://www.acefone.com/blog/images_acefone/logo.png
Olivia Trott
2021-07-19 13:27:54
2023-02-27 11:24:47
Starting a Business Venture in 2021? Here Are the Top 8 Tips You Must Know Before the Launch of Your Dream Business