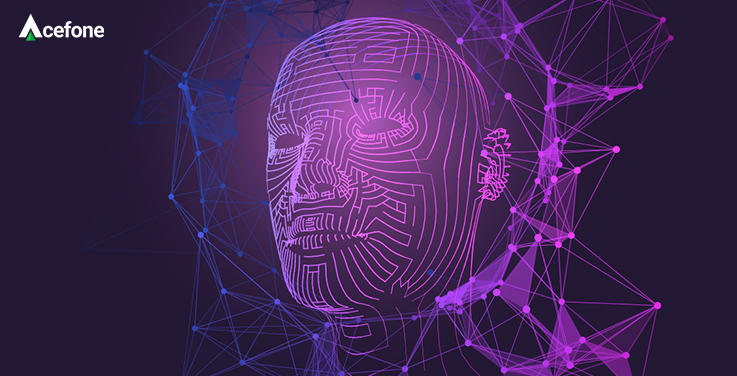 When we hear Artificial Intelligence or AI, the first thing that comes in our mind is a machine that can act and think like a human being.
But that reality is still far away in the future.
Artificial Intelligence really is the ability of a machine to do a particular work on its own and to learn from its personal experience on how to solve a problem or complete a task in the least amount of time.
So, in general, AI-based machines can complete a particular task on their own but cannot do anything else apart from it.
On the other hand, Cloud Communication is an emerging and fast-growing technology which enables interaction between people, whether the internal office communication or agent-to-customer communication, via the internet.
This enables businesses to get the benefit of loads of VoIP features and helps in avoiding the hassle of the physical on-premise hardware with a cloud phone system.
So what happens when we bring Artificial Intelligence and Cloud Communication together? Let's find out.
IVR Solutions
IVR, which stands for Interactive Voice Response, or often called a Virtual Assistant, is an AI-based cloud telephony technology which enables self-help to the customers calling a business.
IVR or Virtual Assistant helps to Route calls to different departments without the need for any manual work.
A Virtual Assistant can also solve the minor queries of the customer on its own when the FAQs are pre-recorded into the system.
It also greets the customers with a welcome message that can be customised anytime.
AI Chatbots
AI chatbots are growing in popularity among businesses for interacting with their customers. AI Chatbots are programmed to reply to specific questions automatically.
It also collects data about the customers that are given to the agent before they interact with the customer to make it a better experience for the customer.
AI chatbots make it easier for both the customer and the business to have an efficient and easy interaction.
It also saves time of the customers as the general information is provided by the AI in the chat. Many customers prefer chatting over call, so AI chatbots are an asset to any organisation.
Robotic Process Automation
Telecommunication companies have to handle a large volume of data on a daily basis which makes the possibility of human errors more likely to happen.
RPA or Robotic Process Automation is a business process automation technology based on Artificial Intelligence that makes processing data more simple and fast for businesses.
It not only ensures error-free processing but also makes more agents available for important tasks like handling customers and solving their issues rather than spending a very large amount of time processing error-free business.
Fraud Detection
The cloud telecommunication industry is one of the fastest-growing industries in the world and just like any other industry it is also prone to frauds.
Authorisation, illegal access, cloning, theft, etc. are some of the common fraudulent activities.
Artificial Intelligence is able to detect and stop these unauthorised activities and securing business data.
It is able to detect the abnormalities in traffic and block them for getting hold of any essential or sensitive information.
Machine Learning
Machine learning refers to the ability of any software to learn more and more from the activities it does. Basically, it learns from its own experiences and improves itself.
It uses prediction of data to process the tasks faster. Machine learning functionality of Artificial Intelligence allows the software to act faster every time it is used.
This saves a lot of time for the agents and the organisations and also eliminates the possibilities of errors.
Predictive Risk Management 
Artificial Intelligence is capable of carrying out predictive analysis for telecommunication companies which helps them with better service.
With the help of machine learning, AI is able to use the historic data of the organisation to predict any possible risks or issues that might occur in the future.
This helps the businesses to prepare for such issues and be able to avoid them completely. With AI, the business process is uninterrupted and streamlined.
This also helps businesses make future proof strategies to improve their performance.
Optimised Networks
According to Forbes, 83% of organisations believe AI to be a strategic priority for their business today.
This is because artificial intelligence lets you optimise your network as well as infrastructure. AI can analyse, optimise, correct technological errors in real-time.
It makes uninterrupted service available. This creates a self-organising system, which is basically a network that can self optimise and self configure.
Also, AI predicts if a similar issue can occur in the future and take measures to prevent and resolve it beforehand. Thus, this improves the performance by many folds.
Creating a Physical Database
Artificial Intelligence has a lot of useful features in the telecommunication industry.
For organisations using multichannel communication to connect with their agents better and provide them with greater satisfaction, it can get a little difficult to collect all the data of different communication media in one place.
However, With Artificial Intelligence, they can create physical databases of customer interactions to store them securely in case any natural calamity.
The voice-to-text feature of AI allows the organisation to create transcripts of the conversations that happened over calls and keep it with the data of the text messages, or email conversations that were exchanged with the customers.
This ensures that the data of a single customer is kept together in a single format.
Bottom Line
Artificial Intelligence has made it possible for telecommunication companies to process enormous data quickly,  detect issues beforehand, extract essential insights from the customer interaction data, resolve customer issues faster using the in-hand data as soon as possible, and offer the customers with an optimum experience.
With artificial intelligence in cloud communication, the process has become much for simpler and fast.
It is just a matter of minutes for AI to process data that might take a normal human about a week. This has made it possible for the telecom industry to provide uninterrupted services to its customers and grow at a rapid rate.
If you want Seamless cloud communication service for your business, contact one of our experts at 0800-084-3663 or drop an email for your business requirements at [email protected], and we will make sure you get what you need.

Ratnam is an SEO enthusiast and content writer working as a Digital Marketer with Acefone. He is fond of traveling and new experiences. He is a huge Marvel fan and is always open to learning.
https://www.acefone.com/blog/wp-content/uploads/2020/08/artificial-intelligence-and-cloud-communication.jpg
376
737
Ratnam Sinha
https://www.acefone.com/blog/images_acefone/logo.png
Ratnam Sinha
2020-04-28 09:45:26
2022-04-26 04:16:23
Artificial Intelligence and Cloud Communication