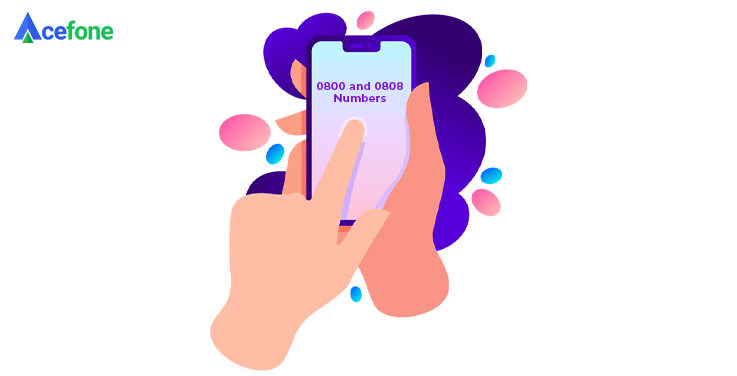 Even when working from home, you can still benefit from an 0800 or an 0808 number.
With the technical capabilities of a hosted phone system, customers can call your 0800 number and be directed immediately to one of your agents – no matter where they are based.
You can work seamlessly from home through the COVID-19 outbreak for as long as you need to without any difficulties while upholding your company's professional image.
Remain Professional At All Times
A free phone number is a great way for businesses to portray a professional image to potential customers as it makes businesses appear bigger and more established.
Even small businesses can benefit from an 0800 number as they can use this to appear larger and even appeal to customers across the country as the 0800 number is non-geographical.
When working from home you may feel that your professionalism might be compromised and that potential customers might not feel comfortable calling a mobile phone number to get in touch with you while you are not in the office.
However, with a hosted phone system, customers can call your professional 0800 or 0808 number and calls can be forwarded to whichever device you are working from with the same crystal clear communication as if you were working from the office.
This means that customers will still have the same trust in your business as your listings remain very professional and you are much more likely to get calls from new and existing customers as you are showing them you are operating business as usual.
Break Down Barriers For Potential Customers
Not only does a free phone number make your business look more professional, but it also breaks down barriers to potential and existing customers calling your business.
During these difficult times, many people have had to furlough staff or make redundancies which provides a very worrying time across the world.
By creating a free phone number, you are breaking down any cost barriers to calling your business and opening up lines of communication to any customer who might need your services – and it will not cost them anything to speak to your business so there is no risk for them in finding out more. 
This open communication means that you will have more chances to engage with customers and your agents will be more likely to bring in more business to you as they are able to communicate freely with potential customers.
Removing the cost barrier also shows that you are invested in and really care about your customers, ensuring that they can get in touch with you no matter what their financial situation.
Open Up To More Business Opportunities
As a hosted phone system allows agents to work freely from anywhere they need to, you can use this time where staff cannot work from your office to open up to new business opportunities.
An 0800 or an 0808 number does not tie you to a physical geographic location, so your business can work wherever the customers are.
If you have a pool of potential customers, you can take advantage of your hosted phone system's features to hire agents working from their homes in these locations.
This means there will always be someone local to those customers to support them whenever they need to, particularly if this location is in a different time zone.
You can use an 0800 number to attract a different customer to your business, opening up your target market nationwide or even worldwide!
So, even while working from home – a simple change in a phone number can potentially open up your business to a whole new market and give you plenty of opportunities to keep business moving forward even through these difficult times. 
Use As A Powerful Marketing Tool
Marketing can become very difficult when your Marketing team is potentially working from home too.
Most companies are stripping back their marketing efforts and focus on more simple messaging while all of their staff are isolating so you too could use this messaging and focus marketing around your free phone number.
Communication between people is becoming all the more important in the current climate with COVID-19.
So this provides businesses with free phone numbers a unique opportunity to showcase how their business is helping communications run more freely.
Using your free phone number as the main focus of your marketing will show customers that you care about their needs and that you are still there for them in this time of uncertainty.
Even if the business is slow now, customers will remember how each company reacted to the Coronavirus crisis and will make purchase decisions accordingly once it is over.
So it is important to listen to customer needs now and ensure you are accessible to them – something which should be reflected in your marketing campaigns.
Move Business Online
A free phone number can also help you if you are selling products or services and are facing difficulties.
If you are having to take your products online, it is useful to have a free phone number to ensure you are not alienating customers who may not be in your locality.
The internet opens up your business to a whole new customer base, but they may be reluctant to deal with a business which, by their local number, is based miles away from them.
With a free phone number, you take away this geographical element so you will be able to deal with customers anywhere in the country.
In this way, a free phone number gives you the ability to continue with business as close to normal as possible with an online shop – while your staff can work seamlessly from home by connecting to your phone system remotely.
A free phone number can work for your staff while they deal with the unusual situation we are all faced with.
Coupled with the many amazing features of your hosted phone system, working from home does not have to mean a decrease in productivity, but could actually open up your business to a world of new opportunities.
To find out more about freephone numbers and how a hosted phone system can help home workers, call on 0800-084-3663.

Acefone provides a broad range of cloud communication services to businesses of all sizes, which includes Hosted Phone Systems, Free Phone Numbers, and Cloud Contact Center Solutions. Being the UK's leading provider of VoIP service provider, we always strive to provide excellent customer service and high-quality custom solutions to our customers.
https://www.acefone.com/blog/wp-content/uploads/2020/05/benefits-of-0800-and-0808-numbers-while-working-from-home.jpg
376
737
Acefone Editor
https://www.acefone.com/blog/images_acefone/logo.png
Acefone Editor
2020-05-05 06:59:21
2023-01-20 09:35:22
How You Can Still Benefit From an 0800/0808 Number While Working From Home