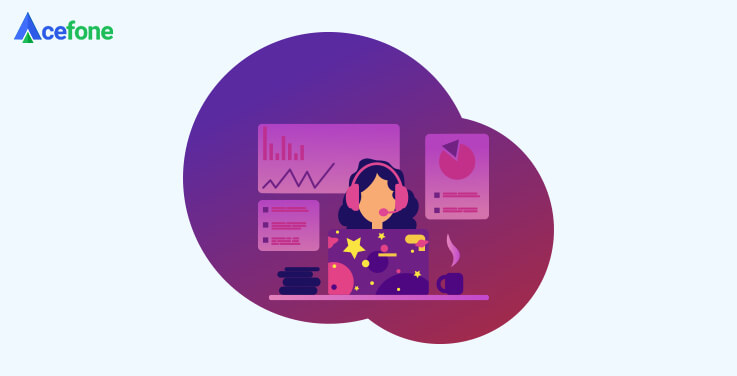 Time and again businesses have found setting up a call centre tedious. 
Contact centres, as the frontline to serve customers round-the-clock, are major touchpoints for organisations. In fact, they are often called 'cost centres' in businesses. Their performance is hugely judged by the numbers they show; so the industry is considered highly competitive.
The performance of your outbound contact centre depends on several factors. This starts with tracking key performance indicators like duration of calls, quality parameters like how calls were handled, where they were transferred, and feedback from the customers.
With so many things to get a hold of, is it not that easy to boost your outbound contact centre performance. So, here are a few ways you can do it effectively!
 1.

Motivate your agents
Undeniably, your call centre's performance majorly depends on your agents. Only when your representatives are equipped with the right call etiquettes, will they be able to handle calls appropriately.
Moreover, you should ensure that your agents remain motivated. To accomplish this, make sure that you recognise them for their efforts. Whether it is going the extra mile to handle a frustrated customer or handling difficult situations with ease, hard work should always be rewarded. When your agents feel noticed and involved, they rise up to their responsibility and align their goals to match yours. 
Furthermore, you must include team building activities and gamification as a regular part of work. This will help your agents break through the mundane routine and help them stay motivated and refreshed.
2.

Focus on aggressive monitoring
The monitoring of processes is cardinal in a call centre environment. This should include parameters like the average call handling time, the way agents have approached the customer, the customer's readiness to share details, and any kind of feedback about your products and services.
Close tracking of these factors will help you identify glitches in your processes promptly. This may include improvement of organisational issues or poorly performing representatives who need supervision and training. Following this approach will help boost the overall performance of your outbound call centre.
3.

Stimulate self-monitoring
Monitoring is pivotal in improving call centre performance. This begins with the enhancement of agent performance. Though it is possible to track agent performances individually, it is best to inculcate the habit of self-monitoring among your agents.
Consider the current situation wherein businesses are required to work remotely. Here, despite the state-of-the-art monitoring tools in place, the impact of a face-to-face review or feedback session with the agents is unmatched.
Instead, if you have established self-monitoring KPIs, your agents will take ownership of their stats and numbers along with the customer feedback they obtain.
Moreover, irrespective of the location of the team, there is no need to micromanage them making them more responsible yet comfortable with their work.
4.

Strictly follow a feedback and training routine
You should take customer feedback seriously. But what about feedback from your agents? Feedback should be a two-way process, allowing your agents a platform to raise their issues adds an integral part of your work culture.
Remember that your agents are the first ones to identify any technical glitches. You should make sure that they are aware of how important their feedback on processes and improvements is.
Again, invest and include regular training sessions to maintain an updated workforce. Offer information and guidance about tackling difficult customers, give them a glimpse into the nuances of using updated tools and keep them updated with industry news. 
This will help them to remain proactive at work and thereby positively impacting your call centre performance.
5.

Invest in updated software
According to a survey by 24-7 Pressrelease, 80% of respondents felt that 20% and more of their customer tickets were repetitive.
Use technology competently. Invest in tools and software that help free your agents from redundant work. For example, you may develop a personalised IVR system that can handle simple customer queries without transferring them to agents. This will ensure that your agents don't spend time on attending simple queries and can focus on other complicated issues.
Again, maintain an updated Customer Relationship Management (CRM) tool. Having such a centralised repository of information will equip your agents with detailed information about returning customers. They will be able to handle these calls effectively and contextually thereby positively impacting your call centre performance.
6.

Periodically review key performance indicators
When did you last re-asses your key performance indicators? Do you measure KPIs with a purpose or just for the sake of it?
One typical KPI for a call centre is the average call handling time. This refers to how fast your agent was able to resolve the customer query to be available for the next call on the queue. This KPI, essentially, points to the speed of the agents. 
Often, it may lead to agents addressing issues in a hurry without paying attention to the quality of customer service provided. In this scenario, though the KPI for the average handling time is accomplished, other KPIs like Customer Satisfaction (CSAT) and First Call Resolution (FCR) may take a toll.
It is therefore important that you take the time to evaluate every KPI metric along with the purpose behind it to ensure that they provide the best to improve your call centre performance.
7.

Add the right talent to your workforce pool
As the performance of contact centres boils down to the capability of individual agents, you must hire the right candidate. You should ensure a thorough screening of agents' capabilities before recruitment. 
Every wrong hire results in poor productivity, reduced morale, and higher absences. Also, this may hit hard on your sales and customer satisfaction ratings.
It is therefore important that you identify the right candidate with a suitable attitude, soft skills, and work ethics to contribute towards the improvement of your call centre performance.
Wrap up
Working to improve your contact centre performance is a challenge. It depends on how proactively you identify glitches, rectify them, and create an environment for the skill enhancement of your agents. Hopefully, the above-mentioned points will offer a sneak-peek into effective ways to boost your call centre performance.
To optimise your call centre further, contact Acefone's expert team at 0800-084-3663 now!

Acefone provides a broad range of cloud communication services to businesses of all sizes, which includes Hosted Phone Systems, Free Phone Numbers, and Cloud Contact Center Solutions. Being the UK's leading provider of VoIP service provider, we always strive to provide excellent customer service and high-quality custom solutions to our customers.
https://www.acefone.com/blog/wp-content/uploads/2020/10/ideas-to-boost-outbound-contact-centre-perormance.jpg
376
737
Acefone Editor
https://www.acefone.com/blog/images_acefone/logo.png
Acefone Editor
2020-10-14 05:43:14
2022-04-25 10:39:00
Innovative Ideas To Boost Your Outbound Contact Centre Performance