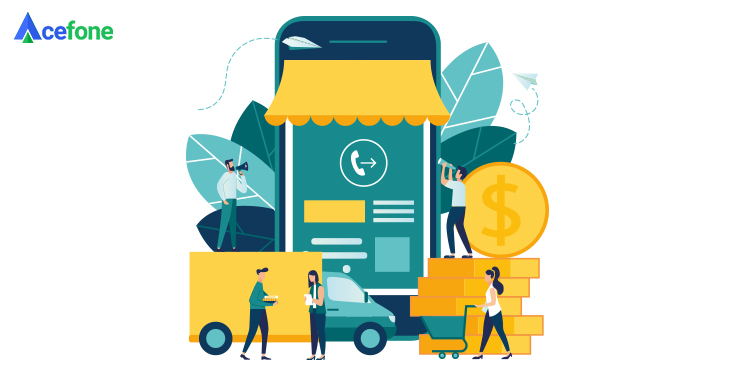 You don't need to be a business tycoon to know that communication is the key to a successful business.
Even core functions like management and operations need a strong communication system to perform well. Such efficiency ensures a smooth flow of information within and between different departments of an organisation.
When we say communication, we mean both internal and external forms. For a company to thrive, it is necessary to foster clear, two-way relationships with customers and other businesses.
Having multiple channels of communication is just one way to assure that; emails, live chats, telephony make you accessible to all. Additionally, it helps your customer agents interact better and solve problems while also gathering essential feedback. 
A Reliable Hosted Telephony Service Is All You Need
VoIP (Voice over Internet Protocol) is an excellent medium to convey messages proficiently.  Every company needs to acquire an efficient telephony system in order to improve overall business communication, paying special attention to customer service. 
A cloud phone system not only streamlines service but also offers a dynamic calling experience. This can easily determine the success of your business as a brand. 
What is Call Forwarding? 
A feature of the cloud telephony system, call forwarding allows businesses to route incoming calls to various departments when an agent or a department is unable to take the call.
This can happen when an issue escalates or when increased phone traffic keeps the agents engaged. Call forwarding helps customers solve their queries by connecting them to the most relevant agent available as quickly as possible. 
Benefits Of Call Forwarding When Building A Positive Brand Image

 
Call forwarding allows businesses to increase their workflow productivity and provides greater customer experience. You can explore the following benefits for your better understanding:
Boosts Customer Satisfaction
Customers call you with the hope of getting their problems solved. However, it may not be possible for every agent to solve every customer query.
Call forwarding acts as a saviour that enables the primary agent to transfer the call to the colleague or department best-suited to handle the issue. 
The world is fast-paced, and customers want their queries solved quickly without wasting time on call. They might get irritated easily when their problems are not solved instantly.
Call forwarding reduces the time spent on juggling between agents and departments to solve the customer's issue. 
Respecting your customers precious time can help you win their loyalty.
Builds Trust Between Customers and the Business
Customers are bound to be happy when a business efficiently assists them with queries and problems. This encourages satisfied clients to constantly avail the firm's products and services.
So, the faster you solve customer's problems, the more trustworthy you become. 
Customer Service becomes Mobile
One of the most significant features of call forwarding is that agents are not chained to their desks. They needn't answer calls from their desks only, but can easily forward them to multiple devices based on their convenience.
This eliminates any scope of disruption between customers and the business, even during odd hours.
Most businesses have a publicised free phone number. This number enables customers to immediately connect with the business from anywhere in the country without bearing any charges!
This improves the accessibility of your business and builds a promising reputation for your business. Free of cost communication builds a better brand image for your organisation.
Gives the Business a Professional Look
Call forwarding comes with multiple add-ons that make your business sound professional.
Features like pre-designed greetings and automated call assistants, multi-lingual approach, location-specific service, on-hold ringtones, and more add credibility to your business.
This also offers dynamic customer service and adopts a more customer-centric approach.
This feature enables businesses to be reachable 24/7. You can accept customer calls all times, even from different time zones. You never have to miss a call even when you are away from your desk phone. 
Reachable During Emergency
Businesses always have a contingency plan for potential risks. Call forwarding takes care of the customer service aspect in a contingency plan.
For instance, if there's a worldwide emergency, like a pandemic, the communication dynamic between customers and businesses will have to be shifted.
Or maybe not. Call forwarding allows employees to serve customers from a different location, even their home. This means that even in adverse situations, your customers can always count on you. 
Summing Up
After going through these various benefits, it can be concluded that call forwarding enhances customer experience multifold.
All its features are interconnected and functioned together to ensure smooth communication. Customers feel valued, satisfied and assured and become a potential loyal customer. 
In conclusion, businesses should wisely choose a cloud phone system service that offers a very dynamic set of features and service list. 
Acefone provides exemplary cloud telephony services that increase your workforce productivity and boosts customer satisfaction. Contact an expert at 0800-084-3663.

Olivia is an outgoing person who enjoys writing, is an SEO enthusiast, and often interacts with others in intellectual conversations. She enjoys listening to music in her free time. Connect with her on Linkedin
https://www.acefone.com/blog/wp-content/uploads/2020/08/call-forwarding-cloud-phone-feature.jpg
376
737
Olivia Trott
https://www.acefone.com/blog/images_acefone/logo.png
Olivia Trott
2020-08-06 09:39:43
2023-01-20 11:14:04
Why Is Call Forwarding One Of The Most Important Features of Cloud Based Phone System?