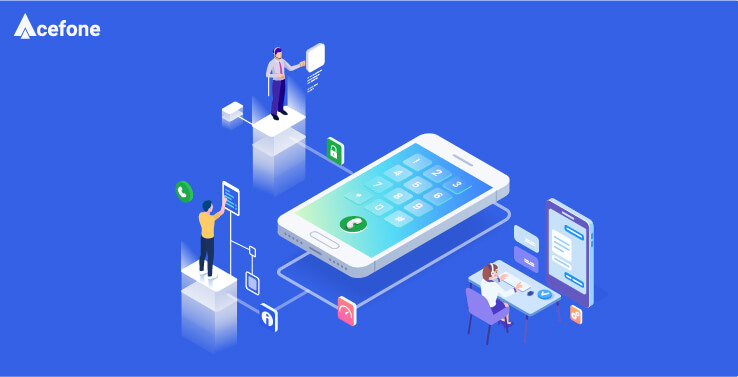 Organisations worldwide are looking for ways to improve the efficiency and experience of their contact centres. As per industry research, it takes at least 18 dials to connect with a prospective buyer over the phone. With a conversion rate that low, and non-connect calls, which either end up in voicemail, or are not even picked up, imagine the total number of calls needed to register a successful day.
It is no surprise then that contact centres have become a crucial cog in the machinery for organisations that wish to offer reliable customer communications. 
Established as a centralised point of contact, support centres employ agents to get in touch with clientele, address grievances and queries, understand their preferences and demands, and identify and eliminate pain points. Undoubtedly, support centres help businesses gather valuable customer insights.
Thus, it only makes sense for businesses to pay more attention to their contact centres.
Contact centre diallers
The primary role of the contact centre agents is to engage hesitant buyers and convert them into potential customers either through issue resolution or sales pitches. 
However, the process forces agents to spend a major portion of their time dialling contacts manually, hoping to connect with potential leads. This severely impacts contact centre efficiency, and, as a result, impairs the whole lead generation operation. 
This is where automatic diallers come into the picture.
Contact centre diallers are applications that automate the process of outbound calling. These systems dial contact numbers and only connect agents if these calls are answered. Thus, they are able to make intelligent decisions by detecting and avoiding unanswered calls. 
Overall, these diallers positively impact agent productivity by ensuring minimum wait time and maximum connection rates.
Businesses can choose from various types of diallers. Numerous customisation options and configurations allow managers to choose a version that aptly fulfils their requirements. 
Let us discuss some of the most popular types of diallers available.
Types of contact centre diallers
At the first level, there are two broad classifications of contact centre diallers:
These are one of the most common and simple forms of contact centre diallers. These require agents to pick up telephone headsets, look up the details of the customers on their list, dial numbers manually and then wait until calls are answered before delivering the sales pitch.
Auto-diallers are advanced solutions capable of expediting outbound call campaigns by automatically dialling the next contact in the list. They greatly reduce the dial-to-connect time.
Auto-diallers can be configured to detect answering machines or voicemails and transfer a live customer to an idle agent, effectively utilising the available workforce in a dynamic manner.
There are further divisions in the category of auto-diallers which are based on varying configurations:
As the name suggests, these diallers offer agents a preview of potential leads before dialling them. The agent is able to look at all the available contact information stored in the database and can then select contacts that need to be contacted. These diallers are particularly useful for sensitive calls such as collections, insurances, etc. 
These diallers are designed to automatically dial all the contacts from a defined list. If the call is answered, they connect the recipient with an available agent instantly. The dialler also displays the status of the customer connections such as busy, voicemail, out of reach, and so forth.
More intelligent than other forms, predictive diallers track agent behaviour to determine when their current call would be completed and initiate the next call accordingly. This eliminates idle time between calls and agents remain productive for longer.
Progressive diallers run through the list of contacts on the auto-dialler and assign a connected call to the available agent, before filtering out calls that are either busy, out of reach or unreachable. These diallers are active as long as agents are available for support conversations.
How to choose the correct dialler for your business
The variety of auto-diallers available in the market is a direct result of the burgeoning technology behind these applications. However, while it presents us with a plethora of choices, it also becomes important to identify the type of dialler best suited to your operational setup. Each business has unique constraints and needs. Thus, it is important that you closely evaluate your requirements. 
We discuss some of these crucial factors that should be considered while choosing a dialler:
There can be multiple purposes for an outbound call campaign—randomised sales calls, upcoming deals, or offering customised deals. Diallers can be configured to suit the goals of the operation, maximise productivity, and gain results at the lowest cost. Further, functional synergies also enhance the execution of a particular campaign.

Preview diallers would be most suited to scenarios wherein calls are context-driven, i.e., conversations depend upon the customer's previous interactions with the brand. These would include calls made to send insurance reminders or debt collection messages.
Another factor to be considered is the size of the workforce available for the operation. For large volume outbound calling operations, predictive or progressive diallers would be the most effective. They ensure no agent has to wait to connect with a potential lead.
On the other hand, low volume operations would require maximum output from a smaller team. For such instances, a preview dialler would be extremely helpful in preparing the agents to hit the ground running. 
The success of any outbound campaign is measured by quantifiable metrics such as connections made, conversations recorded or successful conversions. The only way to augment these numbers is to understand the consumer and strategise your approach accordingly. Hence, the type of dialler would vary as per the target audience group.
For example, if you wish to target high profile individuals for a campaign, incorporating a preview dialler would be ideal so that the agent has access to context and interaction history. 
A major criterion while choosing an auto-dialler is to analyse business requirements. Managers can then substitute existing frameworks to introduce a cost-efficient dialler. Organisations with in-built CRM software can look towards integrating their diallers with their database to link contacts with the customer details.
Final thoughts
Diallers have risen in importance and utility for contact centre set-ups across the world. These technologically advanced tools are capable of significantly enhancing the productivity and efficiency of the contact centre agents. However, that is contingent on the fact that the current dialler has been implemented successfully in the existing setup. 
All in all, introducing the right dialler has the potential to greatly improve the functioning of your contact centres. These tips will guide you as you make your way through the extensive maze of auto-diallers.
To know more about this, get on-call with our cloud experts at 0800-084-3663 or drop an email at [email protected]!

Olivia is an outgoing person who enjoys writing, is an SEO enthusiast, and often interacts with others in intellectual conversations. She enjoys listening to music in her free time. Connect with her on Linkedin
https://www.acefone.com/blog/wp-content/uploads/2021/09/choose-the-correct-dialler-for-your-business.jpg
377
738
Olivia Trott
https://www.acefone.com/blog/images_acefone/logo.png
Olivia Trott
2021-09-13 11:34:39
2023-07-28 05:50:03
Choosing the Correct Dialler for Your Business