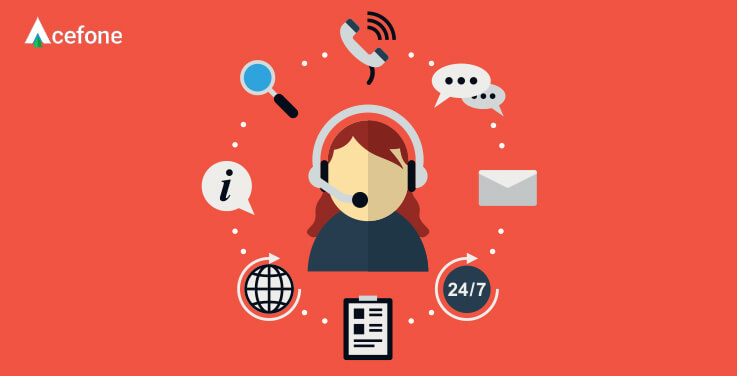 There are many different reasons to use cloud communication with your social media platforms––hosted phone systems provide a great way to unify your communications and make sure your conversations remain consistent. When a customer gets in touch with you, it is important that you appear professional, and cloud communication solutions can help you do this with ease.
You may think that the capability of your phone system is only limited to calls, texts and video––but in reality, hosted phone systems can do much more than that. Your cloud communication solution can help you with social media marketing, branding, general marketing messages, and customer service. 
A good cloud communication service provider is dedicated to helping businesses make the most of their phone systems. They help you make the most of your hosted phone system's features and unlock its potential! 
Read on to learn more about how cloud-backed solutions can take your communications a notch higher.
Use your hosted phone system for marketing
Your cloud communication solution not only facilitates customer connections via a phone but is also a valuable marketing tool. You can use the amazing features of a hosted phone system to enhance your marketing endeavours effortlessly. 
One such feature is the ability to save detailed customer information, such as their preferences, previous purchases and more, right in your phone system. This allows everyone in the business connected to your hosted phone system to be able to access the information whenever and wherever they need it. 
Having these details allows you to send them custom messages and recommendations. And personalised communication means that you're much more likely to convert that lead into a sale—and you'll be able to demonstrate the return on investment from your marketing efforts, too! 
Harness the power of a CRM
You can also integrate your phone system with a CRM (Customer Relationship Management) software to identity social media trends and see what your customers are interacting with. Based on their mentions of your products, you can proactively reach out to customers and offer your services.
And should you ever find clients mention any issues with your products or wishing for better price points, you can easily track these comments and messages. You can attach these mentions to respective customer profiles, and then work on providing resolutions accordingly. Doing so helps you improve customer satisfaction and retention, and helps you generate better word of mouth referrals without investing any additional finances or efforts.
CRMs also facilitate better lead management, contextual conversations, improve follow-ups and ultimately, help you build stronger relationships. And the icing on the cake? You're able to connect with your customers over call, chat, or messages from a single portal, thus truly offering an omnichannel experience.
Your phone system also offers detailed analytics to pinpoint exactly which channels work and which need improvement, thus helping you improve your campaigns as you go. For example, you could set multiple phone numbers—one for each social media channel—then monitor which platform receives more calls. By having this information, you're able to identify what works best for your business and can spend effectively. 
Build a better brand
Along with your marketing efforts, you can also amplify your branding endeavours with cloud communications. Solutions such as free phone numbers, virtual numbers and vanity numbers help you achieve this goal. 
Free phone numbers appear more national and break down communication barriers by allowing clients to call you for free. Virtual numbers, on the other hand, allow you to appear more local while maintaining a professional image. And vanity numbers reflect your brand, thus augmenting customer recall. 
A great example of this is Hastings Insurance Company which has a phone number ending in 1066, the date of the battle of Hastings.
When it comes to outbound marketing, you can control how your caller ID appears on your customer's phones (or you can completely block it from appearing). This is a great opportunity to further enhance your brand by having any number of your liking flash on clients' phones when making outgoing calls.
What's more––whether it's an inbound or outbound call, you can choose to play customised music or messages on hold. This keeps callers entertained while they wait and is a great way to reinforce your brand ethos and announce any new offerings and special discounts.
By having your main number displayed, you can ensure customers know who is calling and make it easier for them to get in touch with you should they need to call you back. This is another step towards getting customers to remember your brand and easily be able to recall your phone number when they need to get in touch. 
Deliver superior customer service
Finally, you can create a strong customer service culture with your cloud communication system. When you combine the power of various channels with your hosted phone system, it is easier to keep messages consistent. 
Many times a customer will contact you on social media and then call you to follow up. With cloud communication solutions, you're able to quickly access the conversation history and pick up where the last agent ended the conversation. There's less chance of having to repeat information which enables you to deal with customers much quicker.
Similarly, customers expect you to be available on an online chat as this is an easy way for customers to get answers to their questions. Hosted phone systems have the capability to integrate with third-party apps and allow you to manage various social media chats. Thus, armed with all the relevant information, you're able to address client concerns even on platforms like WhatsApp.
This is a great way to enhance your reputation in your social media community and can even save your agents' time in the long run as you can catch any potential issues early. Social media outreach can even help to increase your sales and your brand image—so a win-win! 
There's nothing worse from a customer's perspective than calling a business and having to get routed to the wrong destination. To aid both customers and your agents, your hosted phone system has the ability to include an IVR system. 
This system allows customers to self-select the department they need to be put through to, meaning they get to the right person the very first time they connect rather than needing to be transferred through your teams. This frees up your agents to spend time addressing the right issue and helps them be prepared with the right details before they answer the client's call.
Essentially, you're able to deliver great customer service to each and every client that reaches out to your business without burning a hole in your pocket. 
Get cloud communications for your business
As we've discussed here, cloud communications go well beyond just calls and texts—they open up a range of opportunities for your business to both make more sales and work more effectively. 
Cloud communication solutions allow your staff to work collaboratively, no matter where they are and seamlessly enhance your marketing and branding efforts in the process.
If you'd like to find out more about the opportunities a cloud phone system can open up to your business, call us today on 0800-084-3663 for a consultation.

Olivia is an outgoing person who enjoys writing, is an SEO enthusiast, and often interacts with others in intellectual conversations. She enjoys listening to music in her free time. Connect with her on Linkedin
https://www.acefone.com/blog/wp-content/uploads/2021/05/cloud-communication-solutions-for-your-business.jpg
376
737
Olivia Trott
https://www.acefone.com/blog/images_acefone/logo.png
Olivia Trott
2021-05-28 07:18:52
2023-03-21 08:20:31
Go Beyond Calls, Texts, and Video with Cloud Communication Solutions