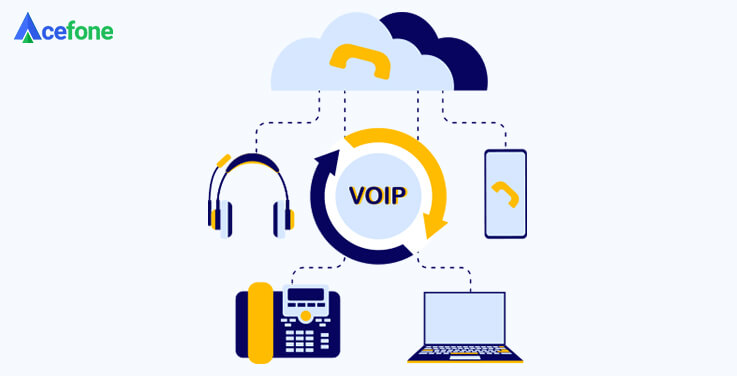 Technology has helped companies expand successfully despite facing several challenges—even more so for start-ups. 
The most important part of establishing your start-up is to strike the right chord with your target audience. Your contact centre plays a cardinal role in connecting with customers and reflecting your brand in the right way.
Therefore, you need to maintain a state-of-the-art contact centre to have seamless communication with your clientele. A cloud telephony system helps you achieve this effortlessly.
Global cloud telephony has grown by approximately 9% in 2020. In 2021, the forecast is even stronger with an expected growth of another 17.8%.
What is a cloud telephony system?
Cloud technology enables businesses to maintain their communication on the cloud. This messaging and voice service does not need in-house infrastructure or a dedicated team for its maintenance. Unlike traditional telephony, cloud solutions don't require additional infrastructure as it functions on a virtual setup. 
Moreover, the cloud offers a variety of advantages for start-ups. Here are a few of them: 
Growing startups tend to incorporate the latest technologies in order to stand out and flourish in the market. This development demands a shift to updated tools in a timely manner. 
If you're just beginning your business, you may find it difficult to allocate funds for every technological transition. The shift in requirements would weigh heavy on your budget every time. 
When you change to newer technology or increase resources for a temporary requirement, these resources may remain idle after the requirement is over. Additionally, in-house resources can also lose their worth after updating your environment.
Cloud telephony systems eliminate this wastage of resources. This system is maintained by a third-party provider who is equipped with the latest tools and technologies required for your upgrade. An outdated tool in your system may be reused for some other client, thereby reducing idle resources.
Furthermore, cloud systems may face unexpectedly high call volumes at times. Amazingly, their capacity can be increased or sized down based on the immediate requirements. The flexibility to scale based on temporary and permanent needs makes the cloud telephony system highly preferable for start-ups. 
Enables centralised access
The COVID-19 pandemic has taken a toll on businesses—and start-ups are no exception. Several companies have begun to work from home in wake of the pandemic. This remote setup demands the need for centralised access to enterprise data.
Cloud telephony systems maintain all the data on the cloud, enabling simultaneous editing and file-sharing of documents saved online. When you have a distributed team, all they need is a telephone and a strong Internet connection to execute their daily activities. They are free to connect from anywhere across the world and provide uninterrupted services to customers.
The cloud's call recording feature makes it easy to obtain the details of productivity and derives intuitive insights from this data to improve contact centre services.
An in-house telephony system includes the infrastructure and expertise to install and maintain the entire set-up. This may be costly for a start-up. Furthermore, it needs maintenance from a dedicated technical team that can stay on top of issues.
The cloud, on the other hand, saves you from all this trouble. Your cloud telephony provider takes complete charge of your phone system. This includes the initial infrastructure costs, maintenance, and on-going troubleshooting.
This saves a lot of time and money for your organisation. Your cloud system acts as a one-stop-shop for all your contact centre telephony needs. 
Enhanced security features
You should upgrade system software based on the latest security patches and developments. This is important to steer clear of cyber attackers.
Timely security upgrades ensure that glitches or vulnerabilities in your system are identified promptly and rectified on time. The third-party cloud provider makes sure that your communication ecosystem is equipped with the appropriate antivirus, antispam, and firewalls to safeguard your data completely.
Moreover, cloud service providers can educate your employees about the needs and risks involved in data compromise and mitigating practices. 
For example, they will train your staff about the importance of using strong passwords and changing them periodically. The need to avoid unnecessary downloads and access unknown links from suspicious sources are emphasised. 
Furthermore, cloud providers may implement a multi-factor authentication technique that offers access to sensitive business information only after appropriate authentication. They may also execute a role-based authentication wherein access is provided to employees who need the data in question to accomplish their job responsibilities.
This is how cloud telephony strengthens and secures your system.
Downtime can disrupt the functioning of all your office systems, resulting in wastage of resources and time. It can be caused due to natural disasters, technical glitches, or even due to human error. Whatever the reason, it causes a hiccup in connecting with your customers, thereby negatively impacting your image as a reliable brand.
Essentially, there are two approaches to deal with a crisis. One is to take proactive measures and the other is to address them as and when they happen. Your cloud telephony system is a perfect blend of both these approaches. 
This system saves an automatic backup of all your business data. In the event of a natural disaster or cyberattack resulting in data loss, your cloud provider is able to restore data from the repository in no time. The capability of a cloud phone system to bounce back spontaneously after a data loss reduces the possibility of downtime.
Better monitoring capabilities
The cloud is capable of recording and monitoring every call. This data can be used to improve the overall productivity and performance of your phone system.
Stakeholders can use this recorded information to review the quality of calls and the performance of representatives. It helps identify weaker performers and find a way to improve their efficacy. So, bottlenecks in contact centre processes can be picked out and addressed promptly. 
For example, if a series of call data signifies that a particular type of call has consumed more than the average amount of time to get resolved, you may look into the reason behind it and find an appropriate alternative. 
If the delay in presenting the resolution is due to a lack of sufficient resources to obtain information, you can integrate internal customer data management tools like CRM with your telephony system to expedite processes. This hindsight into the daily processes is effectively provided by your cloud telephony system.
Wrap up
Cloud technology is the need of the hour, especially for growing start-ups. It controls costs and comes with several features that boost the working efficiency of both the contact centre and the organisation as a whole. Hopefully, the above-mentioned points will throw light on a few of the advantages of using cloud telephony systems for start-ups.
You can avail the latest cloud tools at the best market prices with Acefone. simply dial 0800-084-3663 or send an email to [email protected] and we'll be right with you.

Acefone provides a broad range of cloud communication services to businesses of all sizes, which includes Hosted Phone Systems, Free Phone Numbers, and Cloud Contact Center Solutions. Being the UK's leading provider of VoIP service provider, we always strive to provide excellent customer service and high-quality custom solutions to our customers.
https://www.acefone.com/blog/wp-content/uploads/2021/03/cloud-telephony-benfitting-the-startups.jpg
376
737
Acefone Editor
https://www.acefone.com/blog/images_acefone/logo.png
Acefone Editor
2021-03-15 06:04:53
2023-03-21 09:40:27
Give Your Start-up a Cloud-Empowered Boost In A Disrupted World Economy