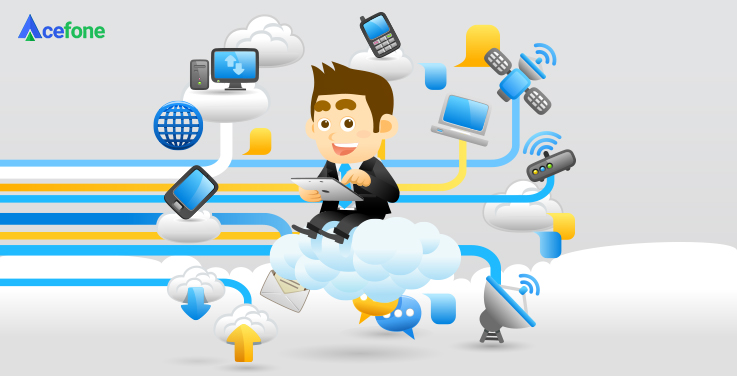 Cloud telephony can open up a whole new world of business for your company, making your business – no matter the size – a company with the capacity to operate globally.
If you are still not convinced that cloud telephony is worth the investment, we have put together 5 Reasons to adopt cloud telephony into your business.
Reason 1: Exciting New Features
Cloud telephony gives you access to amazing features you could not use with your traditional phone system.
Each of these features gives you a new way to impress customers and make their (and your) lives easier and gives you the opportunity to win business and keep on top of all the important statistics from one, easy to use online portal.
Cloud telephone systems can give your business access to virtual assistants who can take calls when you are not free, meaning you will never miss a lead or business opportunity again and can quickly access any messages left on any device through your emails; where recordings of voicemails are sent.
You can also customise your number and make it either regional, national or free phone to attract customers and put across whatever message you want to your customers.
You can also have a branded number to help customers remember, making it easier for them to call and supporting your marketing and brand awareness.
Another exciting feature available is the ability to create your own interactive voice response system to help direct customers to the correct department of your business; not only is this a professional way of dealing with customers, but it also helps customer experience and helps your agents receive the most relevant calls for their skill set.
Reason 2: Make Calls Anywhere, Anytime From Any Device
Cloud telephony frees you from the restrictions of a traditional phone system.
Whether you use mobile, tablet, desktop, laptop or all of these devices; you can switch your calls seamlessly with no interruption to whichever device you need and can take your phone system anywhere.
Staff can make and take calls on the move, allowing them to freely go where they need to go without losing out on leads or enquiries.
With cloud-hosted telephony, your business is free to do what you do best, and your phone system will move with you.
 The ability to use multiple devices to run your phone system gives you the chance to let your staff work flexibly, something which is increasingly important to employees who are balancing work and home life.
Your business can keep up with the times and give employees the benefits they want without sacrificing any productivity or profit.
Reason 3: Expand Your Business Worldwide
Your small business could become global in just a few clicks. Cloud telephony allows you to truly become a global business as the freedom of connecting to your phone system on any device also extends to connect from any location.
You can hire staff all over the globe to work for your company, and they can easily connect to your phone system in just a few clicks on their preferred device.
They can then start making and receiving calls as if they are in the office with you, customers will know no difference with crystal clear connections over the internet and you can ensure that someone is online to take calls no matter what time it is – lessening any chances of you missing out on business.
You will still have full control over your phone system and agents no matter where they are based on Acefone's analytical tools.
Reason 4: Monitor Staff From Anywhere
With Acefone's easy to use online portal, you will have full control over everything on your phone system. The online portal gives you access to detailed analytics on call costs, call time, waiting time, number of calls per agent and much more.
This means that you can manage your team even if you are not in the same country or even continent! These tools are invaluable for business owners and can be the key to ensuring you have highly trained, effective staff serving your customers; plus with conference calling you can ensure the team are on the same page.
Reason 5: Your Phone System Will Grow With You
With lots of extra features at your fingertips and the added flexibility of your phone system, business is sure to start growing. Hosted phone systems will not hold you back and allow you to add as many extensions as you need to your phone system.
This gives you the chance to hire as many staff as you need to keep up with customer demand – which is particularly useful in peak sales seasons.
Once the rush is over, you can remove these lines easily and can, therefore, take advantage of the ability to hire temporary workers to get you through the rush.
A traditional phone system requires a lot of work to add and remove lines but with a hosted cloud system this can be done in a few simple clicks and you can start monitoring the flow of calls through your business immediately through the online portal.
Cloud telephony can open up many new opportunities for your business and can help you grow rather than holding you back.
Saving on call costs and maintenance are also added bonuses to the already long list of reasons why you should adopt cloud telephony. If you would like to find out more, contact Acefone today on 0800-084-3663.

Acefone provides a broad range of cloud communication services to businesses of all sizes, which includes Hosted Phone Systems, Free Phone Numbers, and Cloud Contact Center Solutions. Being the UK's leading provider of VoIP service provider, we always strive to provide excellent customer service and high-quality custom solutions to our customers.
https://www.acefone.com/blog/wp-content/uploads/2020/03/reasons-to-adopt-cloud-telephony-in-business.jpg
376
737
Acefone Editor
https://www.acefone.com/blog/images_acefone/logo.png
Acefone Editor
2020-03-09 14:07:52
2021-08-03 12:18:07
5 Reasons to Adopt Cloud Telephony Into Your Business