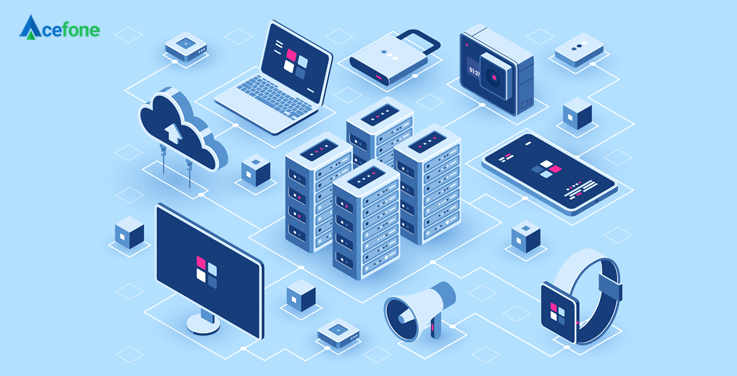 If you are new to hosted telephony, then it can be a confusing time looking through information on all of the amazing features this type of telephone system can bring to your business. You might feel overwhelmed and need some advice on what it is you really should be looking for; so Acefone has put together a short guide on which features you need to have when investing in hosted telephony.
Analytics and Monitoring
Firstly, if you are making the investment of bringing hosted telephony into your business, then you want to measure exactly how much impact this is having on your business. Acefone's hosted telephone systems come with an easy to use the online portal as standard, where you can access detailed analytics on everything from number of inbound and outbound calls to call costs.
These analytics give you a great indication of an agent's performance and gives you an opportunity to focus on where your team might need training; this gives you a more productive team and of course, makes your business much more productive and profitable.
You also have access to live data on calls and can ensure all agents are working effectively to deal with your customers. Part of the monitoring capabilities of a hosted phone system is access to call recordings at the click of a button.
This can help with staff training or protect your business in the event of a complaint, the call can be listened to, and you can have proof of everything discussed in a call should you ever need it.
Scalability
You want your business to grow, and your hosted phone provider should make too! At Acefone, you can add and remove lines whenever you need them from the online portal, so it is easy to scale your business up or down to deal with the level of demand.
We do not want to hold your business back, so we empower you to use the online portal to your advantage; freeing you up to hire temporary workers who can be based anywhere in the world.
IVR System
An IVR system on your phone is a must-have for any larger business with multiple departments. Customers can call one main number and then be presented with personalised options to choose which department is best suited to answer their query. This does not just save time for customers, but also allows your staff to provide a smoother and more efficient service to customers.
For example, a customer looking for answers to a technical question without an IVR may be put through to a department who misunderstand the query and either give wrong information or turn the customer away; this can be bad for your reputation and customers will have less trust in your business.
So to ensure they get their queries answered accurately, an IVR system is a great way to give customers the power to choose who they speak to.
IVR systems do not just make things easier for customers, though, they also give your business a more professional look. If a customer is researching and calls a business with a professional phone system which allows them to choose who to put the enquiry through to, they are sure to be impressed with the level of customer care.
They could then call a competitor who does not have a professional phone system, and this could help them decide to choose your business over a competitor.
Virtual Assistant
For smaller business owners, you should always look out for hosted telephony with virtual assistants. A virtual assistant will take calls while you are on to go or to have a well-earned break! If you are a sole trader and do not have the staff to back you up and take calls, then the virtual assistant is a cost-effective way of ensuring all your calls are answered.
Virtual assistants ensure that you never miss a lead, no matter the size of your business and that you never leave a customer unanswered.
Messages will be forwarded as voice files to your email address too, so you can easily get back to customers when you are on the go.
A virtual assistant ensures you are not chained to your desk phone, as at Acefone we understand you need to go where the business is; so your virtual assistant will ensure all leads are captured for when you return.
Custom Numbers
Hosted telephone systems allow you to choose custom numbers based on whatever image you would like to put across to customers. You can create a free phone number to appear more professional and as a larger, more national business; this breaks down barriers for customers calling your business and can open up lines of communication, potentially leading to increased sales.
If you want to appear as a more local business and increase community ties you can have a local number, which may help build trust with customers as they see you are based close to them should they ever have an issue. Hosted phone systems give you the opportunity to make your phone number work for your business.
If you would like to find out more about hosted telephony and all of the features you should be looking out to get in touch with our expert team on 0800-084-3663.

Acefone provides a broad range of cloud communication services to businesses of all sizes, which includes Hosted Phone Systems, Free Phone Numbers, and Cloud Contact Center Solutions. Being the UK's leading provider of VoIP service provider, we always strive to provide excellent customer service and high-quality custom solutions to our customers.
https://www.acefone.com/blog/wp-content/uploads/2020/08/features-hosted-telephony.jpg
376
737
Acefone Editor
https://www.acefone.com/blog/images_acefone/logo.png
Acefone Editor
2020-02-26 06:36:19
2023-01-20 12:02:47
Which Features Should You Look For In Hosted Telephony?