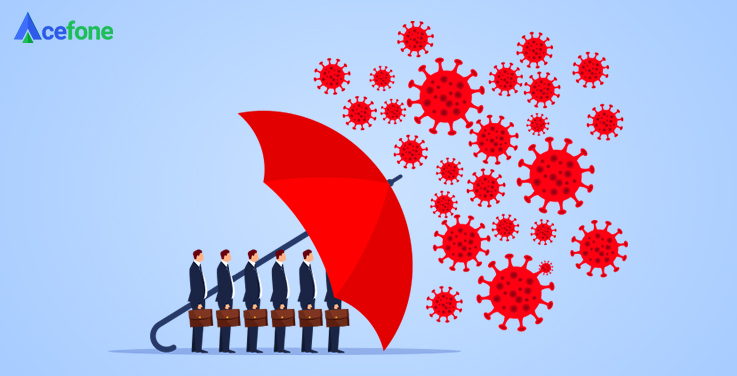 Coronavirus, or nCOVID-19, is a global pandemic that has been spreading across the globe since early 2020.
And it is not something to be taken for granted, it has resulted in lockdown all around the world and people are going through a phase of "Social Distancing."
This means that everyone is either staying at home or if working outside, maintaining a proper distance between each other.
But this isn't the only global pandemic ever. The world has gone through a few of them over the last century, the only difference this time is that we might have the right knowledge, and technology to get through this outbreak.
In the past, a global pandemic had resulted in a total shutdown of businesses and factories, and everything that would keep a country going.
However, during COVID-19, businesses are not totally shutting down but taking a different approach – Work From Home.
Work from home or remote working might be the best way to deal with this situation as a collaboration between the employees is essential to keep a business going fluently, let's get in some more detail.
Collaboration Can Help Defeat The Virus
Remote working refers to working from outside the office premises while completing all the tasks and goals that an employee would do if they were in the office.
Although the work-from-home method is no more a new concept, but it holds special benefits to the companies.
In fact, there would often be remote workers in most organisations who would operate from different locations, while meeting the requirements of the company.
Freelancers are a good example of such a scenario. They would be at home but would deliver the work to the business efficiently.
Another example is when an employee would be sick, and he would request to work from home with his personal computer, being connected with the team via calls and emails.
However, for the teams working remotely, collaboration becomes a major issue.
If an employee is working from outside the office premises, they could just join in with just a call and stay connected with the team or the manager to get the updates.
However, when the entire team is working remotely, the situation is different because it is possible that the members of the team are located in different time zones, have different working hours, etc.
Thus, collaboration is an absolute necessity. When a team is in sync, and know each other well, no matter where the members are located, they will coordinate with each other to get the work done.
Proper collaboration within a team will lead to higher productivity and performance altogether.
This collaboration between the team members, and the whole organisation, is everything needed to keep the business running smoothly even during the coronavirus pandemic!
The biggest threat that a pandemic possesses is shutting down business operations completely. Because people cannot go to their offices, work comes to a complete halt, thus affecting many businesses.
However, with technology like VoIP solutions available to us today, that helps maintain collaboration with the team members, the COVID-19 can do nothing to stop the workflow.
How VoIP Can Help
VoIP or Voice over Internet Protocol is a cloud-based technology which allows communication without the need for any physical hardware.
It is a technology that is widely used by businesses for both communications within and outside the organization.
VoIP is the tool for business that promotes remote working, and thus, is the perfect tool for every business during the coronavirus outbreak.
VoIP doesn't only provide the business with the ability to connect with the team members, but also with the customers.
Moreover, it offers a vast variety of features to improve a business' productivity and keep everyone connected.
Here are a few advantages of VoIP solutions that businesses can take benefit from during the COVID-19 pandemic.
Conference Calling
VoIP offers simplified conferencing that helps everyone in the team to stay connected with each other.
It doesn't charge anything other the plan you opted for while getting the solution for your business and provides high-quality calling.
With audio or video call conferencing, the team can communicate effectively with each other sharing ideas and thoughts and maintaining a work culture between employees.
Managers can easily conduct team meetings and pass down essential information to the entire time at the same time.
Multi-device Access
With accessibility on multiple devices, agents can access their VoIP features on any device that they prefer.
Whether it's a tablet, a phone, or a personal computer, VoIP provides the same quality features and connectivity on every one of them.
If your business gets inbound calls from customers, VoIP solutions make sure that your agents never miss any calls.
If an important customer calls after the office hours, your agents will get the call redirected to their personal device, ensuring that no lead stays unattended.
Additionally, it also offers flexibility between devices, which means that the call can be transferred to any other device after the call has been connected with the customer, making it easy for the agent to collect the crucial customer interaction data.
Music on Hold
If your business is getting higher traffic on calls, then it is possible that the customers are being put in a waiting queue before getting connected to an agent. This is where Music on Hold features becomes important.
Instead of making your customer wait in blunt silence, you can make them listen to music, or provide them with essential information about your business.
You can even advertise a new product that has been launched too.
Implementing music on hold reduces the call drop rates significantly and makes the caller stay connected for a longer period of time.
Interactive Voice Response (IVR)
IVR is an amazing feature that every business should implement if they get inbound calls from their customers.
IVR is like a virtual assistant that offers your customers a self-help option, solving their minor queries and questions, while keeping your agents free to attend more important calls.
IVR also helps to route calls to different departments saving the organisations the need of an additional agent to route the calls.
This not only saves time for the agents, as they know that the customer is there for a specific reason, it also saves time for the customer for they don't have to explain their issue to multiple agents.
In addition, IVR also gathers basic customer interaction data, so the agent does not have to keep asking the customers for his basic information, again and again, leading to optimum customer experience.
To Sum Up…
Collaboration within a team can be easily achieved by using VoIP software in the organisation.
It is a tough time for any business around the world, and only with proper connectivity and communication we can defeat this pandemic and keep everything going fluently.
A VoIP business phone system plays a crucial part in providing the businesses all the necessary tools for productive communication with the customers as well as the employees while making it easy for the managers to keep track of everything through an online portal.
If you require a cloud-based VoIP phone system for your business, connect with one of our experts at 0800-084-3663, who will help you get the perfect plan that fits your unique business needs.

Ratnam is an SEO enthusiast and content writer working as a Digital Marketer with Acefone. He is fond of traveling and new experiences. He is a huge Marvel fan and is always open to learning.
https://www.acefone.com/blog/wp-content/uploads/2020/05/collaboration-and-voip-can-defeat-coronavirus.jpg
376
737
Ratnam Sinha
https://www.acefone.com/blog/images_acefone/logo.png
Ratnam Sinha
2020-05-15 12:01:38
2023-01-20 11:24:23
Why Collaboration Is All We Need To Fight Coronavirus and How VoIP Can Help