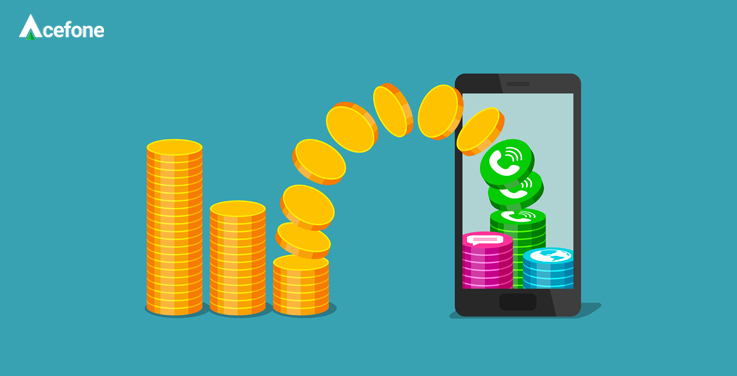 A hosted phone system doesn't just give you access to plenty of amazing features to benefit your business, they also save your business money. There are plenty of ways that investing in a hosted phone system can help your business cut costs, while never needing to compromise on quality.
Call Anywhere, Anytime For Less
The benefits of a hosted phone system include saving money on both local and international calls. Depending on your plan, you can either have unlimited local and international calls or pay a much lower price per call than a traditional phone line.
As hosted phone systems operate over your internet connection, time and distance don't matter, you can communicate with anyone you need to the same way you would over any other messaging service – the difference is you'll be doing so over a crystal clear, professional phone system.
You won't pay any distance charges with a hosted phone system, so you will be able to carry out business freely with anyone in the world. A hosted phone system provides the infrastructure your business needs to conduct business worldwide at a very low cost.
Hire Remote Workers With No Costly Premises
There's no need to spend your profits on costly office premises with a hosted phone system. You can hire staff anywhere in the world, with staff easily able to work from their own homes or wherever they need to be.
Hiring staff from multiple countries based on your client's needs not only provides excellent customer service, but also will help save you money as you won't need to set up offices in these different countries to accommodate staff.
With a hosted phone system, you can add as many extensions as you like to your telephone system – so you're only expenditure will be to run your phone system. You won't need to worry about utility bills, buildings insurance and many more inconvenient bills with a hosted phone system.
No Downtime, Just Install And Go
Downtime can be costly to a business, so with a hosted phone system you won't experience any. Cloud-hosted phone systems are simply "plug in and play", meaning you'll have your new phone system up and running in no time and won't miss out on any important calls from customers.
A hosted phone system gives you the chance to start saving money right away, as you'll be able to start adding extensions and connecting your staff straight after the expert installation. Once your phone system is installed, you're at a much lower risk of future downtime in comparison to a traditional phone line.
As your telephony is hosted in the cloud, you can rest assured that should something go wrong, your phone lines can quickly be transferred to a backup server or can be switched onto another device – so you can continue delivering great service to your customers and remain completely accessible to them too.
Feature-Rich Phone Systems At A Low Cost
A hosted phone system gives you the capacity to add on plenty of exciting features to enhance your business' profile and customer service at a very low cost compared to adding these features to a traditional phone system.
For example, you can add a virtual receptionist to take messages when you aren't available, you can create a memorable branded number, add a freephone number and create a custom hold message/music (among many other amazing features).
These features are worth a lot individually and adding these to a traditional phone system could prove extremely costly and time-consuming – however, these can be added to your hosted phone system with the minimum of fuss and cost.
Protection In The Event Of A Disaster
Disasters can strike at any time and businesses should be prepared if they don't want a costly bill afterwards. If your premises or phone system is lost to some kind of disaster, you will be able to access all your data and customer information right away through an online portal, and will be able to make and receive calls through any devices you need to, so even in the event of something going wrong business can continue as normal.
There are plenty of ways a hosted phone system can save your business money and help you to make more money. From amazing features to stopping the need for costly office premises, switching to a hosted phone system could be just the boost your business needs to grow.
To find out more about hosted phone systems, contact a Solutions Consultant on [email protected] or 0800-084-3663

Acefone provides a broad range of cloud communication services to businesses of all sizes, which includes Hosted Phone Systems, Free Phone Numbers, and Cloud Contact Center Solutions. Being the UK's leading provider of VoIP service provider, we always strive to provide excellent customer service and high-quality custom solutions to our customers.
https://www.acefone.com/blog/wp-content/uploads/2019/11/cost-benefits-hosted-phone-system.jpg
376
737
Acefone Editor
https://www.acefone.com/blog/images_acefone/logo.png
Acefone Editor
2019-11-22 12:57:10
2022-03-29 09:58:26
What Are The Cost Benefits Of Switching To A Hosted Phone System?