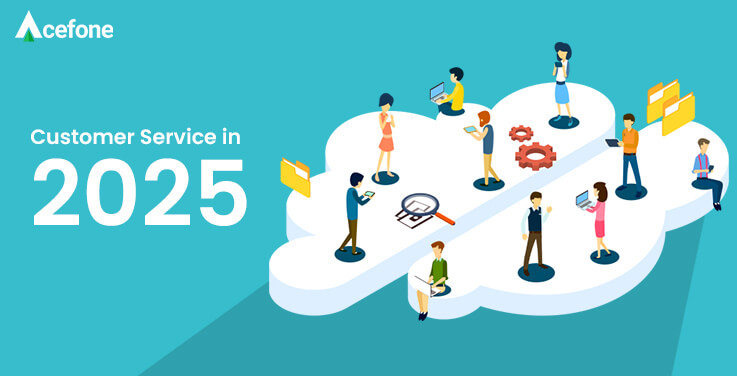 Five years doesn't sound that far away, but it is a long time in terms of customer service. If we think back to 2015, online customer service wasn't as prevalent as it is today, and physical premises were still very popular. 
Social media had its place in customer service, but brands did not expect customers to prefer opting for social and online media as the primary mode of communication. 
At Acefone, we pride ourselves on both—delivering excellent customer service and giving our clients the tools they need to do the same. The face of customer service has changed radically over the last year, with COVID-19 forcing businesses to invest in digital solutions and customers needing more from businesses than just 9-5 support.
This article will examine what customer service might look like in 2025, and how by investing in technology you could keep yourself ahead of the curve.
1. Greater use of automation
Many companies are already harnessing the power of AI. In customer service, this technology can resolve simple customer queries without the need for a live agent. AI uses Natural Language Processing to understand the questions and provide relevant and meaningful answers.
Even in its nascent stages, AI is more powerful and popular with larger businesses and easily incorporated in customer service. For instance, aviation businesses are using AI to communicate updates with customers en masse, and advising them on how to claim COVID-19 related refunds online. This reduces wait times and saves agent resources. 
In 2025, we expect AI to be much more advanced than it is now. 
AI will be able to answer complex queries and take care of many customer enquiries leaving your staff free to deal with the bigger and more pressing issues. This staff time can be put to use by investing in customer experience, giving your customer service team more chances to deliver proactive service, rather than waiting for there to be a problem before they interact with the customers.
How you can get ahead: You can take advantage of your cloud phone system's IVR system. This system can be personalised to your business and gives customers the chance to choose where they are transferred to before they even speak to an adviser. 
This is an ideal opportunity to create an innovative self-service system. We suggest adding FAQs so that customers need not even speak to an agent to get their questions answered.
2. Services will be more proactive
Most customer service interactions are reactive rather than proactive, something we expect to change in the coming years. As AI develops and customers continue to use advanced self-service programs, there are opportunities to invest your savings in new technology.
Companies like Tesla are trialling new technologies which do not even need the customer to have any input whatsoever. For example, A car can identify that it needs service, check its owner's online records, and book an appointment into a local garage. 
This is the ultimate proactive service where the products actually do the work for the customer without even involving them in the process. This, however, is an extreme example of proactive service and may not be attainable in the next five years.
What we can expect is a reduced strain on customer representatives; they will have the time to review customer records and preempt what the customers might ask for. Your staff can build rapport, discuss upgrades, upsells, and even suggest new services based on the customer's previous purchases.  
How you can get ahead: Acefone's hosted phone systems provide several benefits so you can stay ahead of the competition by using the online portal which keeps you up-to-date with customer accounts and also add notes so you can follow up. 
Use this space to keep detailed notes on customers, their likes and dislikes, and anything important the customer might mention which can help you build that all-important rapport. 
Although this is not automated, you can create a real relationship with customers by keeping in touch with useful reminders and you can get ahead of the curve and start standing out from the competition with personalised service.
3. Companies will use insights and data to suggest
By 2025, data and insights will be used to make interventions in the customer journey. 
In some ways, this is happening even now with remarketing advertisements following customers around the Internet as they browse, with discount codes to encourage purchases. In 2025, however, we expect this to work much more smartly. 
Data and insights on customer behaviour, such as purchase history, real-time browsing data, and more can be used to direct customers straight through to the right customer service department and the agent best placed to answer their query.
Systems will use this data to listen to questions from customers and accurately direct them to the right place too, without the need for transferring customers from agent to agent. Businesses can also use this data to highlight relevant products or services and to help sell their special offers to the right customer who has been intricately targeted. 
How you can get ahead: Your cloud-based phone system gives you access to a range of amazing analytics through the online portal. These analytics can give you unique insights into customer behaviours and have the potential to tell your customer service team exactly what each customer needs. 
Your team can take a look through previous behaviours and purchases and even call recordings and use this to suggest new products or services. While this might not happen automatically just yet, it is definitely worth putting the time in and using your insights wisely. 
We believe that no matter what happens in the next five years, your business should keep customer service as a top priority. While AI, data, and proactive service will save your agents time and can make your business more productive and efficient, nothing can replace great customer service when it comes to attracting and keeping customers loyal to your business. 
A cloud phone system can give you all the tools you need to deliver excellent service right now, with packages and plans to suit businesses of all shapes and sizes. To find out more, call our team today on 0800-084-3663.

Olivia is an outgoing person who enjoys writing, is an SEO enthusiast, and often interacts with others in intellectual conversations. She enjoys listening to music in her free time. Connect with her on Linkedin
https://www.acefone.com/blog/wp-content/uploads/2020/10/customer-service-in-2025.jpg
376
737
Olivia Trott
https://www.acefone.com/blog/images_acefone/logo.png
Olivia Trott
2020-10-19 11:15:53
2023-01-20 11:42:13
What Will Customer Service Look Like In 2025?