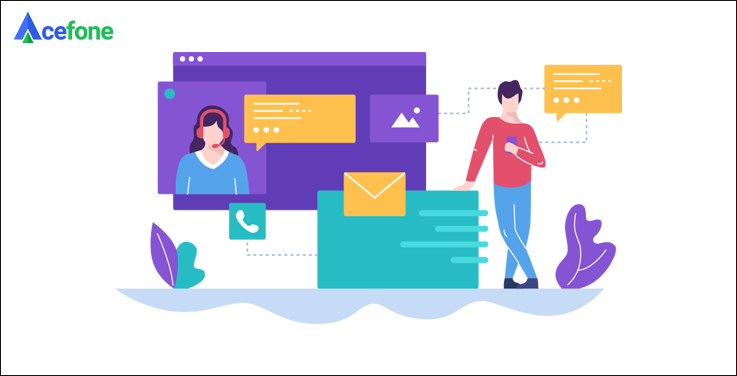 The hard truth about Interactive Voice Response (IVR) systems is that customers do not prefer them. Sometimes, all a caller wants is to speak to an agent and get their doubts solved pronto. 
Though businesses incorporate an IVR system intending to cut down on call centre costs, they end up earning frustrated clients––so much so, that sometimes, callers may simply skip the menus altogether. 
For example, they may press the designated button 'zero' to speak to an agent even if their issue does not need human intervention. In such cases, the purpose of the IVR is entirely lost.
This presents a serious dilemma: How do businesses strike the right balance between delivering maximum customer satisfaction and slashing down costs?
Let's try to answer that.
We'll begin by first discussing how businesses go wrong in implementing IVRs. Don't:
1. Have one generalised system for all customers
IVR systems route consumers through different menus to ensure agent intervention only when it's really needed. This helps them focus on critical issues while simple queries are resolved by the system itself. 
Implementing one common route for all kinds of callers can have them moving around between departments aimlessly. Unable to find the answer they're looking for, they're bound to get irritated and may even cut the call. 
You can't risk losing premium customers or turning away new leads with this treatment. Not only will you probably lose opportunities to your competition, but your reputation will also be tarnished among clients and their peers. 
IVR systems are known to be mundane. But things get even worse when your menu includes industry or brand-specific jargon that goes above callers' heads. 
Faced with a variety of choices—and not understanding half of them—clients are likely to approach you in a sour mood, seeking clarity, and chances are you might lose them. 
3. Have a lack of third-party integrations
An IVR system does take in customer information with its key responses, but it does not provide a holistic view of the caller's context. 
When a client returns with the same issue, the IVR alone cannot fetch information about their previous interactions. Instead, customers end up explaining the issue all over again. This lack of integration with other channels/tools makes your agents look uninformed and makes for an unpleasant experience for your callers.
4. Keep an outdated system
Customer demands and business offerings change with time. Often, there can be minimum or no coordination between teams managing the IVR and service offerings. This means that a change in the business offerings may take time to get updated on the IVR recording. People who use the service at this time may suffer due to the absence of synchronisation. 
5. Forget to measure performance
Your IVR system is efficient in lowering call centre costs and reducing the number of calls routed to agents. However, it does not monitor these calls or tracks them to gauge performance. If you don't opt for a feature that analyses all metrics, categorises them, and derives insights, you lose out on critical information.  
6. Inappropriately incorporate promotions
Though it can be tempting to load promotional content right at the beginning of the voice response, customers may find it annoying. Most of the advertisements may not be relevant to the clients and will result in an increased wait time for them. This will, in turn, hurt their overall experience with your brand. 
So what can you do to rise above such issues? Here's all you need to know to make IVRs pleasant and convenient for users. 
7. Facilitate multi-function/advanced IVRs
A multi-functional IVR system can access prior customer interactions. So when a repeat client calls you up, they are presented with a set of menu options customised to their needs. 
This ensures that the query is either resolved within the menu or is appropriately forwarded to an agent if required. This intelligent call routing avoids customer frustration, increases first call resolution rate, reduces the need to internally transfer calls, and controls the number of consumers returning for the same issue.
8. Provide a callback option
Quite obviously, no caller wants to be put on hold. However, even effective forecasting may not be able to predict a surge in call traffic that necessitates call queues. In these cases, it is best to allow clients to ask for a callback at a time convenient to them. 
This option also helps maintain the position of the customer in the queue. Furthermore, it allows them to manage their time well—they can go about their day's work without having to wait for an indeterminate amount of time. Assured in the knowledge that their query will be answered soon enough, they remain happier with your business. 
9. Use a high-quality voice persona
According to the 7-38-55 Rule developed at UCLA, 38% of comprehension of spoken communication is based on the way that words are spoken.
A high-quality voice persona that has a natural flow can have a positive impact on your reputation. Disjointed speech showcases your brand as uncaring and stereotypical. You should focus on the recording quality and select the right voice for your IVR system.
The more natural and conversational your voice recording is, the more comfortable your clients will be while using it. 
Furthermore, an IVR with proper scripting elicits trust and assures the customers with an optimistic view of your brand.
10. Limit your IVR options
The most dreaded part of using an IVR is punching in numbers. Long menus that seem to lead nowhere except for more menus can turn your customers off pretty quickly.
Instead, focus on presenting short and simple menus that are easily understandable and user-friendly. These options should have a clear flow of information and allow the callers to easily connect to an agent if necessary.
11. Keep customers informed
Keeping consumers on hold for long may result in high call abandonment rates. Instead, you should use your IVR to announce the status of the call queue and the average waiting time. Do keep in mind that the callers should receive timely updates about their position in the queue. 
You can also program the software to offer callbacks and send reminders about scheduled callbacks. 
Your IVR menu should be framed keeping in mind the customer demands. Analyse call data to derive frequently asked queries, and accordingly design the auto-attendant's script and options. 
Based on this data, the first IVR option should be the area that generates maximum traffic. Realigning your script this way will reduce the time a client spends on reaching the right option.
Ideally, the menu option numbers should be placed after a short description of the departments. This will give the customers sufficient time to process information and make better choices. 
13. Maintain consistency
Customers don't want to be surprised by your brand every time. What they experience once is what they take as the norm, and it's what they will expect the next time as well. Therefore, it's important to provide a consistent—and pleasant—experience every time.
The best way to do this is by adopting an omnichannel approach. All your customer-facing channels should be synchronised and consistent. IVRs should be able to integrate with other communication channels in your organisation. 
This will keep the system informed about consumer history and context, resulting in consistent and informed interactions. It will also save the callers' time by eliminating the need for them to repeat information.
Parting words
Customers do find IVR systems monotonous. However, there are ways for you to enhance your system and make it more attractive to users. The goal is to ultimately have happier and loyal customers while saving costs.  
Hopefully, all that we have discussed in this blog provides an elaborate peek into how IVR systems are not utilised appropriately and ways to make it more interesting and convenient for your customers. 
Still, got doubts about IVRs and how to get them for your business? Get in touch with our sales team at 0800-084-3663 and start your cloud journey now!

Acefone provides a broad range of cloud communication services to businesses of all sizes, which includes Hosted Phone Systems, Free Phone Numbers, and Cloud Contact Center Solutions. Being the UK's leading provider of VoIP service provider, we always strive to provide excellent customer service and high-quality custom solutions to our customers.
https://www.acefone.com/blog/wp-content/uploads/2020/12/the-list-of-dos-and-dont-of-ivr-system.jpg
376
737
Acefone Editor
https://www.acefone.com/blog/images_acefone/logo.png
Acefone Editor
2020-12-28 10:00:02
2023-03-23 11:45:43
Break Away From Annoying IVRs—Follow This List of Do's and Don'ts