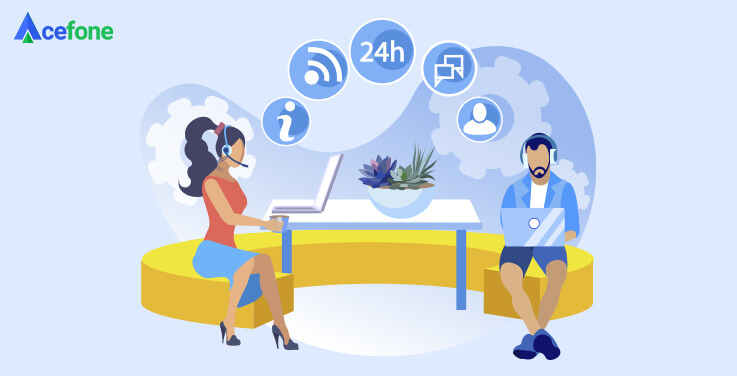 Sometimes clichés are necessary. So here's one that we live by, the customer is king.  
Delivering seamless customer experiences is the only way for your brand to stand out and earn a competitive edge. A contact centre is a central touchpoint to engage customers, interact with them, and solve any issues they may face with your products or services.
Customer centres allow your target audience to reach out for clarification, at any time from any location. This is an extremely crucial way of bridging the communication gap. Your brand becomes reliable, responsive, and trustworthy for customers. 
A step ahead of your traditional centres are the contactless call centres. 
They have essentially become the new norm. With both businesses and the customers constantly on the move, accessibility has gained prominence. 
Contactless call centres break barriers and enable both agents and the customers to be reachable irrespective of their locations or time zones.
Contactless call centres from Acefone
Acefone is a state-of-the-art cloud phone system provider that supports businesses with cloud-hosted, flexible phone systems which are customisable based on individual requirements of organisations.
The hosted contact centre is a cost-effective way to handle inbound calls. A few significant advantages of this cloud-hosted phone system are that it uses your broadband connection for operations, reducing your investment and eliminating any need for further maintenance. 
Moreover, this phone system enables you to hire top-notch talents across the globe. All they need is a reliable phone connection and broadband to support you from the comfort of their home.
With this idea, here is a peek into the various features of the hosted contact centre phone systems provided by Acefone. 
1. Include comprehensive reports
Acefone's contactless call centre phone system includes access to a user-friendly, simple online portal that helps businesses manage numerous agents working in a distributed set-up.
Moreover, this online portal comes with elaborate reports on agent performance. It tracks calls and offers insights on the average call handling time, the nature of calls received, and how well the agents have handled the calls.
It helps stakeholders gauge productivity, identify bottlenecks, and get an overview of every call backed by reliable data. 
2. Can be integrated with CRM
Accessibility to customer information is pivotal in a call centre environment. Details related to the customers must be readily available on the agent's screen during a call. This will give agents the context to handle the call better.  
The agent should be able to obtain details like previous call history with basic details. Customers won't have to repeat themselves and the agent will be more efficient. 
Acefone's contact centre solutions allow integration with CRM that enables quick access to customer information. This further helps in effective lead-management. 
3. Facilitates call analytics
Monitoring and tracking are important aspects of a call centre. More so, in a distributed environment.
Using the admin portal of Acefone hosted phone system, you can track and monitor every single call handled by your agents. You can measure productivity and make informed business decisions based on intuitive statistics. 
4. Comes with advantages of the cloud
Acefone's phone system is cloud-hosted. Implementing this system is cost-effective as it eliminates infrastructural investment. They are flexible and can be tuned to the requirements of your organisation. 
You only pay for what you use. This means there is no idle space and fund wastage on unused resources. Acefone's cloud-hosted phone systems overcome the limitations of traditional call centres by helping businesses exceed expectations.
5. Enable automatic updates
One huge responsibility of business owners is to stay updated with technology. Acefone's phone system is completely hosted on the cloud. It comes with automatic system updates that save the trouble of updating and maintaining your call centre system constantly.
With Acefone, you use the most secure version of the solution provided and your critical information is safe. 
Check out a few advantages of Acefone that help ensure a friction-free contactless call centre.
#1 Improved productivity
Acefone's phone systems help you stay updated about the slightest glitch that may occur in your call centre. It helps identify any drop in performance and concerns that need to be rectified promptly. The extensive statistics reports offer keen insights that can help increase productivity.
#2 Better access to information
Acefone business communication platform enables you to integrate the important information systems across your organisation, thereby providing better access to customer data. With the ease of access to critical information, agents can better understand the queries of the customers, hence, improving the rates of first call resolution.
It also helps in boosting the quality of customer service provided much to the customer's delight.
#3 Easy remote accessibility
You can access the Acefone online portal from anywhere, anytime to manage your contact centre setup. Your business can operate in a distributed environment. Agents can connect from their home too and the data remains secure too. 
#4 Helps deliver better customer experiences
As this cloud-hosted phone system allows remote access to agents, customers can contact them from across the globe at any time. 
Agents are not hired with a focus on their locations and hence, you are equipped with a team of call centre representatives who are available round-the-clock.
Parting Words
Contactless call centres have become an unavoidable part of every business. Acefone supports organisations in establishing their contactless call centres effortlessly. The above-mentioned points elaborate on the different aspects of Acefone's cloud phone systems and how it helps businesses deliver better customer experiences.
To find out more about our hosted phone systems, call our expert team at 0800-084-3663 now.

Acefone provides a broad range of cloud communication services to businesses of all sizes, which includes Hosted Phone Systems, Free Phone Numbers, and Cloud Contact Center Solutions. Being the UK's leading provider of VoIP service provider, we always strive to provide excellent customer service and high-quality custom solutions to our customers.
https://www.acefone.com/blog/wp-content/uploads/2020/10/contactless-call-centre-with-acefone.jpg
376
737
Acefone Editor
https://www.acefone.com/blog/images_acefone/logo.png
Acefone Editor
2020-10-20 09:16:54
2022-04-26 06:28:32
Ensure Contactless Call Centre Environment with Acefone