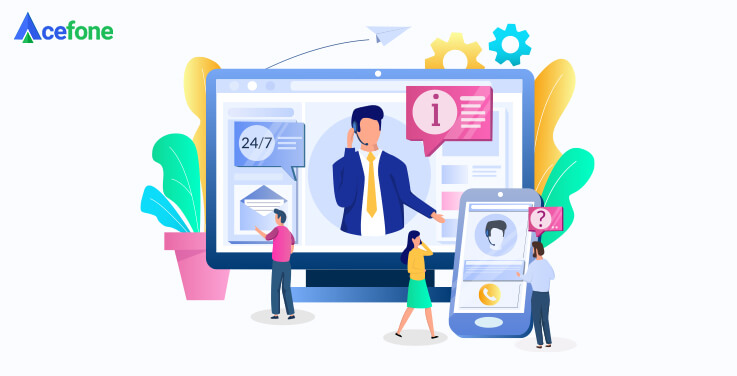 In the current competitive scenario, organisations have begun to outperform each other based on the quality of the customer experiences they deliver.
According to a digital trends 2020 report, "Companies that prioritised and effectively managed customer experience were three times more likely than their peers to have significantly exceeded their top business goals in 2019."
This is where intelligent cloud contact centres come into the picture.
These are different from on-premise call centres, which generally lag when compared to intelligent contact centres on the cloud in terms of scalability, user-friendliness, cost-effectiveness, maintenance, and integration with internal information systems. 
So, how do you think an intelligent contact centre on the cloud can make all the difference? Check it out right away!
What is an intelligent cloud contact centre?
A contact centre on the cloud is based on high-end technology, including machine learning and artificial intelligence. Adopting the cloud has become imperative for businesses because it equips you with the best capabilities to customise, upgrade, and update your contact centre based on the latest customer trends and requirements.
This competency will set you apart from your competitors and will provide you with distinct advantages.
Here, we have consolidated a few important points that you should consider to create an intelligent contact centre.
Initiate the Transition to Cloud
Begin with migrating your contact centre to the cloud. This will pave the way to unlock omnichannel customer experiences.
In the current scenario, customers demand multi-channel availability to be encouraged to contact you. They may prefer to email you one day and contact your customer care representative the next day. When this happens, your contact centre should be able to track all these interactions. 
This way, when a customer connects with your business, the agent handling the call will be equipped with a multi-dimensional view of all the previous customer interactions. Such a holistic approach will help the representative competently serve the customer and simply pick up from where the customer had left off in the last conversation.
1. Integrate your Contact Centre with your Organisation
You should consider your contact centre as an extended arm of your business rather than a separate entity. This approach will help you deliver omnichannel customer experience effortlessly. 
To cater to this need, you should unify your internal information systems like the CRM (customer relationship management), WFO (workforce optimisation), and UC (unified communication) systems. 
Integration with CRM tools will provide valuable insights about the customer to your agents. This will include information about the customer's previous conversations with your organisation, their intent, and preferences. 
The data obtained will support your representatives to serve clients contextually. This, in turn, will result in improving the rate of first contact resolutions and reducing the average handling time.
Again, having a workforce optimisation tool in place can contribute towards better management of the employees. This will include identifying quality management issues that hinder the performance of your agents and genuine scenarios wherein the representatives need the training to improve their skill-set. 
Moreover, workforce management can help in maintaining the appropriate level of staffing, suggest shift changes whenever needed, and help in schedule adherence. These tools also help in closely monitoring agent performances and keep them motivated by providing appropriate recognition and rewards.
Additionally, having a unified communication system in place is cardinal as it will support your representatives to instantly contact peers for help. Agents will be able to contact subject matter experts for clarifications to complex customer queries. They can also instantaneously transfer calls if needed. This will help enhance first-call resolutions and the quality of customer experiences.
2. Focus on Reliability, Security, Best Practices, and Compliance
The advantage of moving to the cloud is not limited to delivering better customer experiences. With your cloud contact centre, you will be able to handle instances of high demand or crisis effortlessly. 
For example, if your contact centre is facing a sudden surge in calls, all you need is to contact your cloud service provider to scale up its ability. The same does not apply to on-premise set-up. 
Furthermore, you can dial down to the original infrastructure capacity once the demand reduces. This way, you will need to pay only for the infrastructure used, thereby, slashing down unwanted costs.
Again, in times of unexpected crisis, your cloud contact centre can continue business operations with the support of a strong data backup. Your cloud service provider can recover data. This way, services remain uninterrupted.
Furthermore, your contact centre on the cloud is compliant with important security policies like the PCI, SOX, HIPAA, and Sarbanes-Oxley. 
This saves you the trouble of investing additional time and funds to comply with these regulations. Your cloud service provider will automatically take charge of these regulatory needs and ensure that your contact centre adheres to these policies.
3. Experience Improved Performances From your Contact Centre
Intelligent cloud contact centres function based on technologies like artificial intelligence and machine learning. It helps easier consolidation of customer data from across the organisation.
This warehouse of information helps agents  stay equipped with critical customer information that helps them satisfy their customers. Data like call recordings can help you closely monitor agent performances, identify bottlenecks, and rectify them promptly.
Wrap up
Undeniably, intelligent cloud contact centres are the need of the hour. They help businesses offer contextual customer experiences and contribute to the overall performance of the organisation. 
The points mentioned above will throw light on the various advantages of moving your contact centre to the cloud.
Connect with our solution experts at 0800-084-3663 to set up a cloud contact centre for your business and run your business hassle free.

Olivia is an outgoing person who enjoys writing, is an SEO enthusiast, and often interacts with others in intellectual conversations. She enjoys listening to music in her free time. Connect with her on Linkedin
https://www.acefone.com/blog/wp-content/uploads/2020/09/cloud-contact-center-improve-customer-experience.jpg
376
737
Olivia Trott
https://www.acefone.com/blog/images_acefone/logo.png
Olivia Trott
2020-09-17 12:03:53
2022-04-26 06:55:18
Create An Intelligent Cloud Contact Centre To Deliver Exceptional Customer Experience