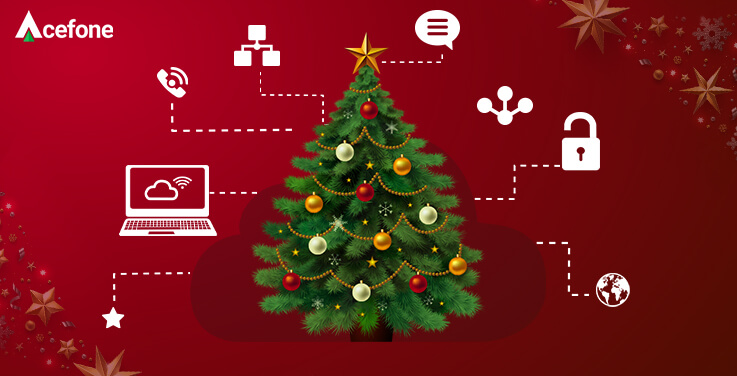 Well, folks, it's that time of the year again. Raise your hand if you get cosy and start bingeing Christmas movies as soon as December begins (or even earlier, I won't judge). I plead guilty as well. 
We can finally bring out the mistletoe, candy canes and ugly sweaters, and jam to carols. After all, just because the pandemic has thrown a damper on 2020 doesn't mean it can steal our holiday spirit—even the Grinch's heart grew thrice its size on Christmas! 
Navigating this season in a remote set-up could seem daunting and time-consuming. But fret not, even though you are physically apart, you can still stay virtually connected with the latest cloud technologies.
What's cloud communication, you ask?
It's what the world runs on in this day and age. As beings with noses stuck inside smartphone screens, we primarily communicate over the Internet. Calls, texts, videos—all through the cloud. 
This is also the technology that helps businesses thrive in high seasons. And you can use the solution too, to help your business through the festive rush. Not just to stay connected with customers, but also to keep employees engaged and aligned with your goals. 
So let's get into it. Here's how you, as a company, can use cloud communications to prepare for Christmas. 
'Tis the season to be charitable
Christmas is a festival that celebrates the sentiments of giving and sharing—not just for loved ones, but to everyone in the world. It's the perfect time to extend support to causes you believe in and inspire people to join your mission of helping the less fortunate. 
This brings a sense of community that better connects your business with customers, while also showcasing your core values and place in the society. You're essentially able to curate a positive brand image and reputation. Additionally, you attract people that are passionate about the same causes as you. 
The cloud helps you spread your message across better and gives people easy pathways to join you. Simply send a broadcast of your support to different charities and allow people to respond or contribute. These broadcasts are cost-effective and can be sent to your customers, and also to a wider audience. 
Other cloud-based solutions, like hosted phone systems and free phone numbers, make it possible for you and your customers to connect with each other more efficiently at affordable rates. 
This way, you're interacting with way more people and are likely to attract like-minded clients to build a lasting partnership. 
Holiday routing with no blockages
Energies are high in the holiday season. With Christmas preparations and gifting in full gear, businesses tend to gain a lot of traction. On the other hand, you also need to be mindful of the burden on your employees and their personal commitments.
So what do you do? 
To quote the American entrepreneur Jessica Jackley, "Deciding what not to do is as important as deciding what to do." 
In other words: delegate. Use the latest automation features that cloud solutions offer to manage your workflow like a pro. Leverage Unified Communication as a Service (UCaaS) to manage all your communication tools and bring them on a single platform. 
An intelligent multi-level IVR can be used to determine the level of the query. So, while simpler issues can be resolved by self-service, only the high priority tasks will involve live agents. 
These calls will be routed accurately and swiftly to the appropriate extension. This will free up your agents to focus only on the complex queries, instead of getting bogged down by mundane issues.
An auto-attendant can also make sure that no caller goes unaccounted for, even if the office is low on staff. People can leave voicemails which will be sent to the agents' inboxes with transcripts. They can quickly review the problem and get back to the client in a jiffy. 
The calls can also be routed using the holiday routing strategy. This involves redirecting calls to alternate phone lines available especially for the holiday season or plays a special voicemail for the occasion.
Similarly, all missed calls will be recorded in your call logs along with the necessary client information and tags. No call needs to go unanswered, even in high traffic situations. 
Season's greetings, new and improved
Out of sight, out of mind is just a school of thought—but why test the theory? Maintaining communication with customers is always important, but even more so during the holidays. 
Spread the holiday cheer around by sending season's greetings to your loyal clientele. A simple message, full of positivity and support, can truly light up someone's day. 
Use automated calls and bulk SMS features to send wishes to your large target base simultaneously. Make sure you're a part of their cheer and in a positive light. 
But why stop there? You can also send voice broadcasts regarding Christmas offers, campaigns, and gifts, especially to express gratitude to long-time and VIP customers. Even small gestures such as these go a long way in etching your brand into people's hearts. 
With dirt-cheap cloud solutions, you need not worry about phone bills for such promotions and can focus your budgets on the offer itself. 
What's Christmas without carols?
Whether you're a fan of classic carols like Silent Night and Deck the Halls, or go gaga over Mariah Carey's All I Want for Christmas, there's no denying the cosy sentiments these songs evoke in us. 
Needless to say, if people call you and are put on hold, you need to ensure they have a pleasant time even while waiting. So bring out the tunes. 
Customised music-on-hold is a super attractive feature of cloud phone systems. Instead of making callers suffer through mind-numbing beeps, just play some festive music. You're much more likely to have successful conversations when the customers are happier from the get-go. 
And the best part is, there's a variety of songs to pick from and you can even upload your own music. Just keep rotating them—and clients can have a totally new experience when they call again. 
Bring out some friendly competition with fun contests
All work and no play… well, you know the rest. A relationship between a business and a customer needn't be purely transactional. 
The holiday season is the best time to get people on board for engaging contests. You can offer prizes and giveaways to further encourage participation. Send out personalised e-invites to people for special competitions and broadcast large-scale contests. 
For example, you may give prizes for the most aesthetic Christmas trees. Or have a big award for the customer who uses your product or service most creatively. 
In fact, why not take this up a notch? Hold a virtual awards ceremony (if the Emmys can do it, so can you). With high definition cloud connectivity, you can hold an online event, and even record it so that you can share it later! Utilising the video conferencing solution, you can keep your event exclusive to your loyal customers.
People can share their acceptance speeches virtually and send congratulatory wishes over chat simultaneously. 
As we've discussed, there are so many ways to establish a Christmas connection with clients. But that's not enough. You also need to look at the happiness of the employees and do your bit to share some joy with them.
And that's not difficult at all. Get your staff involved with activities like:
What better way to share the festive joy than face-to-face? With the cloud's large-scale video conferencing capabilities, you can hold virtual parties with ease. Get some drinks, play jolly music and host fun games like Mad Libs, Charades or Pictionary. It's a great idea to have a Christmas-themed online scavenger hunt as well. 
Everyone loves getting gifts. But add in the secrecy twist, and you've got yourself a really fun event. Secret Santa basically involves the random assignment of giftees and gifters, and you don't know who's going to get something for you.
The fun is in determining your colleague's taste well, and then actually guessing who gave you the gift. You can simply place an order online (with secure cloud transactions) and have it delivered to your assigned colleague's address. Then you can host a video call where people will open their gifts together and guess who their Santa was! 
Watching movies with someone is a different experience than doing it alone. Considering we have no shortage of festive movies, you can host a viewing party where people can watch a film together (or marathon a series of cringeworthy holiday movies). With food, entertainment and funny commentary, it's the perfect recipe for an engaging and bonding experience. 
Flexible work hours for festive teams
Christmas is all about family. Maintaining that work-life balance is really important, and cloud offers you just the right amount of flexibility to pull it off. Allow people to join the office network right from home, be a part of meetings, share critical files, track team progress, and much more. 
VoIP makes remote working easy. You can make high-quality calls even on low bandwidth. 
And while your employees are connected from their home network, you can rest assured about your data security. Cloud technology comes with end-to-end encryption and multiple layers of security.
They can have more time with their loved ones and work flexibility around the holiday responsibilities. Automation further helps reduce the workload on agents and smooth out the processes. 
Conclusion
We're a resilient bunch of people. Christmas is here, and it's all about joy, caring, colours, and a lot of festivities. Businesses and customers alike feel this rush—so a remote set-up need not become an obstacle. 
Keep customers and employees connected, engaged, and in the right spirit with the help of a variety of cloud communication tools. The rest will work itself out. 
Curious about how to take your business to the cloud, and what benefits you can avail? Get in touch with us at 0800-084-3663 or send an email to [email protected] and we'll be right with you. And a very Merry Christmas to you.

Diksha is a junior content writer at Acefone. As a tech-lover, she aims to bridge the gap between tech articles and non-savvy readers. She's equally interested in pop culture and worldly affairs. And in her free time, you can find her with her nose buried in a book or discovering new music for her chaotically diverse playlist.
https://www.acefone.com/blog/wp-content/uploads/2020/12/christmas-cheer-with-cloud-communications.jpg
376
737
Diksha Gusain
https://www.acefone.com/blog/images_acefone/logo.png
Diksha Gusain
2020-12-10 07:36:32
2023-03-24 11:29:55
Don't Let The Grinch Steal Christmas: Take Your Business To The Cloud