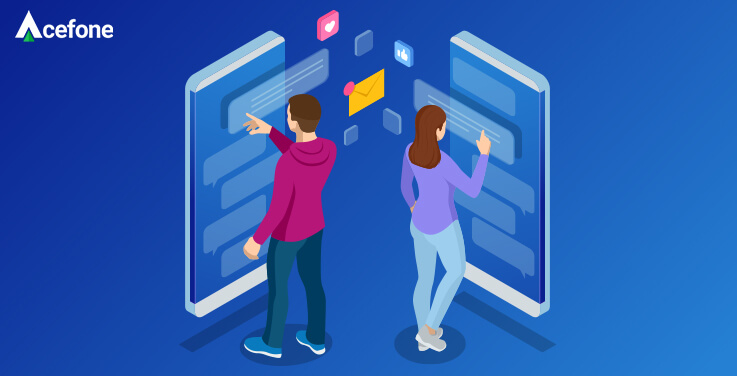 In the present-day world, ways to reach out to a customer are aplenty. They're also over-exploited.
With the mass of marketing information being exchanged every day, emails have begun to lose their impact. Traditional routes such as calls, too, don't always help smaller startups reach their target audience.
What is one to do, then?
Integrate SMS into their cloud phone system through an API.
SMS APIs reach customers directly on their mobile phones, cutting through the noise of other marketing emails and advertising.
They also allow you to update customer's communication preferences and store responses and other information in your phone system's online portal.
How does this help?
With all the information stored in one place, you can provide a truly personalised experience for your customers, to keep them coming back again and again.
To know more about how SMS APIs can help startups enhance their customer experience, and the importance of integrating the service with your hosted phone system, read on.
1. Use SMS to send highly targeted, personal messages
As a startup, you need to go above and beyond to give customers a great experience.
Integrate your messaging service API with a cloud phone system to make detailed notes on your customers' areas of interest. You can also find out what they have previously purchased from you.
Send targeted SMSes based on these interests to impress them with personalised experiences even in early days. Follow it up with spot-on service, to make up for the lack of online reviews.
With SMS marketing, the opportunities to make the customer feel valued and let them know you will only send them useful and relevant messages are plenty.
Bigger corporations may be unable to get to know each customer personally in this way, so startups should leverage this advantage to really drive customer experience forward.
2. Deliver customer service wrapped inconvenience
Your customers are busy. 
An easy contact channel will be a great selling point for your business. By offering SMS customer support, you make it easier for the customers to contact your business. You also save their money and time. 
A customised communication channel will improve customer experience and create new opportunities to open up a dialogue with your clients. This will lead to more resolutions for customer queries and more opportunities for you to sell your product or service to new clients.
A Global Mobile Messaging Report (2016) showed that 9 out of 10 consumers globally want to text with businesses, but only 48% of businesses are equipped with SMS. This shows that there is a massive amount of potential for SMS customer support becoming a part of your customer service strategy, and not many businesses are taking advantage of this.
3. Improve customer engagement with SMS messaging
When used appropriately, SMS support services can improve engagement for startup businesses.
As a business owner or marketer, ensure that your messages are sent at the appropriate time (not too early, not too late) and that you don't spam customers with SMSes. Include a 'click to buy' link or allow customers to get in touch by enabling the 'reply to the message' feature.
When you achieve the right balance, your SMS will reach the customer directly, as most people have their phones on them at all times. It will encourage customers to take action, and enhance customer engagement and experience.
4. Connect with customers of all ages
Customers of all ages want to communicate via SMSes with a business. SendGrid's 2019 Email Benchmark study showed that SMS messaging is ranked highly by customers across a broad age range, and that they want appropriate messaging from businesses.
Data from the study suggests that an omnichannel communication strategy helps gain the attention of customers of almost all ages and that you should be available on multiple platforms so customers can choose how they want to connect. If you aren't using SMS support for your startup, you may lose out to a competitor who is using it, as customers are always looking for quick ways to contact you.
The study also suggested that customers want alerts, reminders, and more through SMSes, a service that you can provide with ease through your hosted phone system.
5. Improve customer insights through analytics
Startups can use SMS messaging through their hosted phone systems and gain an array of insights through the online portal.
Based on the customer's interaction with your SMS, you can learn about optimal send times, whether they clicked a link or completed your desired call to action, the number of times they opened it, and any further interactions––all in a few clicks.
These analytics can help you know more about your customers and the types of SMSes they respond well to.
A campaign by Silverstone, timed just after the Grand Prix aired, gained them a 608% return on the investment just by timing a message correctly and including a clear call to action.
This shows just how effective SMS marketing can be and how, by using the analytics available through your hosted phone system, you can send out messages to your customers at an appropriate time and gain the best possible return on investment. 
To find out more about SMS marketing and how you can deliver amazing SMS campaigns from your cloud phone system, call us today on 0800-084-3663.

Olivia is an outgoing person who enjoys writing, is an SEO enthusiast, and often interacts with others in intellectual conversations. She enjoys listening to music in her free time. Connect with her on Linkedin
https://www.acefone.com/blog/wp-content/uploads/2020/11/sms-api-help-startup-to-improve-customer-experience.jpg
376
737
Olivia Trott
https://www.acefone.com/blog/images_acefone/logo.png
Olivia Trott
2020-11-11 09:30:10
2022-04-26 06:25:33
How SMS APIs Help Startups Enhance Their Customer Experience?