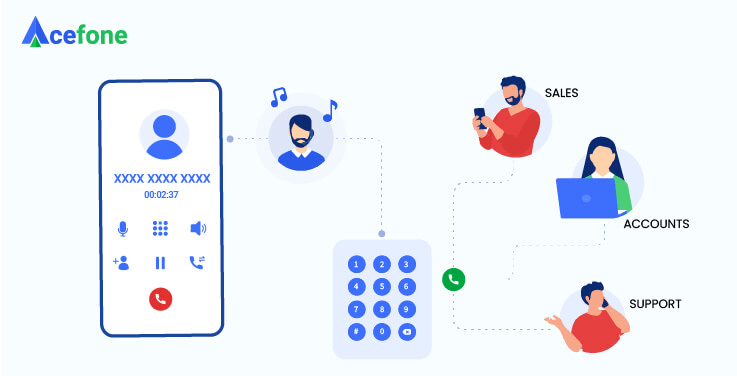 Implementing hosted IVR systems is a fantastic way to make your small business stand out from the competition. Used correctly, they can give your business communications a professional touch, no matter the scale of your business, or the industry it operates in.
IVR, or Interactive Voice Response, is an automation tool that can help you build relationships with your customers, help them find exactly what they are looking for on the first call, and even increase retention rates.  
This article will highlight some of the ways in which a small business can benefit from a hosted IVR system.
Build relationships with customers
IVR systems can be programmed in such a way that customers receive a highly personalised experience whenever they call. 
This level of personalisation can help you to build relationships with your customers and offer a superior level of customer service that makes you stand out. 
You are in charge of what your IVR system includes—pleasant greetings, personalised messages about new products, new services—information that might interest the customer when they call. All of these messages can be recorded by your employees, adding that personalised touch. 
IVR systems can be programmed to address returning customers by name and can even communicate with them in their preferred language, making them feel at ease while discussing their issues.  
Send customers where they want to go
The beauty of an IVR system is that it gives customers the opportunity to choose which department they need to speak to. 
By installing an IVR system in your hosted phone system, you can be prepared for whatever customer enquiry comes through. Since you already know the nature of their call before you answer—based on the option they choose—you are much better placed to answer their query quickly.
Customers are likely to be annoyed if their query isn't resolved on the first call. Being aware of the support they are looking for is a great way to increase the chances of getting to the bottom of the query on that all-important first call.
If you have different departments, the IVR will simply direct the caller to the person best placed to answer the query. This means no frustrating call transfers, and much less time spent on the phone for both customers and staff.
Save your time, save your money
Arguably, the most popular benefit of an IVR is that it saves time. When callers are directly sent to the department related to their query, both agents and the caller end up saving valuable time. 
With customer support being faster than ever, customers dislike staying on the phone for long periods. With IVR, customers are fast-tracked to their solutions resulting in a lower amount of dropped calls.
Additionally, with less time spent on each call, there are more opportunities for your staff to convert new leads into customers. 
When staff spend less time looking for the right person to answer a question, they can focus on other tasks—answering more calls, making your business more profitable, delivering quick and superior customer service, and improving the brand image.  
Have lesser mistakes with automation
With human agents, there is always a chance of someone making a mistake. Be it missing a call while engaged in another task, or diverting the call to the wrong person—humans are bound to make mistakes.
With IVR, mistakes are much less likely to happen. IVR systems can't get distracted by other tasks, or become overwhelmed by the volume of calls. Each call is answered automatically and placed in a queue during peak times.
This inbound call management tool gives your staff more of a chance to complete other tasks rather than just answering and diverting calls. Agents may miss a call for a number of reasons, but an IVR system will ensure that no call goes unanswered.  
With a lower chance of missing calls, you are sure to increase your conversions. Customers will also appreciate being directed to the right person the first time, rather than having to wait in a queue to just be transferred again. 
The demand for self-service
The modern customer is out for quick resolution to their queries. While human agents provide the most personalised service, there are several instances where their time could be better spent elsewhere. 
For example, say, a customer is only calling a contact centre to get information regarding outstanding bills. If a human agent is tasked with this call, they will have to first direct the caller to the accounts department. Thereafter, the caller may have to repeat their customer information to the new agent. The agent then browses the heaps of data about the customer and only then is able to provide the desired information. 
Automation tools like IVR make this much easier for the customer. All they have to do is follow the IVR guide and select the option of bill information—and voila, they have their bill details! 
Make yourself available for customers at all times
An IVR system can be in operation even when your business is closed. You can leave an option on your system and customers can leave messages for staff to get back to during office hours. You can even add personalised messages to inform customers of working hours or about frequently asked questions. 
No matter the time of the day, with an IVR system you can ensure that there is always an active line of communication between your business and customers. With IVR systems, you are in control with endless options. You can set your system up however you like and provide a seamless customer experience even when your business is closed.
Find out more about using an IVR system in your small business
This article has explored just a few of the ways that an IVR system can benefit your small business. From enhancing your customer experience with personalisation to boosting staff productivity and saving money—IVR systems are a simple solution that can have profound effects on your business.
To find out more, call on 0800-084-3663 today for a discussion with our friendly team.

Olivia is an outgoing person who enjoys writing, is an SEO enthusiast, and often interacts with others in intellectual conversations. She enjoys listening to music in her free time. Connect with her on Linkedin
https://www.acefone.com/blog/wp-content/uploads/2021/11/how-small-businesses-benefit-from-hosted-IVR-systems.png
376
737
Olivia Trott
https://www.acefone.com/blog/images_acefone/logo.png
Olivia Trott
2021-11-09 04:36:00
2023-02-20 07:38:35
How small businesses benefit from Hosted IVR systems