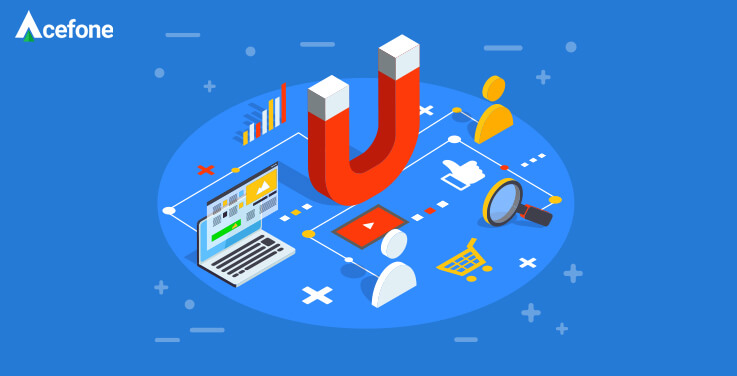 Generic marketing techniques are no longer effective. The need of the hour is to understand the specific requirements of your customers and solve their problems.
Nobody likes their inbox filled to the brim with sales emails. It is the customer who decides what product to buy and which brand to associate with. Therefore, your business must be ready to connect with people in the most convenient ways. Inbound marketing is the answer—across industries and business sizes. 
What is Inbound Marketing?
Inbound marketing is a potential method used to improve your brand's visibility amongst the target audience using curated content. This includes blog posts, social media posts, website content, and infographics to name a few. 
Content delivered through inbound marketing should be educational, engaging, and interesting to attract your prospects on the lookout for the right purchase.
For example, consider someone who is interested in purchasing a laptop. He will research the internet, visit your competitor's website for information, and compare pricing. 
Through your inbound marketing strategy, you can reach out to this prospect by offering useful information about your product. You may use your website, social media platforms, or blog posts to showcase how your product stands out.
Why should you focus on improving your inbound marketing techniques?
Inbound marketing helps you to draw in your customers towards your brand. Instead of simply shoving your products and services on the customer's face or interrupting your target base with mundane emails, inbound marketing offers the opportunity to deliver contextual experiences to your customers. 
It helps you communicate the value of your products and services to your customers and cater to their particular needs. This methodology attracts customers to your brand when they feel it is time to make a purchase.
Furthermore, when your inbound marketing strategy begins to promote your business, it automatically attracts prospects organically. 
This results in a surge in website traffic and helps in bringing higher ROI with marketing analytics. With so many benefits at hand, don't you think it is high time you work towards boosting the quality of your inbound marketing techniques?
Here, we have consolidated a few ways about how using cloud communication helps improve inbound marketing. Check them out right away!
According to a Forbes' report, inbound marketing generates three times more leads than traditional methods.
1. Provides centralised access to data
The current pandemic has made businesses rethink their traditional working methods. It has made stakeholders realise the importance of and the need for remote work.
One major challenge remote work has to address is access to sensitive data. When your inbound marketing team works from home, it is important that they be provided with the appropriate tools to access customer information.
Cloud-based inbound marketing pushes centralised access to data. It saves all your information on the cloud which allows your team to retrieve data from anywhere across the globe irrespective of the device they use.
Furthermore, the cloud facilitates simultaneous file updates, sharing of documents, and sending and receiving information. This feature ensures that your team can work uninterruptedly from the comfort of their home.
Consider a scenario where your marketing team needs to collaborate and discuss a campaign initiation. A cloud-based system can easily facilitate video conferencing equipped with data required for the meeting. Your team members can virtually meet each other and plan strategies. 
2. Offers cloud-based phone system
VoIP (Voice over Internet Protocol) is a cloud-based telephone system that enables your entire inbound marketing team to connect over the Internet. You won't need to stay near your desk phone attend to customer calls. You can use your IP phone to connect with your system and work from anywhere in the world.
This feature especially proves beneficial in a distributed organisational setup or in situations like this current pandemic when employees are not able to work on-premise. VoIP helps in uninterrupted inbound marketing while ensuring the comfort of the users.
Furthermore, cloud-based systems help you reach out to talent pools across the globe. You need not restrict your recruitment to locals. This helps improve the quality of your workforce.
3. Provides powerful analytical tools
Analysing and obtaining intuitive insights from data is crucial to the success of every inbound marketing strategy. Cloud-based systems are competent to track and monitor inbound marketing initiatives. 
Cloud-based analytical tools also help in deriving insights about inbound marketing campaigns like SMS, contests, and customer surveys that have worked best with the target audience and those that have not been successful. 
These tools help you understand the shifting trends and demands of your target audience along with offering the support to test marketing channels with minimal risk and determining ways that have been accepted by the target audience.
4. Ensures high-end data security
Your inbound marketing team deals with sensitive business information day-in and day-out. The slightest breach of this information can have a huge negative impact on your brand. With cloud-based inbound marketing techniques, you can rest assured that your data is secure.
Data stored on the cloud is secured by state-of-the-art security protocols. Even in cases where your team will need to work from home and access data through their devices, cloud-based systems provide access to critical data only after appropriate authentication. This system adheres to a role-based authentication where access is provided only if the responsibilities of the user demand access to the data. Again, a multi-level authentication mechanism is implemented to make sure your data remains unharmed. 
Moreover, cloud-based systems are managed completely by cloud service providers. They take complete charge of updates and maintenance of your system. This feature not only frees you from the trouble of maintaining this system but also helps you focus on other core business activities. 
Additionally, your service provider makes sure to update the system periodically. This ensures adherence to the latest security protocols thereby securing your customer data efficiently.
5. Offers backup and disaster recovery
In case of a crisis, where you have lost all your data, it may become impossible to bounce back and provide uninterrupted service to your customers through inbound marketing. This may hit your brand's reputation. For example, you may have to stop posting blogs, feed your social media with information, or break promotional campaigns.
Cloud-based marketing has a state-of-the-art backup mechanism in place that helps you to retrieve your lost information quickly. The cloud manages centralised data centres in distributed locations that enable you to save a copy of your data. This feature allows you to restore your data thereby helping you to restart work in a faster manner during an unprecedented situation. 
6. Helps save costs
Setting up an in-house data centre may cost you a lot. A cloud-based system helps you enjoy the benefits of a centralised data centre at minimal costs. You are saved from the trouble of maintaining the system and dedicating a separate team to administer it. These are automatically taken charge by your cloud service provider leaving your team with more time to concentrate on core marketing activities.
Parting words
It has become important to find newer and effective ways to connect with your customers. Your target audience should be able to contact you whenever they need your help. This kind of uninterrupted service is facilitated by a cloud-based inbound marketing kiosk. 
Hopefully, the above-mentioned points throw light on the importance of inbound marketing and how adopting cloud technologies can help improve it. 
Looking for ways to further optimise your inbound marketing? Contact Acefone at 0800-084-3663 or send us an email at [email protected] and we'll help you out.

Olivia is an outgoing person who enjoys writing, is an SEO enthusiast, and often interacts with others in intellectual conversations. She enjoys listening to music in her free time. Connect with her on Linkedin
https://www.acefone.com/blog/wp-content/uploads/2020/12/inbound-marketing-boosting-business.jpg
376
737
Olivia Trott
https://www.acefone.com/blog/images_acefone/logo.png
Olivia Trott
2020-12-08 11:43:15
2023-03-24 11:31:44
How Cloud Communication Can Help In Improving Inbound Marketing?