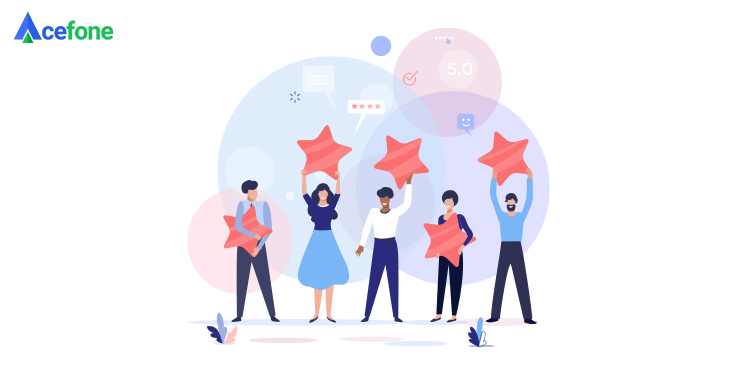 When you're building a business or brand, it is important to build trust at the same time.
Customers are much more likely to make a purchase with you if they see legitimate reviews and feedback from other customers similar to them.
Customer reviews are without bias and give a true representation of the products or services your business deals with.
So it is important to foster great feedback from customers and deal with any negative feedback head-on.
We've put together a few steps you can take to ensure you get great customer feedback and outlining why it is important to do so.
Why Is Feedback Important?
Customer feedback is important for many reasons, the first being that they increase trust in your brand or products.
Real customer feedback shows that many people just like your customer have benefitted from your services and shows that products are of high quality.
During a customer's research phase, they will often look to reviews to get a real idea on whether they should contact your company, so a range of reviews will go a long way to attracting these customers.
No reviews on your site may cause customers to think that you are unestablished – they may not want to be the first to try a product as often this much research will go into buying a high-value product.
So if you have very few reviews it is important to build these up so that you can become much more established in a customer's eyes.
With the rise of social media, a new step is added for customers researching your company, so it is important to ensure you monitor all feedback here to ensure that, even if negative, you are responsive and ready to solve the problem.
Use Feedback To Help You Improve Your Products
By collecting feedback from your customers, you can find ways to improve your products or services based on your customers wants and needs.
If you see a trend developing in similar aspects being mentioned in a review, it may be time to look at your product and make it completely tailored to customer needs.
So in this way, feedback gives you the unique opportunity to speak directly with customers and improve your products so they fit in with what your target audience wants, something you would never have accessed without customer feedback.
Deal With Negative Feedback
Negative feedback is just as important as positive feedback in many ways, so it should not be disregarded even though it is tempting to do so.
Responding politely and professionally is the only way to deal with negative feedback successfully if customers can see you have a bad review but you dealt with it in a timely manner they are more likely to look past this as, of course, everyone will make mistakes from time to time.
Negative feedback can sometimes provide an opportunity to elevate your customer service to new levels, as it presents an opportunity to change a customer's mind.
Once you have solved the issue you can then ask the customer to change the review and you have therefore shown your business will not back away from a difficult situation.
How Do You Get Customer Feedback?
Most clients will not leave a review unprompted, and if they do it is more likely to be negative, so it is important that you build a review collection step into your agent's sales and customer care protocols.
Here are some ways to collect natural, positive reviews from your customers.
Follow Up With Customers
Chances are if your staff have been dealing with customers from the initial purchase enquiry they have built up a good rapport with the customer.
After leaving detailed customer notes in Acefone's easy to use online portal, agents can follow up with the customer after a few weeks if they know they are pleased with the service (for example, they had no complaints or problems throughout the buying process). 
Following up with the customer does not only provide a way for you to get customer feedback, but it also provides an extra level of customer service by giving the customer a form of aftercare and an opportunity to re-engage with your business.
It is completely acceptable for your agents to directly ask for feedback from the customer at this stage, and if they have had a great experience, customers will be more than happy to help.
Giving you a pool of positive feedback to add to your website or even use in your marketing campaigns.
Speaking to customers directly is always a great way to find out what they are thinking and connect with them, so this should always be a step in your sales process.
Customer Feedback Surveys
Some customers may not have the time for an in-depth call, or you may not have built up that rapport with them.
So a customer service survey is a great way to quickly get their input and use any relevant quotes on your website or marketing collateral.
There are plenty of applications out there designed to create easy to use surveys, such as SurveyMonkey, and these can simply be a few questions to get an idea of what customers thought.
You can use your CRM system to send to any customers who have purchased a product or service from you and impress them by truly caring and valuing their feedback.
This does mean that if there are any comments which show the customer is dissatisfied you will need to follow up with a call.
It may be useful here for your sales agents to add a comment on their account on your online portal to notify other agents this customer is having problems, so they are not contacted unnecessarily before the issue can be resolved.
To add another level of customer care, you could use your hosted phone system to call these customers before they receive the survey to tell them of its impending arrival.
This will help fewer surveys to go unanswered or missed in busy inboxes and shows the customer you personally value their opinion.
Encourage Google Reviews
Google reviews are easy for customers to do, you can just send them a link via email and they can fill out the simple form with their rating and comment.
Google reviews are particularly useful for you as a business and for the consumer as often this is a potential customer's first port of call.
So having lots of high-quality reviews will ensure you stand out and are pushed up through those business search results, particularly in your local area. 
Google favours sites which are trustworthy and liked by customers, so the more positive reviews you can collect the better your chances are of being found by your perfect customer.
So it is well worth encouraging purchasers to review you in this way.
Before asking customers to provide a Google review, make sure they are 100% satisfied with your service, as a bad review can be detrimental to your reputation on Google.
Overall, customer feedback is an integral part of your sales and marketing strategy and should be prioritised as part of your procedures.
A hosted PBX system can help you organise data and customer reviews so that it is easy to contact customers and store reviews for future use – find out more by calling our expert team on 0800-084-3663.

Acefone provides a broad range of cloud communication services to businesses of all sizes, which includes Hosted Phone Systems, Free Phone Numbers, and Cloud Contact Center Solutions. Being the UK's leading provider of VoIP service provider, we always strive to provide excellent customer service and high-quality custom solutions to our customers.
https://www.acefone.com/blog/wp-content/uploads/2020/08/importance-of-customer-feedback.jpg
376
737
Acefone Editor
https://www.acefone.com/blog/images_acefone/logo.png
Acefone Editor
2020-05-20 02:04:11
2021-08-03 14:45:59
How To Get Customer Feedback and Why It Is Important?