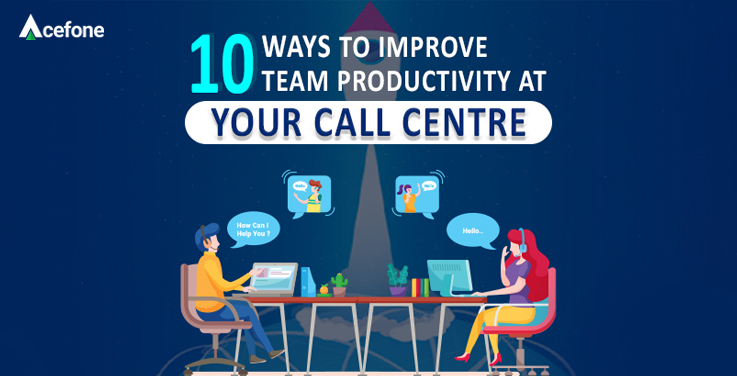 The performance of your call centre directly depends on the performance of your team. A productive team works effectively to reach the company's goal. We already know the importance of having a productive team, but how do we achieve it? How to transform a group of individuals into a team?
This infographic lists ten ways to turn your call centre team into a productive one.

Let's explore in detail.
1. Define Concrete Goals
As a leader, you should keep your team aware of clear goals or targets that they have to achieve. Hold team meetings and ask for updates, but do not stretch it for too long.
According to a study, meetings usually waste more time if they don't happen with particular agendas. Conduct daily meetings with the team to discuss progress. Also, do not set unachievable goals.
Set plausible goals and define them to your team very clearly. Agents will get a clear idea of their individual roles. The stronger and clear your objective is, the more expected results you get.
2. Work From Home
Allowing agents to work from home is indeed a good idea. Research has proved that working from home improves productivity. Working from home provides the agents with a certain level of flexibility that helps improve the overall productivity. Not only that, but it also improves employee retention rates as well. 
3. Gameathon
"All work and no play makes Jack a dull boy."
Playing games together encourages interaction in the team. Conduct team bonding games that will help your team to connect as a team. Games are a great way to reduce stress.
Social events or gatherings like team dinner, celebrating achievements, and festivals help to maintain the work environment positive and healthy. It also improves the bonding among employees.
4. Keep Pace With Technology
Are you providing all the right tools and technologies required in your call centre? If not, then you should. Outdated and old technology is cumbersome to productivity. Investing in the right technology such as hosted phone system will save the time and efforts of your team. The saved time can be used for other important tasks, thus improving ROI.
5. Review And Ask For Feedback
Give regular feedback to your team. It should be fair with wisely chosen words. Negative feedback should not sound harsh or rude. It should rather be constructive criticism.
Regular feedback will motivate your team to put efforts so that they meet your expectations. Also, do ask for feedback from your team, as well. You never know when some ideas could benefit your business.
6. Distribute Work Efficiently
Equal work distribution in a team ensures that all agents in the team get equal work. It makes sure that every agent is working, which ultimately improves the productivity of the team. This way, each agent contributes to the team.
Also, while assigning a task, consider the agent's skill, strengths, and weaknesses so that they get the work that matches their skill set as a result of which the overall productivity increases.
According to GALLUP, employees who use their strengths outperform those who don't.
7. Reward Them
Giving a reward is a way of appreciating your team's hard work. Provide incentives to your agents based on their performance. Incentives for the highest number of leads, highest first call resolution, and the lowest number of abandoned calls will motivate them to perform better.
8. Lead By Example
A good leader leads by example.  If you want others to follow the rule, then you, as a leader, should follow them first. This attitude of yours will make your team respect you even more than before. Leaders who practice what they preach win the trust of their team.
"Leadership is not just about people; it is about engaging them and being invested in their future." – Sarah Stealey Reed (Sr. Call Centre Manager at Deloitte)
9. Acknowledge Your Team's Work
Give your team members credit for their work. Acknowledge their little effort; this will make them feel motivated. You can also incentivise to show them that you appreciate their work. Praise your team or agents; it costs nothing.
"Kind words can be short and easy to speak, but their echoes are truly endless." -Mother Teresa
10. Focus on Agent's Development
A team is a group of individuals who work together to achieve a common goal. In a call centre, agents are those individuals; thus, it is essential to hire the best candidates. Conduct training for them so that they can understand your company and its services better.
Collaborate with various programs to focus on their personal development as well. Google has a policy called 20%- time policy, according to which it allows employees to spend 20% of their time on their personal growth. It builds trust between the two and improves the working environment.
Conclusion
Call centre productivity can be only improved when team members are purposefully engaged and dedicated to their work. You cannot directly expect productivity from them. It takes little effort from the team leader to see better results. With the above given tips, you can improve productivity in your team.

Swastika Dhakal is working with the Digital Marketing team at Acefone. She is interested in technology and likes to write on it. She loves to explore historical places, as well.
https://www.acefone.com/blog/wp-content/uploads/2020/01/ways-to-improve-call-centre-team-productivity.jpg
376
737
Swastika Dhakal
https://www.acefone.com/blog/images_acefone/logo.png
Swastika Dhakal
2019-10-18 13:40:42
2022-05-19 09:04:43
10 Ways To Improve Team Productivity At Your Call Centre [Infographic]