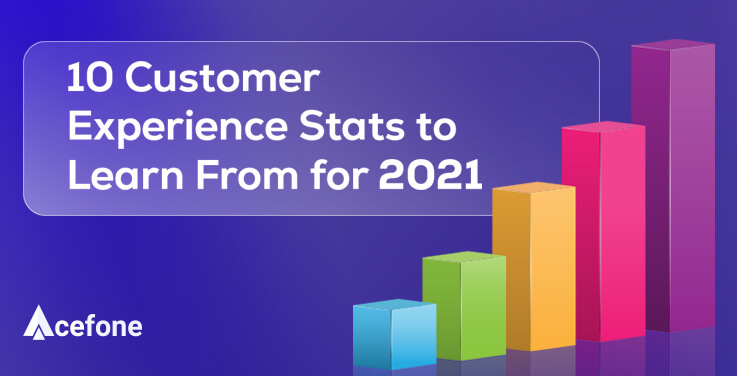 Here are two cliches for you: Customer is king, and the numbers don't lie. In this blog, we're attempting to combine the two. 
Businesses worldwide have begun to realise the importance of customer service. Not only does it affect your reputation and position in the market, but your revenue and profits too. 
No matter which business leader inspires you, you'll find that they've stressed the importance of putting clients first—time and again. 
Steve Jobs, CEO, and co-founder of Apple Inc., famously said, "Get closer than ever to your customers. So close that you tell them what they need, well before they realise it themselves."
Or consider the words of Jeff Bezos, CEO of Amazon and one of the richest men in the world: "We see our customers as invited guests to a party, and we are the hosts. It's our job every day to make every important aspect of the customer experience a little bit better."
What they'll tell you is further proved by these 10 top customer experience statistics. Read on:

These stats give us three types of findings mainly:
First, companies with better customer experience, outperform their competitors. This means they see higher profits and better growth. This is aided by the fact that better customer relationships reduce the cost of operations as well.
Secondly, employees are better engaged with your firm when they are made to focus on customer experience. This could be explained by the reasoning that instead of dealing with arbitrary numbers, they're developing meaningful relationships. As representatives of the brand, they tend to feel more connected with it while engaging with customers. 
Last, but not the least, we come to customer loyalty. If you offer exemplary services and support, customers will choose to buy from you over others. They'll also come back to you for repeat purchases and refer their friends and family to your business. And what's amazing is that customers are willing to even pay more for brands that have treated them well in the past.
Therefore, it's quite clear that customer satisfaction is a necessity, and not just an ideal, in this business scape. In fact, leading brands target customer delight, which is when you not just meet, but also exceed consumer expectations. 
But the question that arises is, how do you get there? 
Here are some tips to follow for curating an effective customer experience strategy.
Evaluate your current strategy
There's no way to plan for the future when you're unaware of how things are working in the present. It's important to assess your current plans and identify what strong points to keep, what bottlenecks to fix, and find out the lacunae to fill. 
An effective way to do this is by asking yourself some questions. 
What do you want to achieve with your customer service?

What do your customers expect from you?

What do your competitors offer that you lack?

What actions would have the most impact on your customers?

How realistic and sustainable are your goals?
Hence, you can identify what steps you need to take and the goals you must realise. 
An important part of this assessment is sketching out buyer personas. You need to be cognizant of what demographic you're targeting, their preferences, habits, needs, stages of their journey, and so on. 
A good buyer persona makes the exercise of customer service a lot easier for your representatives.
Use the smarts of artificial intelligence
Automation is the leading player in this technological age. With handy cloud communication services, your agents can comfortably converse with clients while leaving the grunt work to AI. 
So you can deploy an IVR service to automatically greet and route callers to the best-suited agent or department. In the meantime, the system also collects relevant customer information to aid faster and provide more efficient support. 
Integrating CRM tools with your phone system also aids in customer service. You can access all client data right on the screen and therefore, provide more contextual and personalised services. 
Another great use of automation is for self-service. Clients don't always have time to wait on call or have detailed conversations with agents. Sometimes, they know what's wrong and they just need a quick fix. 
Self-service lets them do just that. They can input their query via a multi-level IVR and the system can retrieve the appropriate response from an FAQ repository. This leaves your agents free to deal with more complex issues and the client experiences quick resolution and hence, feel more empowered.
Act on perception and feedback
You can't just bury your head in the sand and keep doing what worked well for you at one point of time. Times are dynamic, and your modern customers can be even more volatile. 
It's important to constantly assess how customers are perceiving you and work on things accordingly. 
The only way to understand what customers want is by listening to them. Encourage your clientele to leave feedback and stay in touch with you even beyond the purchase. 
You can send bulk SMSes or use IVR to collect this feedback and generate analytical reports based on them. Chatbots are also a good way to assess customer perceptions. Sentiment analysis uses keywords from the conversation to figure out client moods.
In order to make customers think highly of you, they first need to keep thinking of you. That's what omnipresence ensures. 
Make sure you're available wherever your clients want you to be. Allow communication via smartphones, laptops, tablets, or any other device of their choice. Apart from multi-device compatibility, your support solutions should accommodate different channels—call, email, chat, social media, chatbots, website content, and so on. 
The trick is to be proactive and constantly make posts, encouraging clients to reach out to you as well. So be it Facebook, LinkedIn, Instagram, YouTube, Twitter, or even Snapchat, make sure you have social media handles which regularly post relatable content. 
Like we mentioned earlier, your consumer base is completely dynamic. Staying trendy has become an acquired skill these days. 
You need to be aware of how preferences, moods, and societal perceptions keep changing over time. For example, since people started using mobile phones over telephone lines, it became important to adapt to this change and provide appropriate options. 
Similarly, with the advent of social media, a new kind of marketing came into being. The quicker you jump onto the bandwagon, the more exposure you can get with potential clients. 
Conclusion
As communication becomes more open, customer connections become even more important. Furthermore, that becomes evident if you look at reports and statistics that have studied customer experience. 
Therefore, it's time to realise the importance of CX and work towards improving the avenues for client communication. It always helps to use advanced tools like cloud technologies to make your agents' job easier and help them be more productive. 
To learn more about how you can avail cloud services and the benefits you can derive from them, call us at 0800-084-3663 or drop at email at [email protected]. 

Diksha is a junior content writer at Acefone. As a tech-lover, she aims to bridge the gap between tech articles and non-savvy readers. She's equally interested in pop culture and worldly affairs. And in her free time, you can find her with her nose buried in a book or discovering new music for her chaotically diverse playlist.
https://www.acefone.com/blog/wp-content/uploads/2021/02/lessons-to-learn-from-customer-experience-stats.jpg
376
737
Diksha Gusain
https://www.acefone.com/blog/images_acefone/logo.png
Diksha Gusain
2021-02-05 06:00:27
2023-03-23 11:21:52
10 Customer Experience Stats To Learn From For 2021