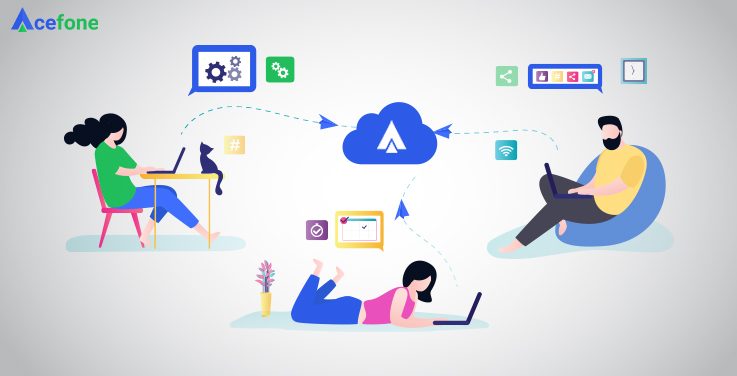 The COVID-19 pandemic opened Pandora's Box by introducing multiple challenges, such as social distancing norms and contactless services, to the global business community. 
These changes took their toll on the existing business structures as they quickly tried to adapt to the new normal without losing their customer base. The initial stages of the lockdown saw the decline of traditionally strong industries such as hospitality and travel.
As the pandemic has progressed, it has become increasingly difficult for many existing businesses to stay afloat. Layoffs have become a normalised trend in these times, and small businesses bear the brunt of economic instability. 
As per reports, more than 100k small businesses have shut their doors during this pandemic. However, despite the obvious challenges posed by this period in running a business, there has been a stark jump in the number of new startups starting during this period.
In the US, the number of new business applications has reached a 13-year high. At the same time, UK has seen the most substantial start-up boom during the past year across the last decade. 
This contradictory trend is a clear reflection of the unique opportunities presented by this pandemic. There are two major segments of people starting these new businesses: people who were laid off from their previous jobs and people who have identified a unique business opportunity and taken the leap! 
Starting a business during such unprecedented times can be a complicated task, but it isn't impossible. The pandemic has disrupted the existing structures to unlock several opportunities to reap benefits. There are certain basic tips that every potential founder can look into while opening a new venture during the pandemic. Here, we discuss some of them:
1. Determine the market need
Certain industry needs are more suited to the current environment than the others. Therefore, it is essential to identify the gap in the market and align it to the everyday consumer need. For example, health-focused cloud kitchens with transparent hygiene standards have gathered the attention of all consumers alike. There is a considerable shift in consumer habits during the pandemic as well, such as the heavy shift from offline to online grocery shopping.
2. Rely on digital marketing
COVID-19 has disrupted the conventional sales and marketing methods, such as marketing events in public places such as malls or theatres or restaurants, thus making the entire process of marketing very difficult. Therefore, it is crucial to focus on the digital avenues of social awareness and develop a robust strategy around the same so that you can put the word out quickly and effectively.
3. Start with your network
Your marketing efforts might be limited on the geographical front owing to the pandemic. This is where you need to leverage your personal and professional network by connecting and engaging with customers via social media and other platforms. Simple activities like reaching out to your relatives for first orders, collecting feedback from known friends, etc., can go a long way into conversational publicity and self-improvement.
4. Foolproof your business plan
The pandemic has taught us to be wary about one thing for sure, which is the uncertainty of any situation. The business landscape has shifted drastically from what it used to be, and therefore, it is vital to draw out your long-term business plan with financial backups in place. A term commonly used in this context is to build a recession-proof business plan: plans that can weather the brunt of an economic meltdown.
5. Manage remote workforce
Lastly, the success of your business is guaranteed as long as your team works collectively and effectively in tandem. The "Work from home" model is another trend that has emerged from the wreckage of this pandemic, and the correct implementation of this practice is essential for the health of your employees as well as your business. The goal is to re-engineer your workforce to extract the maximum value out of them.
Currently, the pandemic has positioned the global economy at an inflexion point, owing to the multitude of changes it brings to the entire environment. If a business adapts itself to these changes in time, it will show exponential growth.
However, the failure to show adaptability could also lead to a catastrophic shutdown. Ensuring the creation and sustenance of a remote workforce is one such change that is essential for the success of any business in the pandemic. 
The current lockdown norms have necessitated the creation of remote working protocols for all non-essential working teams worldwide. 
While it has broken through the shackles of the rumour mill, which projected remote work as mostly impossible, there is no consensus on the correct approach to implement and manage remote working. 
Clearly, there are several inherent benefits to remote working: no time spent on redundant activities such as travel, more productivity induced by the comfort of the home, etc. However, there must be a uniform protocol that can extract the maximum from your remote teams without stifling their freedoms and maintaining their work-life balance as well. 
This is where the 3E approach steps in. You can try the 3 E's of remote workforce management to address the productivity question: Equip, Enable, and Empower. 
Equip

means providing your teams with the essential equipment to get the work done from their respective homes. Earlier, these pieces of equipment were made available to the employees within the office workspaces.

Enable

refers to providing additional facilities or services to the employees and the equipment that would assist them in completing their tasks without spending valuable time on redundant tasks such as data backups or security measures.

Empower

means establishing certain cultural practices and norms that can create a healthy working environment for the workforce and help them overcome any mental challenges posed by remote working.
The 3E approach provides a structured approach towards managing the remote workforce in the best possible manner. 
While we now understand what each of the Es stands for, we will also delve into some of the measures through which each of them can be implemented successfully. 
Considering the constraints of remote working norms, cloud-based deployments offer the best solutions to execute the 3E approach. Let us discuss each of these measures implemented via the cloud:
A. Equip
Inter team communication tools

One of the first and foremost tenets of successful remote working is the ability to freely and seamlessly communicate with your peers, whether over voice and/or video. Setting up VoIP enabled video conferencing tools would allow the employers and employees to communicate efficiently.
These video and voice tools can be used for various use cases within the company structure. Besides the daily stand-up calls and customer conversations, these tools can also be used for remote hiring processes. Conducting automated screening calls and video interviews can make the process very flexible.
Collaborative project management

Holistic project management, including deadline setting and progress tracking, proved to be challenging even in the pre-COVID era. So, it naturally becomes an essential piece of the puzzle during the pandemic. It is crucial to utilise the best project management tools offered by cloud service providers.

These project management tools can assign tasks and track progress, allowing for greater collaboration across and amongst teams. Whiteboard tools can enable multiple team members to work on the same project, allowing for greater flexibility and better collaboration in the teams.
Most corporate offices worldwide function on the backbone of the holy triumvirate – word processing, presentation, and data analysis tools. Microsoft's Office Suite is one of the best examples of such tools.  These tools enable the employees to create documents for standardised reporting, presentations to discuss future strategies, and spreadsheets to draw projections or calculate metrics. 

Inter-team communication tools were always used to differentiate the various working streams and focus on the conversation. This practice shall become even more critical in the remote working practice, and implementing these tools on a company-wide basis can be very useful in the long run.
B. Enable
1. Remotely connected devices



Working from anywhere would require access to the company databases and systems via self accounts. The entire company system can be hosted via the cloud, and it can be made accessible to the verified users through authenticated protected accounts. This will lend great flexibility to the employees as they can now access their workspaces from any internet-connected device.

Sometimes, companies do not possess the required infrastructure to allow their employees to work remotely, which compromises their ability to function. However, this can be solved by deploying VPN infrastructures that can provide a remotely hosted network across multiple geographical zones, thus covering all employees.
2. Enhanced IT support



Seamless remote working would require constant IT support through always-on admins and high-speed connections. Companies would need to amp up their IT support services through essential modifications like high-speed broadband connections and software such as EasyDesk, to allow remote troubleshooting of faulty systems.

IT admins can also utilise the various security measures enabled by the cloud systems, such as easy to maintain and update applications, patches, security fixes, and troubleshooting guides to help the employees self diagnose and fix specific technical issues.
3. Cybersecurity and disaster management



The pandemic also triggered an increase in security hacks due to excessive reliance on digital tools for communication and collaboration. Therefore, companies must now adopt strong cybersecurity measures to protect their employees against data thefts and possible leaks.

Various measures can be utilised via the cloud systems such as firewalls, multi-factor authentications, and encryptions. Companies can also opt for data recovery options in case of disaster recovery. The pandemic has already established the randomness of crisis, and therefore, insuring your archives and recourses against the same isn't a bad option either.  
C. Empower
1. Transparency in ranks



The downside of remote working can be that physical employees become invisible. As a result, it becomes even more critical to ensure the complete transmission of information through the ranks. One broken link can lead to a total collapse. To prevent the same, it is vital to normalise regular updates through inter-team communication channels.

Further, managers should strive to ensure the well being of their team members through informal catchups. Multiple team-building exercises can be identified and executed by the HR teams through online tools or digital resources. These informal catchups will also serve to break the silos formed and keep the lines of communication open.
2. Promote mental health



A healthy work environment will ensure a positive mindset within the employees and hence, better results without a lack of focus or concentration. Mental health has emerged to be a significant issue during the pandemic, owing to the social distancing norms. Therefore, companies should adopt mental health-friendly measures to ensure a stress-free atmosphere.

Employees can be paired with their more experienced peers as a part of the Mentorship or Buddy program, wherein the allotted mentors can set aside time for the personal guidance of their allottees. Team activities such as Yoga, Zumba, or basic exercises can be considered via video-sharing tools to promote the concept of fitness and self-care.
3. Consistent learning opportunities



One disadvantage of the remote working method is the inability to interact with your fellow peers and learn from their experiences. This peer-to-peer learning process tends to get disrupted without physical interactions. Therefore, companies should promote this consistent learning curve through simple measures such as access to various training and webinars.

It is essential to allow your employees to explore digital repositories and strive to develop their skills. The companies can sponsor digital education tools to establish a culture of education and self-learning within the remote workforce.  
Conclusion
Cloud systems offer a holistic solution to the remote workforce management question that haunts several new businesses in this pandemic era. There is no doubt that starting a new business in these circumstances can be a tricky situation. 
But, the rewards can be achieved if the companies are managed with proper strategy in place. From what we have discussed, cloud solutions have become a vital cog in the whole machinery.
To know more about this, get on-call with our cloud experts at 0800-084-3663 or drop an email at [email protected]!

Olivia is an outgoing person who enjoys writing, is an SEO enthusiast, and often interacts with others in intellectual conversations. She enjoys listening to music in her free time. Connect with her on Linkedin
https://www.acefone.com/blog/wp-content/uploads/2021/08/manage-a-new-remote-workforce-using-cloud.jpg
376
737
Olivia Trott
https://www.acefone.com/blog/images_acefone/logo.png
Olivia Trott
2021-08-16 07:16:26
2023-02-22 10:27:32
How to Manage a New Remote Workforce Using Cloud?