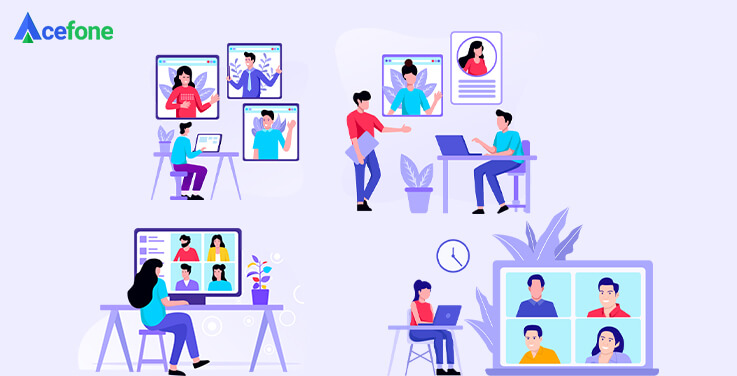 2020 is over but some of the challenges that the year brought with itself still loom over us. The pandemic severely impacted several organisations. While some continue to overcome the setback, some were even forced to shut shop. 
With new norms like social distancing and contactless transactions, organisations world over have been looking for effective and reliable ways to connect with customers. One such medium that has come to their rescue is video content. Businesses have utilised the power of videos to strike the right chord among their audiences. 
One wonders though–what happens to these strategies post the pandemic?
We reckon communication through videos is here to stay and will continue to be a major medium even after offices begin to function at their full capacity.
Below we have consolidated a few ways video will continue to support operations through the post-pandemic world. Check them out!
1. The utilisation of visual IVR systems will increase
Most of us have come across Interactive Voice Response (IVR) systems. IVRs are automated systems that are used to direct customers to the right department for query resolution. 
For instance, if a customer contacts your call centre for a technical issue but ends up in the sales department, routing their call from the sales department to the technical wing might take time. However, with an IVR system in place, businesses can ensure that callers punch in the right numbers and get directed to the desired departments. This saves, both, time and effort and eliminates the risk of customer dissatisfaction. 
Not just that, IVRs can also be customised to answer some frequently asked questions to facilitate faster query resolution without any human intervention. And for businesses that want to up their personalisation game even further, there's visual IVR systems. 
The main difference between a voice response system and a visual response system is the platform they are based on—the latter is based on the organisation's websites and mobile apps. Your company must have at least one among the two to incorporate visual IVR – and if it has both, even better.  Furthermore, links to visual IVRs are also sent through messages or the mobile app. 
This makes sure that if the customer needs to speak to an agent, the agent is equipped with all the required information and will not need to ask further questions. Furthermore, links to visual IVRs are sent through messages or the mobile app. 
Similar to an IVR, the customer is provided options via the menus. They can choose the appropriate option and reach out to the concerned agent or department. Visual response systems also accumulate adequate information about the customer query during navigation. This equips both customers and agents with relevant information for better conversations. 
Additionally, not all customers are comfortable seeking help during off-hours or late in the night. It is also possible that your company doesn't have 24×7 support. Thus, having a system in place that not only offers basic solutions to customers with minimal effort but also is available round the clock to attend to them is a great asset to any business.
Such a comprehensive and personalised visual IVR system will be hugely preferred even after employees get back to their workplaces.
2. Video-enabled contact centres will become the norm
A video-enabled contact centre helps organisations deliver seamless customer experiences. These contact centres can use pushed video information in the form of static or dynamic graphics, or real-time video information. This also helps:
Agents who help callers during physical tasks. These agents can use the push video facility to provide appropriate directions. For example, if the caller is trying to assemble your product and isn't getting it right,  your agent can use the video option to demonstrate the assembling process. This will provide quicker resolutions and also reduce average call handling time, thus increasing customer satisfaction.

When the caller needs to view things in real-time. Your contact centre agent can offer a live demo of the product's capabilities to ensure the comfort of customers.

When your agents wish to provide testimonials over static videos. After all, information that is presented visually is better received by customers. 

Especially in the medical sector. Patients are able to explain their symptoms better, and doctors are able to help people with procedures like CPR. 
These capabilities will ensure that video-enabled contact centres are here to stay for a prolonged period.
3. Collaboration will improve with the help of visual conferencing tools
This pandemic has brought about a new normal. The most popular change is the work-from-home model. Organisations have learnt to function in a distributed set-up. And several businesses are planning to continue this trend even post-pandemic owing to its convenience and feasibility. 
A report by Buffer reveals that 57% of workers were already working remotely even before the pandemic hit. Surprised, right?
In a remote set-up, collaboration is a must to maintain business continuity. This is where visual conferencing tools help––they come with capabilities of instant messaging that facilitate instant doubt clarification. Thus, team interactions and discussions become highly effective through video conferencing tools. 
Moreover, these tools not only serve official purposes but can also be used for team-building activities. Your employees can easily ping each other for a casual chat and socialise during office hours. 
Virtual review meetings and video calls can also be used to track team performance and interact with team members. Even interviews can be conducted over a video call and this enables businesses to hire skilled employees from around the world. 
Incorporation of these visual conferencing tools will pave the way for improved collaboration in a remote working set-up even in the post-pandemic world. 
4. Visual tools will result in enhanced customer experiences
The ultimate aim of businesses is to satisfy customers and deliver contextual experiences using visual communication tools. Through video calls and messaging mediums, you can connect with customers effectively.  These tools enable your agents to gauge the mood of the customer and provide appropriate solutions. 
For example, in a scenario wherein the customer looks agitated but sounds normal, the agent can ask appropriate questions, observe the reaction of the customer, and provide answers accordingly. In fact, the agent can also consider offering a discount to satisfy the customer. Again, visuals help the agent make informed decisions about transferring or escalating calls if need be. 
Personalisation is yet another aspect of customer service. A customer always appreciates being heard and noticed. Video medium serves this purpose well. Visual interactions make the customers feel valued. 
This virtual setup will offer a one-to-one experience and at the end-of-the-day, the mere assurance that their problem has been noted will leave customers happy. Moreover, visual interactions offer just what the customer needs rather than bombarding them with mundane information. 
Wrap up
Visual communication tools are undoubtedly powerful when compared to traditional audio tools. They have a lasting impact on the caller and help deliver the intended message. Hopefully, all that we have discussed will throw some light on the importance of video tools and how they will continue to help businesses even after the pandemic is over.
Does your business have any video tools deployed? If not, you can connect with one of our experts on 0800-084-3663 and find the perfect communication tool for your needs.

Olivia is an outgoing person who enjoys writing, is an SEO enthusiast, and often interacts with others in intellectual conversations. She enjoys listening to music in her free time. Connect with her on Linkedin
https://www.acefone.com/blog/wp-content/uploads/2021/03/how-relevant-is-video-communication-in-post-covid19-world.jpg
376
737
Olivia Trott
https://www.acefone.com/blog/images_acefone/logo.png
Olivia Trott
2021-03-10 13:15:26
2023-03-21 09:41:20
How Relevant Is Video Communication In The Post-COVID-19 World. Is It Here To Stay Even After People Go Back To The Office?