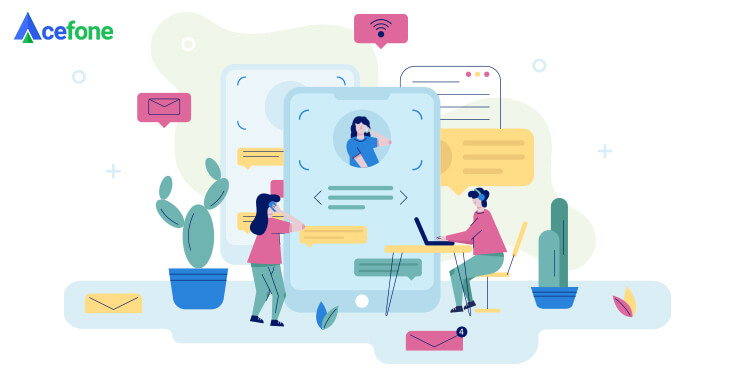 The world is going through an unexpected crisis that demands minimal human contact. Businesses have left no stone unturned to survive and emerge successfully from this battle. Working remotely and reaching out for products and services from home has become the new normal.
Though organisations have begun to adapt to changes, what is the real impact of these changes on businesses? Are you equipped to serve your customers who come with explicit limitations?
In the case of sero meetings and no room for face-to-face contact with customers, your customer service representatives may not be able to sense the pulse of your customers.
To overcome this challenge, businesses can opt to set up video contact centres and offer differentiated customer experiences.
What is a Video Contact Centre?
Mobile applications have made it easier for customers to contact organisations for more information about products and services. 
When you offer video chat through your contact centre, representatives can simply demonstrate the attributes of your services rather than trying to explain verbally. Furthermore, customers will not have difficulty comprehending and interpreting information as they can see it work.
Video contact centres not only increase credibility and trust but also pave the way for exemplary customer experiences. Customers can visualise your agents empathising with them. This helps establish a personal connection with the customers without a physical presence.
Though several businesses have begun to seriously incorporate video chat in their contact centres, start-ups are still exploring this option and trying to see if it will be the right fit for their contact centre strategy.
According to a Forbes report, video conferencing is fast becoming the norm. The usage of video chats has risen to 84% when businesses collaborate with customers and external stakeholders. This medium has proved to optimise team performances significantly.
We have listed a few ways video contact centres can help businesses offer seamless customer experiences. 
1. Helps provide personalised customer experiences
Empathising and understanding the needs of the customers' help in delivering personalised customer experiences. Nobody likes mundane and robotic answers from customer care representatives when contacted for an issue. Video chat takes charge and makes conversations more human. They help in establishing a personal connection between the customer and the representative. The customer can see exactly how helpful the representative will be.
Similarly, the agent is also able to better gauge the mood and tone of the customer. This helps in predicting the urgency of the customer, quicken solutions thereby improving the quality of customer experiences.
Furthermore, these one-to-one sessions can help build trust amongst your customer base. Even if the representative is not able to offer a clear solution to the customer issue, the customer is assured that his problem will be taken care of resulting in customer satisfaction.
2. Improves the quality of real-time support
There may be instances when a customer may not know how to use your product. Lack of technical knowledge may be the reason behind this. If this person contacts your call centre, he will be routed to an agent. There are chances that the customer may or may not understand the verbal directions.
There is a high probability that the customer may even quit using your product, finding it too complicated.
However, if you have a video contact centre, your representative will be able to virtually direct the customer on how to use the product. Your representative can physically demonstrate using the product through options like screen sharing available in the app. This will not only resolve the customer's problem but also improve their confidence resulting in a loyal and happy customer. 
3. Facilitates streamlined communication
Video chat has proved to significantly improve the rate of sales and customer satisfaction. You may facilitate this option through your website or incorporate a mobile app to help your customers reach out to you. Video chat supports an easy transfer of calls. Calls can be transferred to video chats and they can also be escalated in case the customer wants more help. Video calling also comes with the option to call back if they were unable to talk to a representative at a given time.
Furthermore, video chat options support call recording and monitoring capabilities. These features help managers have a complete hold on the quality of calls. They can monitor and identify weakly performing agents. Again, stakeholders can recognise bottlenecks in operational processes and work towards rectifying them promptly. 
4. Boosts the rate of first call resolution
When a customer is offered a satisfying resolution to their problem during the first contact with your agent, it boosts the rate of first call resolution.
Video chats can contribute significantly to this. Agents can effectively demonstrate the capabilities of your products to customers. The customers in turn thoroughly comprehend the features of your products and are fully convinced before disconnecting the call. A video chat eliminates the room for unnecessary doubts and helps in providing faster and timely solutions to the problems presented by the customers. 
5. Helps save costs
Your customers may give it a second thought if they had to visit your service centre whenever they had a problem with the product. Through video chats, your agents can effectively guide your customers with operational issues in the product and ask them to visit your centre only when it is required.
This option will eliminate unnecessary visits, save customer's time and money along with avoiding frustration. This results in happy customers. 
Parting Words
Undoubtedly, face-to-face interaction helps businesses connect personally with their customers and sense their pulse in a better way. Video chats can help organisations explore opportunities to augment their customer base and improve the quality of service they deliver. The above-mentioned aspects of video chats will throw light on how they can be incorporated in contact centres along with their benefits.
Provide an excellent customer experience with Acefone's video chat software. In case of queries and concerns, connect with us at [email protected] or call us at 0800-084-3663.

Acefone provides a broad range of cloud communication services to businesses of all sizes, which includes Hosted Phone Systems, Free Phone Numbers, and Cloud Contact Center Solutions. Being the UK's leading provider of VoIP service provider, we always strive to provide excellent customer service and high-quality custom solutions to our customers.
https://www.acefone.com/blog/wp-content/uploads/2020/11/deliver-differentiated-customer-experience-with-video-contact-centre.jpg
376
737
Acefone Editor
https://www.acefone.com/blog/images_acefone/logo.png
Acefone Editor
2020-11-30 05:12:52
2023-03-24 11:44:44
Ways To Deliver Differentiated Customer Experience With Video Contact Centre