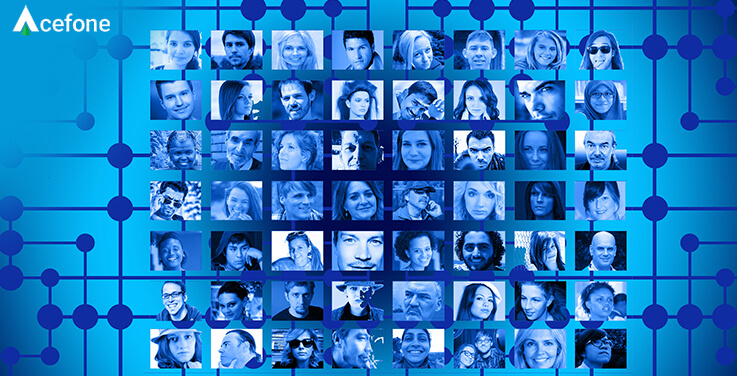 According to the Office for National Statistics, almost 1.7 million people in the UK work from home. This amounts to approximately 5% of the 32.6 million working population. The report also states that 8.7 million people have worked from home at some point in time.
Though several companies are still getting accustomed to the shift to remote work, this report proves that the remote environment was always a part of our working culture. 
However, there are a few challenges that businesses face when working from a remote environment. One such major hurdle is maintaining cohesion among the team members. 
Many companies prefer to have a hybrid workforce model that blends both on-premise and remote working. In this scenario, remote workers may feel isolated. Thus, such a situation needs a specific approach that weaves together the different parts of your business.
Unified Communication as a Service (UCaaS) is a cloud-based communication system that offers a holistic view of the various moving parts of the business.
Let us delve into its intricacies for a better understanding.
What is Unified Communication as a Service (UCaaS)?
As the name suggests, this communication system breaks through silos and facilitates the free flow of communication across departments of a company. It comes with state-of-the-art features like voice telephony, video and audio conferencing, and real-time messaging, and instant data and file sharing, thereby aiding friction-free communication across the organisation.
Here are a few ways UCaaS helps a remote team work efficiently and successfully.
1. Helps maintain a secure work environment
The security of critical business information is a major concern when your employees work in a remote set-up. They'll be using different devices with a higher possibility of connecting over insecure public networks. This may pose serious security threats to your business data.
As unified communication systems are cloud-based, they are completely handled by cloud service providers who implement stringent security protocols for remote workers. A few of them are as follows.
Multi Factor authentication: Here, access is provided to authorised persons using more than one authentication technique—like using OTP and passwords.

Role-based access for all the employees: You can only access the data that is necessary for your tasks while high-security information is protected. 

A strict password policy is imposed: Employees are not allowed to share passwords to confidential information. They're also advised to regularly update their passwords, as per guidelines for creating secure codes. 

Remote workers are asked to connect over a Virtual Private Network (VPN). This allows for easy monitoring and tracking of user activity. Also, it becomes easy for supervisors to detect suspicious activity.
Adhering to these security practices helps develop a secure remote environment. This supports a risk-free working space, showcasing your business as a reliable one, and attracting customers.
2. Improves collaboration
Collaboration is an important part of the remote ecosystem. It is mandatory to take specific measures so that remote workers do not feel left out. The unified communication system enables you to do this. It comes with several features of video conferencing and messaging apps. This helps your team members stay connected even in a distributed environment. 
Advanced features like voicemail messaging and screen sharing helps the team reach out to a supervisor or a colleague in case they need urgent clarification. Conferencing options help create a one-to-one personal impact even in a virtual setup. Meanwhile, you can conduct periodic reviews and discussions remotely with video meetings, thereby bridging any communication gaps. 
These collaboration tools can also be used to arrange team-building activities. Remote employees can participate from the comfort of their homes while getting an opportunity to mingle with their colleagues working from the office. This paves the way for a collaborative and successful working ecosystem.
3. Streamlines business processes
Connecting across the different departments of your business is important. A unified communication system enables a streamlined flow of information. This eliminates the chances of resource dependency and data stagnation. 
Consider an example wherein a customer has provided negative feedback about the services you offer. A faulty product was delivered to them and they're unable to get a refund. Despite trying over multiple channels of communication, they couldn't connect to the right agent. 
In the case of a traditional communication system, the customer will need to explain the problem all over again when they do connect with the right executive. This will agitate them further and lead them closer to opting out.
However, with the help of a unified communication system, your representative can view the customer's previous interactions across multiple communication channels. He can consolidate all this information on a single page and understand the situation better. Realising the urgency and mood of the customer, the agent can provide the best-suited resolution, like an immediate refund, or spontaneously escalate the issue to a supervisor. 
This streamlined flow of information not just saves time and eliminates repetitive, mundane tasks such as obtaining customer information but also helps retain customers.
4. Enables communication continuity
UCaaS enables the integration of information. That is, your employees can remain on the same page, access the same information, and work simultaneously on documents irrespective of their location or the time of the day. Remote workers and employees from the office can collaborate, share files, edit, and transfer data seamlessly. This capability helps improve the efficiency of business processes and deliver better customer experiences. 
5. Provides better flexibility
A commendable advantage of unified communication systems is flexibility. Bring Your Own Device (BYOD) has become the new normal. This refers to your employees being able to use their own devices at work. No longer do they have to stay glued to their desks—they can work from anywhere around the globe and even on the move. Furthermore, this capability allows employees to support business processes across various time zones.
Unified communication systems integrate different communication channels to facilitate work. Your remote workers can use text messages, audio, video, social media platforms, and emails to connect with customers. This will help your brand augment its reach and meet varying customer needs.
These systems come with state-of-the-art scalability. That is, the number of resources and infrastructure used can be increased or decreased based on changing demands. 
For example, if you're a small business that receives a sudden requirement from your client involving the migration of an existing tool to an updated technology interface—you need to be able to accommodate this quickly and expertly.  
Your service provider can provide you with these resources for the period of the project. Cloud-based UCaaS functions on the pay-as-you-use-model. This means you will need to pay additionally only for the extra resources you have used. This flexible model enables you to meet customer needs cost-effectively.
6. Helps control costs and focus on core business
Cloud-based unified communication systems play an important role in slashing down upfront investments on infrastructure. Traditional communication systems involve expenditures like the purchase of equipment and software. 
However, UCaaS is managed by your cloud services provider, who will evaluate your work environment and equip it with the best suitable infrastructure in alignment with your organisational goals. 
For example, if your business has a hybrid work model, you'll be equipped with the required devices to accommodate your remote workers. This will include endpoint protection and flexible methods like using a UCaaS system across your company. 
When you cut down costs on equipment and infrastructure, you are automatically able to focus more on your core business and direct funds to improvise customer-facing processes. This results in happy customers and a successful business strategy. 
Wrap up
A holistic view of information is pivotal for the success of businesses. With many companies opting for remote ecosystems, it has become a necessity to integrate business processes. Unified communication systems empower businesses to do this and much more. Adopt UCaaS and transform your remote workforce into your customer success strategy.
For any further information, you can contact us at 0800-084-3663 or [email protected] and our agents will be happy to help.

Acefone provides a broad range of cloud communication services to businesses of all sizes, which includes Hosted Phone Systems, Free Phone Numbers, and Cloud Contact Center Solutions. Being the UK's leading provider of VoIP service provider, we always strive to provide excellent customer service and high-quality custom solutions to our customers.
https://www.acefone.com/blog/wp-content/uploads/2021/03/ucaas-can-turn-remote-workforce-to-long-term-customer-success.jpg
376
737
Acefone Editor
https://www.acefone.com/blog/images_acefone/logo.png
Acefone Editor
2021-03-30 11:27:14
2023-03-21 08:38:34
6 Ways UCaaS Can Transform your Remote Workforce for Long Term Success