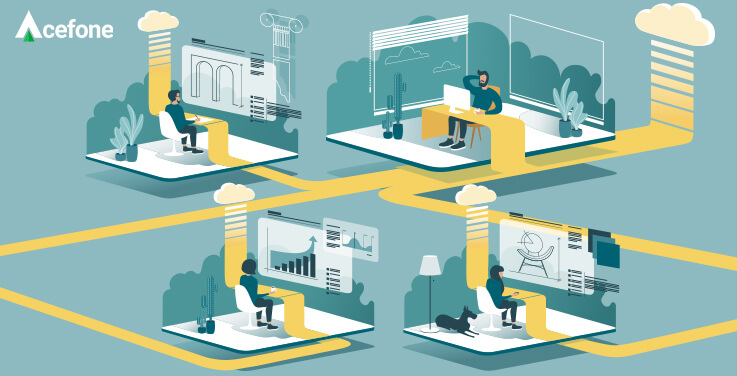 Seamless communication between the moving parts of an organisation plays an important role in defining its success. In the present-day scenario, remote work is not just preferred, it's vital. With several companies shutting shop due to the pandemic, business owners have begun to consider extended remote work seriously. 
However, even before the pandemic, there were many companies that preferred to work remotely in hopes of achieving a better work-life balance and improved savings on infrastructural investments. 
The biggest challenge in a remote ecosystem is to successfully create a virtual working environment. And although there are risks associated with working in total silos, businesses are adopting unified communication systems to overcome this major challenge.
So, what are UCaaS systems? Let us understand better.
Unified Communications as a Service (UCaaS) is a communication model delivered by providers on the cloud. This model facilitates the unified delivery of communication across an organisation—empowered by virtual meetings, enterprise telephony, unified messaging, and improved mobility. UCaaS enables you to establish a frictionless connection within your organisation and with customers alike. 
So, let's explore how virtual teams rise above their challenges with UCaaS.
1. Improved productivity
When employees work in silos, they do not get access to a holistic view of the problems presented by the customers. In the absence of a free flow of information within the different departments, you're likely to propose inconsistent solutions to clients. 
And without proper resolutions, customers tend to come back with the same concerns. By doing so, they highlight the lacklustre quality and productivity of your business and have overall unsatisfactory experiences. 
UCaaS is a cloud-based system, and therefore, can be accessed from anywhere across the globe. It provides a holistic view of the business processes to the employees. Your teams can access all the tools and infrastructure required to deal with customers on a single page, even when working remotely. 
For example, let's say you run a UCaaS-based contact centre. If a returning customer connects with your agent, you can pull out the customer's previous call history and personal data from the CRM, and access product details from the knowledge base simultaneously. 
When your agent is equipped with all the relevant information to deal with the customer's query, he can resolve issues in no time, and with confidence. Therefore, productivity is enhanced right from your employees' home offices. 
2. Boost collaboration
Collaboration is essential for a successful remote ecosystem. A simple miscommunication can snowball into a massive organisational error. Therefore, you should ensure that you adopt the right collaboration tools to weave your team together. 
Traditional systems do not support a virtually cooperative environment. They do not offer collaboration tools and work best only if your team meets in-person.
UCaaS overcomes these limitations. It supports the unified working of your employees even in a distributed environment. All this is possible with the use of virtual team meetings, instant messaging, and online team building activities that improve collaboration. 
Furthermore, UCaaS offers features that enable document sharing and simultaneous editing. This allows your team to work on the same page even when they're miles apart.
3. Simplified integrations
With unified communications, you can combine the capabilities of different technological platforms to improve business workflows. In distributed work set-ups, the potential of these platforms is best met when they work in unison. 
Conventional communication systems may not accommodate the integration of third-party apps. They would have to be completely shifted to a separate technological platform along with the tools for the best results. This can be a time-consuming and expensive affair.
However, UCaaS supports integrations and helps employees deliver seamless services even in a virtual ecosystem.
For example, a CRM is used to save customer information. It can provide pivotal customer details and interaction history that result in faster resolutions when dovetailed with your telephony system. It also helps deliver contextual and personalised experiences that build customer loyalty. 
4. Showcase reliability
With all said and done, the COVID-19 pandemic did end up giving consumers an idea of the preparedness and reliability of brands. Businesses that strived to sustain and work remotely to provide uninterrupted services will continue to emerge successfully. However, companies that did not give this aspect a thought may find themselves struggling to keep up.
Reliability is an important quotient that reflects the strength of your business. You should ensure that your brand delivers uninterrupted services even in the case of a disaster or crisis. The mark of a professional firm is its ability to bounce back to normalcy even in tough situations. That's how your target audience knows they can trust you. 
In legacy systems, your sensitive business data is not stored on a centralised repository. In case of data loss, you're unable to operate and your business could even come to a standstill. This will definitely impact your brand negatively.
UCaaS eliminates this concern completely. It guards your data by adhering to high-level security policies. Moreover, data is automatically backed up and, in the event of a crisis, restored spontaneously. Your day-to-day operations continue smoothly.
Essentially, UCaaS ensures business continuity and high-end disaster recovery, thereby showcasing your brand as a reliable one.
5. Safeguard data
Security is a huge concern for all kinds of organisations—especially when employees work from their homes. There is always a threat of security breaches and data theft and misuse by fraudsters. Traditional systems are exposed to these threats as one has to manually intervene to obtain compliance and maintain security measures.
UCaaS ensures that all your data is guarded by foolproof security policies and GDPR best practices. These include 256-bit industrial-grade encryption and multi-factor authentication.  Moreover, all your data is stored on the cloud and can be retrieved if a cyber-attack occurs. 
Again, your provider will automatically keep updating the system to the latest security best practices. The provider will also necessarily include antivirus firewalls and anti-spam ware to further safeguard your data. 
6. Portability
Traditional communication systems can only be connected to specific devices. It demands the presence of the employees in the office who can access the system and perform everyday activities.
However, UCaaS systems are highly portable—a major boon for companies having a remote workforce or widespread operations. All you need is a stable Internet, regardless of geographical locations. 
Your team will be able to work collaboratively from anywhere across the globe with the same efficiency as in-house teams. 
And this system enables your employees to use any device they prefer to work on. Moreover, they can flip calls within devices, eliminating the need to be glued to their desk during work hours. This flexibility makes UCaaS the most preferred communication platform amongst companies having a virtual workforce.
7. Easy onboarding of virtual talents
The onboarding process helps strike the right chord with your employees. A thorough onboarding process can assure a nurturing working relationship with your workforce. How do you think this can be achieved in a virtual environment?
In the case of legacy systems, businesses will have to compromise on the quality of the onboarding process or they will need to stop their hiring process even if there is an urgent need.
UCaaS, on the other hand, comes with inbuilt messaging and conferencing capabilities that can be used to virtually meet recruits. A huge advantage of remote work is that you are free to hire talents from across the globe irrespective of their location. When you can seamlessly onboard remote employees through virtual conferencing tools, it further showcases your company as trustworthy. 
Conclusion
Having an effective communication system is pivotal to the success of remote businesses. However, you must choose your communication platform with the utmost care. Hopefully, these points will throw light on a few of the advantages of UCaaS. Everything from portability and reliability, to data security and remote tools are at your service. 
Feel free to let us know your thoughts in the comments section below!
To get a virtual team communication solution curated just for your needs, contact us at 0800-084-3663 or send an email to [email protected]. 

Olivia is an outgoing person who enjoys writing, is an SEO enthusiast, and often interacts with others in intellectual conversations. She enjoys listening to music in her free time. Connect with her on Linkedin
https://www.acefone.com/blog/wp-content/uploads/2021/02/ucaas-eliminates-virtual-communication-challenges.jpg
376
737
Olivia Trott
https://www.acefone.com/blog/images_acefone/logo.png
Olivia Trott
2021-02-11 08:46:39
2023-03-23 11:19:18
How UCaaS Eliminates Virtual Team Communication Challenges?