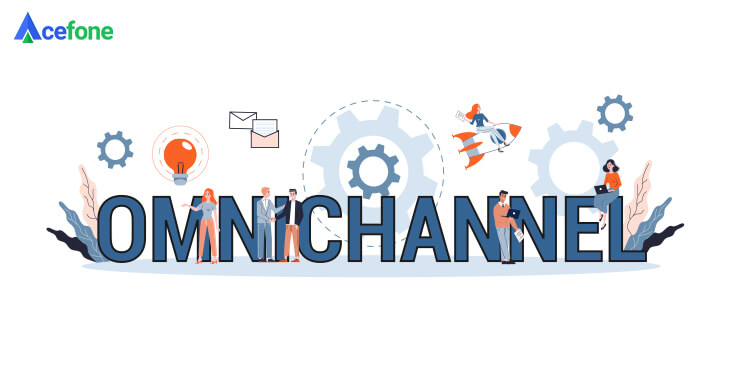 The modern market is incredibly diverse. From young people who prefer social media and texts, to older people who might be more comfortable with calling and emails, you need to attract and enable all demographics to communicate with you.
And you guessed it—establishing an omnichannel presence is just the way to do that.
Omnichannel communication is becoming more prevalent in larger companies wanting to stand out in a competitive market. It's not hard to see why.
When your communication channels are integrated and working harmoniously, customer experience is enhanced and their buying journey becomes seamless. Making things effortless for clients is the way to ensure high revenues. If people can reach you on the platform they're most comfortable with, you get one step closer to sealing that big contract—regardless of your size.
This article will explore why it is important to invest in omnichannel communication, and why this type of communication is booming.
#1 Be available where customers need you
Customers are always multitasking. They could be commuting to work and browsing on their mobile phones looking for a vacation, or scrolling through social media to find a new restaurant to dine at. The introduction of portable devices and easy access to the Internet means that people actively or passively come across products all the time, from anywhere in the world.
Customers also lack patience. A slow website or lack of social media presence may render their preferred method of communication unavailable, encouraging them to switch to a digitally superior competitor. Therefore, if implemented correctly, omnichannel communications are the key to open the door for new opportunities.
Before a purchase, buyers go through many "micro-moments". Micro-moments are steps in the customer journey where preferences for a product or service are formed. They may have questions, and based on how simple it is to find answers or get in touch with you, they will decide whether to engage with your business.
By being present on multiple channels and using insights to create highly targeted advertising, you can catch consumers wherever they are, whenever they need you.
#2 Use insights to deliver better service
The latest cloud technology comes packaged with tools for collecting useful insights, leading to better customer experience.
A cloud-hosted phone system can store all data in one centre, allowing you to track all consumer engagements as they move through their purchase journey. With a user-friendly online portal, your staff gets easy access to detailed notes of customer accounts which can be linked with your CRM to create a powerful one-stop solution.
If details of a caller's past interactions with the company can be stored and accessed by all agents subsequently, they can provide a highly personalised service. For example, a customer may favour a phone call over an email—or one may be more receptive to a message on social media or via a mailshot.
#3 A unique chance to enhance your brand
A successful omnichannel strategy doesn't simply imply a presence on multiple platforms. You need to be consistent and engage the customers as well.
This is the perfect time to showcase your brand values and professionalism. Ensure that your communication is the same across platforms—the content can be different, but your brand message should remain consistent across channels. In doing so, your clients will recognise you as an established brand with strong values.
Moreover, customers care about more than just your services. If they can feel a connection to your core values and goals, they're likely to become more interested and stay loyal. And a consistent voice across all channels will ensure that they will continue to engage with your company on the platform of their choice.
#4 Open up a new approach to customer service
With customers becoming more demanding and increasingly busy, businesses need to focus on quick solutions to help save their clientele's time as well. This way, support representatives can deal with more urgent or complex enquiries.
If you have an omnichannel communication strategy, you can offer customer service instantly on different platforms, allowing your team to handle questions as they arise, rather than waiting for a customer to call.
For consumers, this makes the process of acquiring important information easier and shows that your business is willing to invest in the best service possible.
You can streamline your workflow further by using automation or AI to answer frequently asked questions, or by adding an IVR solution to your hosted phone system. This system can be completely personalised for your business. You can intelligently automate the process of routing calls to suitable agents, and even present a self-service menu with navigable key inputs.
The simpler your communication funnel is, the better is your customers' experience with your brand, thereby encouraging more conversations and possible purchases.
It isn't hard to see why omnichannel communication is booming at the moment. It provides a wealth of opportunities for your business to engage with customers on a more personal level. While such communications can be tricky to crack, once you've implemented them in your business with a clear and consistent brand messaging—you won't look back!
To know more about Acefone's omnichannel communication solution, get in touch with our team today at 0800-084-3663 or [email protected] to get started.

Acefone provides a broad range of cloud communication services to businesses of all sizes, which includes Hosted Phone Systems, Free Phone Numbers, and Cloud Contact Center Solutions. Being the UK's leading provider of VoIP service provider, we always strive to provide excellent customer service and high-quality custom solutions to our customers.
https://www.acefone.com/blog/wp-content/uploads/2020/11/omnichannel-is-booming.jpg
376
737
Acefone Editor
https://www.acefone.com/blog/images_acefone/logo.png
Acefone Editor
2020-11-25 04:07:19
2023-03-24 11:46:03
Omnichannel Communication Is Booming, Here's Why