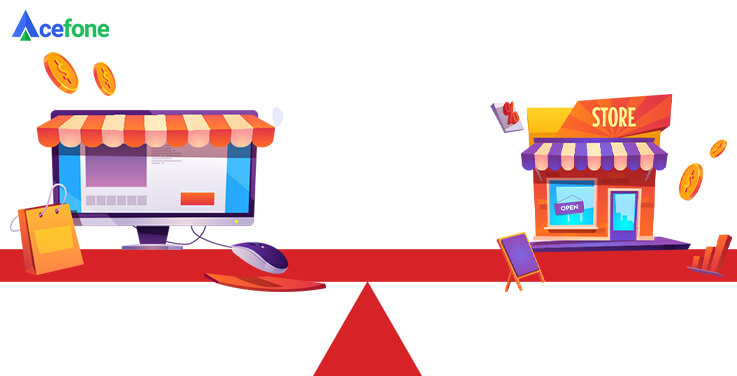 The retail industry was one of the worst-hit during the COVID-19 pandemic. With stringent social distancing and lockdown regulations, brick-and-mortar stores were struggling to equip themselves for such a huge transition––going contactless. 
Several retailers have been focusing on maintaining an online presence. However, solely depending on one medium of communication is a challenge. Retailers need to create a positive image and earn the trust of their customers, while restricting in-person contact. As a result, businesses are forced to outdo themselves and earn a competitive edge. 
The most difficult challenge is to maintain effective communication across the various stages of the purchase cycle. Any issue in the communication during the process can drastically affect customer experience. 
Unified Communication as a Service (UCaaS) can equip retailers to effectively handle such situations. Let us understand this solution in detail.
According to a report by Mordor Intelligence, UCaaS in the retail industry was valued at USD 4733.85 million in the year 2020. This figure is expected to reach USD 17800.17 million by 2026 which amounts to a CAGR of 24.7% for the forecast period 2021-2026. That's a massive climb, proving exactly how important it is to take your retail business to the digital scape.
What is Unified Communication as a Service (UCaaS)?
As the name suggests, UCaaS allows you to obtain a holistic view of the various processes across your organisation. It helps in creating a rich platform with smart solutions that enable better collaboration and contextual interactions between your brand and the customer while converging physical experiences with virtual ones and controlling costs at the same time. 
UCaaS facilitates the free flow of information across the various moving parts of your business. This communication system breaks down silos and enables better transparency among the departments. 
To elaborate on this, let us consider two use cases from the retail industry.
Use case 1:
Consider a customer visiting your brick-and-mortar store. They want to purchase a product they saw on your website. The customer is particular about the product as they have zeroed down on it after detailed research and find it most suitable. 
If your store runs on a legacy system, your salesperson will have trouble finding the same product in the physical store. They might need to contact the inventory warehouse. This will include getting permission from the supervisor and the store-in-charge. To add to that, if the product is out-of-stock, it will have to be ordered afresh and provided to the customer. Most distressing of all, this whole process consumes a lot of time. The consumer may instead contact your competitor for expedited product delivery.
Now imagine this: your retail chain has a state-of-the-art unified communication system in place. This system enables seamless communication between the various departments of your store. So, when your customer asks for a product he found online, your salesperson can check the catalogue and get a product ID. This unique ID helps you find the desired product easily. The same ID can be used to check the inventory for stock availability and delivery updates. 
A unified communication system also facilitates instantaneous approval by the supervisor and the warehouse in-charge. The whole process is completed in a single click, on the go. This speedy process brings together different parts of your retail store, thereby improving the quality of customer experiences. 
Use case 2:
A customer orders a product from your online retail store. He is expecting the delivery in a day or two.
In the case of a traditional communication system, the customer will have to wait for the scheduled time of delivery, confining them to their home. Furthermore, a conventional delivery schedule may involve delays that the business will then be unable to communicate to the customer. 
However, when you have a unified communication system in place, you enjoy the benefits of a holistic approach across your retail business. A unified communication system involves a middleware and location web services API. 
The customer can be informed instantaneously about the exact time of the product delivery. Also, the middleware comes coupled with a GPS tracking system. This helps monitor the location of the delivery vehicle. 
Equipped with this precise information, automatic notifications are triggered about the approximate product delivery time and the customer receives real-time updates. This allows them to be available accordingly instead of waiting indefinitely for the product delivery.
Now that we have understood how UCaaS solutions are used, let us delve into their advantages:
UCaaS functions on the cloud. Your cloud service provider takes care of the upfront expenditure, like that of infrastructure or hiring a skilled workforce to maintain the environment. This compendium of services takes away all the hassles and comes at flat monthly charges that prove to be cost-effective. 
Collaboration plays an important role in the success of every business. A unified communication system helps inter-department coordination. For example, let's say a product is out for delivery but the truck breaks down and halts for some time. This delay can be immediately notified to all the stakeholders. A proactive system will enable you to instantly inform your customers about any issues and take appropriate action. 
Initiates quality customer interaction
UCaaS paves the way for contextual customer interactions. The technology enables the integration of customer support tools and helps obtain insights into the customer journey. For example, consider a customer contacting your support centre about a product's return policy.
With a UCaaS solution, your representatives have ready access to tools like Customer Relationship Management (CRM) systems. This tool provides data about previous chat transcripts and the history of customer's interaction. 
If you find that the customer has been repeatedly contacting you for a return request, it is best to either accept the return as per policies or at least escalate the call for immediate attention. Such spontaneous action goes a long way in earning satisfied customers.
UCaaS provides centralised access to business-critical processes and information. It enables your staff to work from anywhere and any device. This solution equips them with the required information to make informed decisions even when they're not working from the office. 
For example, if your staff receives a message from a customer about the status of their online order, they can check the same from their mobile devices and update the customer instantly. They need not wait till the next morning to go to the office and get the information. This helps in resolving customer queries and issues promptly, thereby boosting productivity and customer satisfaction as well.
Enables you to earn the competitive edge
When your retail store has a state-of-the-art unified communication system in place, it can deliver quality customer services across communication channels simultaneously. Therefore, your staff can serve customers better within shortened call times. 
Furthermore, this communication system helps provide faster resolutions to the customers. All these capabilities make your customers happy, resulting in your brand earning a competitive edge in the industry.
Wrapping up
A unified communication system enables retailers to showcase their brand as a trusted and reliable entity. Equipped with UCaas, retailers are able to ensure on-time delivery and seamless interactions with customers, thereby reaping maximum benefits. Hopefully, the aforementioned use cases will provide a glimpse into how best-unified communication systems compare to conventional ones. 
Get in touch with us at 0800-084-3663 or send an email to [email protected] anytime to get started with cloud solutions.

Olivia is an outgoing person who enjoys writing, is an SEO enthusiast, and often interacts with others in intellectual conversations. She enjoys listening to music in her free time. Connect with her on Linkedin
https://www.acefone.com/blog/wp-content/uploads/2021/04/unified-communication-in-the-retail-market.jpg
376
737
Olivia Trott
https://www.acefone.com/blog/images_acefone/logo.png
Olivia Trott
2021-04-05 04:19:38
2023-03-21 08:35:22
Unified Communication In The Retail Market: Case Studies