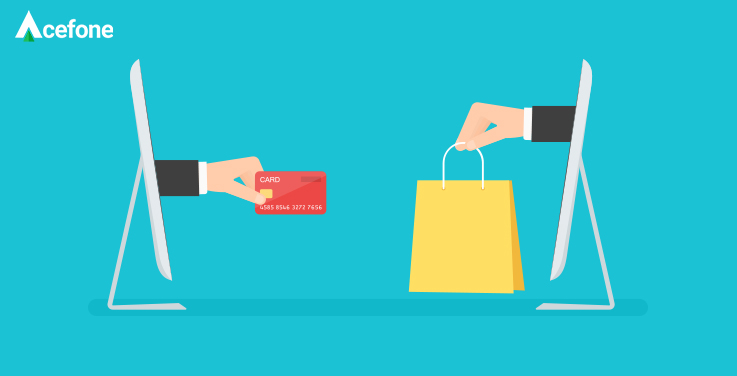 The year 2020 was a challenge for all businesses, large and small. The retail industry was one of the worst-hit in the pandemic as many brick-and-mortar stores were forced to close their shutters due to the pandemic situation. People were not able to visit stores, strict restrictions on limiting the crowd were enforced, and many lost their source to earn a living.
However, the new year comes with ambitions and changes. 2021 has dawned with hopes to bring in numerous positive changes in the way businesses function. Like many industries, retail is also taking the route to the cloud. With the help of cloud communication services, many businesses have shifted to an online platform to reach their audience even in the midst of the pandemic.
These shifting trends will pave the way for a boost in income for businesses along with the satisfaction that they have made a significant move for the benefit of the customers.
Here, we have listed a few of the trends to watch out for in the retail industry this year. 
With the kind of concerns brick-and-mortar stores have during the current COVID-19 situation, undoubtedly, online shopping is here to stay and will sustain for a prolonged period. 
Customers have begun to depend on online stores for even their basic requirements. This trend has resulted in the boom of social commerce. As the name suggests, social commerce is all about shopping through social media platforms. All they need to do is access the page of the particular brand, select the product, and proceed with the shopping. This kind of option is available on social media platforms like Facebook and Instagram wherein shops can be set up for the customers to view. 
'Shops' on Facebook and Instagram are custom storefronts that allow the sellers to not just set their online store but also customise it based on their brand norms. It includes themes, banners, images, and buttons that can be used by the sellers to create an appealing store to reach out to a wide range of audiences across the globe.
The major advantage of this feature on social media is that customers access these online stores with confidence when compared to clicking on third-party links to shop on other stores.
– Focus on prompt delivery
This article will be incomplete if we don't mention prompt delivery while we discuss the retail industry. With rising expectations from customers, retail giants have been constantly focusing on ways to deliver on time and as fast as possible. 
The trend first started with delivery preferred within two days to shifting preferences for the same day delivery. There are e-commerce brands like Amazon's Prime Air that promise delivery within thirty minutes of the order being placed. Moreover, there are also options for delivery by robots and drones. You should note that though same-day delivery is not far from the norm, we will see even more improvised fulfilment technology and standards evolve in 2021.  
– Increased products on personal health and hygiene
2021 is not just about offering the customers seamless customer experiences but also about providing them with the products they need. This pandemic situation has undeniably changed the way customers shop online along with a drastic shift in their purchase priorities. 
According to a report by Accenture this report, 34% of customers increasingly purchased personal hygiene products while cutting down on discretionary categories. This behaviour extended beyond the first lockdown that was imposed. Customers across the globe have begun to focus more on their health. There was a spike in sales of cleaning liquids, sanitisers, and products related to personal care and hygiene. 
Furthermore, these changes in habits will be retained by customers and provide opportunities for brands to augment and modify their offerings based on shifting trends and preferences.
– Offline e-commerce
Have you ever thought about visiting your favourite online stores in person? Well, you will be able to do it this year. A majority of online stores have not seen the need to have a brick-and-mortar store for their customers. Though COVID-19 saw a serious decline in sales in physical stores, several online stores are coming up and have already begun their sales in the high street.
Consider the example of Amazon, which has started to bring the ease of online shopping to physical stores. The Amazon fresh grocery store helps customers make their purchases from physical stores as well as online. It promises same-day delivery along with separate policies for pick up and returns.
2021 will see an increase in the number of such stores being set up.
– Personalisation
Personalisation is the key to success. Customers feel noticed and satisfied when you offer them a product or service they have been looking for. By taking your business to the cloud, you get access to a plethora of features that enable you to gather deep insights on your customers, helping you to build a detailed customer persona.
Personalisation doesn't limit to simply using the name of the customer when they are on your website but extends to predicting the customer's purchase behaviour, shopping trends, recommending products, tracking location, and purchase history. 
Creating this kind of customer persona will help you obtain valuable insights into the customer's demands and personalise their experiences. Furthermore, you can attract customers and boost sales by recommending products and promotions based on their needs rather than giving them generic and mundane information. Personalisation will be an emerging trend in the near future especially in the retail industry.
– Better implementation of AI-driven analytics
Artificial intelligence is a boon for the retail industry. Not just in the year 2020, but even previously AI has helped marketers identify trends and provide what the customers need. AI-driven retailing helps understand customer behaviour, pick particular shopping trends, and helps modify product offerings.
Additionally, it supports recommending products to customers based on their budget and preferences. Thus, it simplifies the task of analysing vast amounts of data significantly. 
The best part of AI-driven analytics is that it improves with the increase in the amount of data. A number of cloud service providers offer their clients features to monitor every activity of their business and their agents. These algorithms keep refining themselves and offer interactive and comprehensive reports that hugely contribute to fine-tuning product offerings.
The year will see an increase in the incorporation of these AI-driven analytics by retail businesses.
– Omnichannel presence
Customers love to choose from a myriad of options. They may approach you from any medium they wish. You should be able to ensure a consistent yet seamless experience for the customer irrespective of the medium chosen. 
For example, today the trend is such that offline store owners maintain a synchronised online store for the convenience of their customers. Again, the trend is that online stores have begun to open offline stores despite the pandemic situation. 
Retailers have begun to embrace the power of Virtual Reality (VR) and Augmented Reality (AR) to maintain consistency in the experiences they deliver. Cloud solutions have enabled a variety of options for businesses to integrate these on different platforms.
Customers who shop online are provided with VR environments to enjoy immersive and feature-rich experiences. On the other hand, offline customers are given options of AR to access product information they have on their shelves of the stores. 
2021 will see a massive convergence of offline and online stores along with the adoption of advanced technologies.
Wrap up
Demands and trends amongst the target audience will keep changing. Business owners should gauge these changes promptly and modify their offerings accordingly. This pandemic has imposed several transformations in the way retail businesses function. The key is to be able to reach out to customers even in the most challenging scenarios, embrace advanced technologies, and remain updated about customer purchase behaviour. 
These will help businesses to earn a competitive edge in the marketplace. Hopefully, the above points will throw light on a few of the trends that will be topping the list in the year 2021.
If you are looking forward to taking your business to the cloud this year, then Acefone might be the answer to all your questions. Connect with one of our experts today at 0800-084-3663 or mail us at [email protected] and explore various cloud solutions for businesses in the retail industry.

Acefone provides a broad range of cloud communication services to businesses of all sizes, which includes Hosted Phone Systems, Free Phone Numbers, and Cloud Contact Center Solutions. Being the UK's leading provider of VoIP service provider, we always strive to provide excellent customer service and high-quality custom solutions to our customers.
https://www.acefone.com/blog/wp-content/uploads/2021/03/2021-trends-in-retail-industry.jpg
376
737
Acefone Editor
https://www.acefone.com/blog/images_acefone/logo.png
Acefone Editor
2021-03-08 12:24:39
2023-03-21 09:41:58
2021 Trends In The Retail Industry To Watch Out For