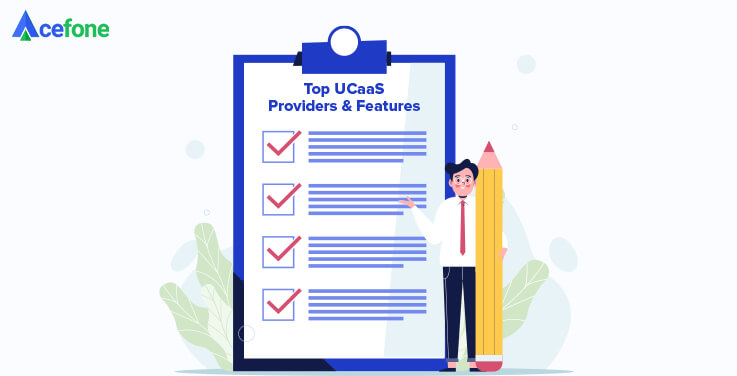 Technology keeps evolving and so do the requirements to stay on par with it. At times, you may outgrow your technological capabilities and need more resources. 
For example, your small business may have functioned exemplarily on a traditional communication system. However, the need for a unified communication platform arises as your workforce grows along with your business. 
An article by Cision PRNewswire estimates that unified communication as a solution (UCaaS) market will be worth $79.9 billion by the year 2024.
Furthermore, the current day scenario of the COVID-19 pandemic has left a deep mark on the way businesses function in the future. You will need to make sure your remote working environment is ready at all times to address emergencies. The business ecosystem should be able to continue its operations even in a distributed environment. This connectedness within the team and organisation is induced by a unified communication solution in place.
However, there are several providers of the unified communication system and it is important that you thoroughly analyse the pros and cons of each provider before finalising. 
So, what are the features that should be looked out for in a Unified Communication as a Service (UCaaS) provider? Let's check them out right away!
1. Check for scalability
Your unified communication system should be able to accommodate the growing needs of your organisation. You may need to meet sudden infrastructural requirements for short-term projects. The unified communication system provider should be able to handle them effortlessly. Even if you need to scale down for any reason, they should always offer the flexibility to do so.
For example, consider that you get an immediate requirement to migrate a particular tool to a completely new technological platform. Your in-house facility does not have the infrastructure suitable for this technology. It may be difficult for you to purchase equipment spontaneously. 
Moreover, you should keep in mind that the risk of underperformance also exists. Furthermore, the purchase of additional hardware or software may be expensive.
Therefore, your unified communication services provider should be able to take charge of this situation. Your provider should be able to equip your enterprise with the required resources to meet this project need. As UCaaS is cloud-based, the provider should work on a pay-as-you-use model. Here, you will be billed additionally only for the extra resources you will use for the particular period. 
This billing pattern will not only save cost but also help you to meet emerging technology requirements.
2. Confirm round-the-clock support availability
Enterprise systems are prone to technical flaws and your communication landscape is no exception to this. Glitches in the system may be due to a manual error or technical malfunction. Whatever be the reason, it should be addressed spontaneously. 
You should check if your unified communication provider maintains a 24x7x365 helpdesk to address technical issues during untimely emergencies. If your problem is not looked into immediately, it may result in a company-wide downtime, interruption in services, thereby hurting your reputation. 
Furthermore, you may check if your provider has a local presence. This is because a few technical concerns are best resolved after a detailed assessment of the facility. You should check if your provider accommodates on-site visits if required. 
3. Ensure a compliant and secure system
With an increasing number of data breaches, regulatory agencies have begun to impose severe penalties on non-compliant businesses. Non-adherence to compliance regulations will leave your communication system exposed to cyber threats. 
Ensure that the UCaaS provider you select always stays updated on the compliance regulations. These regulations differ by industry and the geographical region of your business. Most UCaaS providers are equipped with detailed knowledge on the type of compliance regulations your enterprise will require. Make sure that the provider updates and maintains a compliant communication system.
Enforcing stringent security practices is cardinal. Cyberattacks are on the rise and one major reason for their occurrence is a compromised and unprotected network. Therefore, your communication provider should make sure to employ a few security best practices like the following.
Has secure encryption to communication like end-to-end encryption and secures your passwords and data with a reliable method like bcrypt hashing.

Appropriate firewalls, anti-virus, and anti-malware should be installed in your system. This will help guard confidential information and neutralise vulnerabilities.

A strict password policy should be employed. Employees should be educated about the need to maintain strong passwords. Password secrecy must be highlighted and they should be changed frequently too.

Role-based access to confidential information should be provided. That is access to only the information required to accomplish tasks should be granted. Managers need to be able to decide the level of permission to be granted to each employee. This limits exposure to cyber risks.

Employees should be trained in techniques to identify phishing attempts. Also, they should be educated about avoiding unnecessary downloads and clicking on unknown links from unauthorised sources. 
4. Check for features and the ability to customise
A unified communication system should be able to provide a holistic view of the different business processes. It should include several capabilities to facilitate the free flow of communication across your organisation. 
For example, you should check if your provider offers audio and video conferencing. The communication system should include collaborative tools like instant messaging apps and text messaging. It should also accommodate simultaneous access to business-critical information securely.
In addition to these capabilities, your unified communication system should be unique and based on your organisation setup. For example, if your enterprise has a completely remote workforce, your provider should pay more attention to collaborative tools and work towards improving centralised access to data from anywhere across the globe. 
It may not be useful if the provider focuses on providing state-of-the-art devices for your employees. Though high-end equipment is important, remote workforce primarily depends on their own devices. Therefore, your service provider should keep a check on those aspects to streamline communication between remote employees. 
This way, you should check if your communication system provider can flex based on your individual needs or simply delivers general requirements without understanding specific demands.
5. Evaluate the ability to integrate
The success of a unified communication system lies in its ability to integrate seamlessly with different tools across the organisation. This capability enables you to obtain intuitive insights and information to solve a problem at the earliest possible. Most importantly, it bridges any kind of communication gap between the various teams of the organisation.
For example, consider that one of your customers has applied for a product refund. The customer has also provided feedback about the malfunctioning of the product. To address this situation, the intervention of the sales, finance, and product teams is required. Let us see how the integration of tools will help.
The first step is to verify the identity of the customer and whether the purchase has been made, done by the sales team. They will then check their standard refund policies for eligibility of terms and conditions. If the customer is eligible for a refund, the details are forwarded to the finance team. 
This team will check for the amount and also evaluate if the customer should be provided with a full refund of the amount. As the customer reported a defect in the product, this issue is forwarded to the product and manufacturing team to note discrepancies and take further steps to correct the issue.
A simple refund involves three different teams from your organisation. You must integrate knowledge bases and tools like Customer Relationship Management (CRM) software to facilitate seamless flow of information within the different departments of the company. 
This will not just help in expediting resolutions but also eliminates the chances of data stagnation and the dependency on individual resources, thereby improving transparency across the organisation.
Wrap up
With remote work becoming the norm, many companies are adopting a unified communication solution. This helps break through a siloed working environment and offers centralised access to information. It also helps companies to work as a single entity. However, it is important to select the right UCaaS provider to reap maximum benefits. 
We have provided a sneak peek at what you should be looking at while selecting the right UCaaS provider to overcome communication barriers across your enterprise.
Wish to know more? Call Acefone on 0800-084-3663 or send an email to [email protected].

Olivia is an outgoing person who enjoys writing, is an SEO enthusiast, and often interacts with others in intellectual conversations. She enjoys listening to music in her free time. Connect with her on Linkedin
https://www.acefone.com/blog/wp-content/uploads/2021/04/features-to-look-forward-while-choosing-ucaas-providers.jpg
376
737
Olivia Trott
https://www.acefone.com/blog/images_acefone/logo.png
Olivia Trott
2021-04-19 04:39:21
2023-03-21 08:31:31
5 Features to Look Forward to While Choosing Your UCaaS Providers