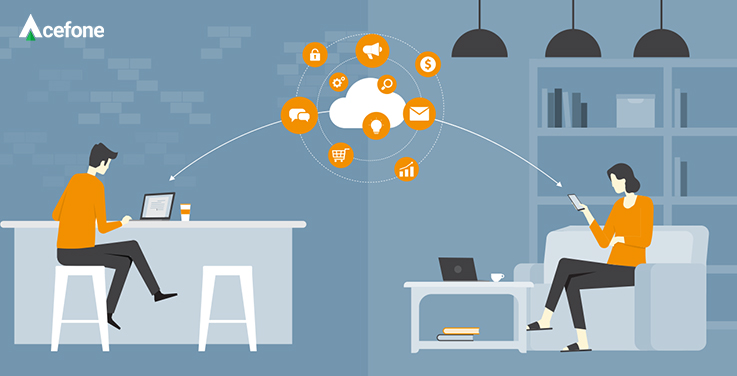 At Acefone, we understand that working from home can be difficult when your staff are used to the office environment.
There are lots of different issues to navigate with your staff, but luckily there are plenty of applications on the market to help you and your staff make the most of your time working from home.
We've put together 4 apps which can help your team adjust to remote working as quickly as possible, helping you maintain efficiency and communications in your team.
Project Management Software
The easiest way to keep everyone up to date on your latest projects is to give your staff access to project management software.
One example is Asana, where staff can assign tasks to other staff members and can provide updates on how they are progressing.
Managers can see all tasks and can follow relevant tasks, add comments, update progress and more right through to completion. 
This type of application gives you useful information and timely updates so you as a manager can keep track of who is responsible for which task and insights into the productivity of your staff members.
It also helps work stay visible and staff stay accountable, rather than work disappearing into lengthy email threads.
Briefs can be left with detailed notes to ensure that staff have everything they need to continue progressing through their projects while working at home.
Asana is just one example of this type of project management software, with plenty of options on the market we would recommend trialling a few to see which works best for your team.
Project management apps work best when staff are using a great CRM system to store all the information they need about your customers too.
CRM Systems
A good CRM system is key to ensuring your staff have everything they need to work remotely.
It should be accessible, easy to use and save all the key information your staff need to know about your customers.
At Acefone, our hosted phone systems integrate seamlessly with many CRM systems, including the popular Salesforce CRM system. 
Salesforce is a robust platform which stores all the information you need to successfully deal with any customer enquiries.
It also encompasses marketing automation tools, so even though your marketing team may be busy working from home and dealing with how to restructure your marketing strategies, customers will still be receiving targeted communications.
This could free up your marketing team to focus on other things, at this extremely busy time. 
As staff can access Salesforce from their own devices with ease, they can easily pull up all the information they need to deliver the same excellent service as when they were in the office.
By using a CRM in this way, there will be no dip in service standards and customers will be impressed by receiving the same excellent and personalised service they did before the crisis.
This will not go unnoticed when the restrictions are over, potentially increasing customer loyalty and the likelihood of them recommending you to someone else.
When your CRM system is combined with your hosted phone system, it is made even more powerful as a tool for delivering amazing customer service.
Hosted Phone System
Of course, a hosted phone system is a must-have for any business who is serious about maintaining customer service standards while staff work remotely.
Hosted phone systems are designed to make remote working an easy reality, giving you the ability to hire temporary staff from anywhere in the world.
This will help you deal with customer queries, manage customer expectations with an IVR system, forward voicemails to your email address and much more!
Working from home is a breeze with a hosted phone system, and your phone system can connect seamlessly to your CRM system so data is available at your fingertips when you need it.
You can also make detailed notes to communicate customer needs with other agents, without being in the room together.
Managers can also keep track of agents work through Acefone's online portal, which gives easy access to analytics such as call times, call recordings, waiting times and more; so managers can continue to coach their teams and keep an eye on productivity at all times.
Further to this, hosted phone systems support internal communication between colleagues too with call conferencing and instant messaging.
Acefone's easy to use online portal helping to increase communication between colleagues and ease any sense of loneliness or being disconnected which can come with agents suddenly being required to work from home. 
Video Calling
With all the above communication and productivity apps in place, it may also help staff morale to have face to face contact through video calling.
Zoom is becoming more and more popular for those working from home to connect with their colleagues either for a structured meeting or just to catch up on what they have been working on at home.
This video calling can provide a much more natural way for teams to talk through their concerns and support each other, and also connects them to their employer again while they are working from home during this pandemic. 
This connection is essential to maintain while teams are working remotely, and can also help any new staff members hired to feel like they are a part of the team although they may not have had any contact with their colleagues before.
If you are looking to maintain the social element of your teams, then Zoom could help you keep building on your team's feeling of togetherness.
Remote working is hard when you have not done this before, but teams can adjust and the apps detailed above can help them through this adjustment period and find a new way of working together.
If you would like more information on how Acefone can help your staff work remotely with a hosted phone system to support your communications, get in touch with our expert VoIP team on 0800-084-3663.

Acefone provides a broad range of cloud communication services to businesses of all sizes, which includes Hosted Phone Systems, Free Phone Numbers, and Cloud Contact Center Solutions. Being the UK's leading provider of VoIP service provider, we always strive to provide excellent customer service and high-quality custom solutions to our customers.
https://www.acefone.com/blog/wp-content/uploads/2020/05/must-have-applications-while-working-remotely.jpg
376
737
Acefone Editor
https://www.acefone.com/blog/images_acefone/logo.png
Acefone Editor
2020-05-06 14:29:47
2021-08-03 14:38:50
4 Must Have Applications While Your Team Is Working Remotely