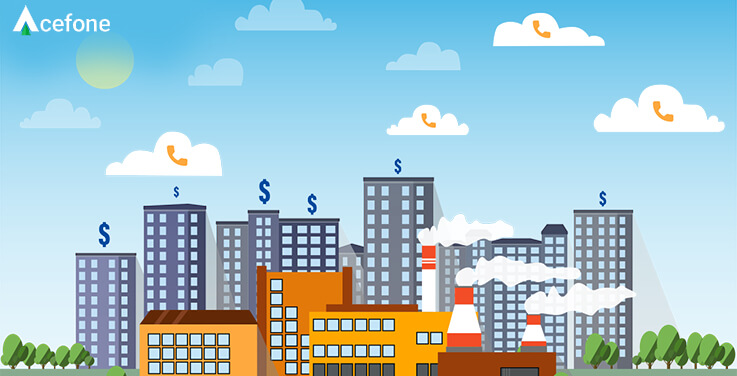 Not-for-profit organisations often take part in a range of activities, dealing with lots of different customer bases—from businesses to supporting people in the community. Therefore, it is important that they have a strong and reliable communication system.
Of course, the cost is a big factor for NPOs since they aim to use as much of their funds as possible to support their clients.
For a cost-effective and reliable communication system, look no further than cloud telephony. With a range of extra features, cloud telephony provides a perfect solution that allows not-for-profit organisations to thrive and grow. Here's how:
1. Connect with anyone, anywhere for less
The daily work of an NPO involves a lot of communication with external funders, businesses, and charities who can be based anywhere in the world. And so, keeping in touch with them can often be costly.
Some not-for-profits also make outbound calls to clients or service users too. The scale of calls required, particularly during a pandemic, means that costs can skyrocket with traditional phone lines. The higher the costs are, the lesser the money that can be invested back into the community. Thus, the need for a more effective solution for NPOs is quite apparent.
As cloud telephony works over an Internet connection rather than a traditional phone line, it is much cheaper to contact anyone—no matter where they are in the world. Employees can call their customers or business partners without worrying about racking up high costs, and the money saved can go towards helping those in need!
Another important element for a not-for-profit organisation is the ability to network. Networking often provides new funding streams for these organisations and so it is important they can do this freely. The low call costs allow easy networking with anyone they want, all over the world, to help them boost their income streams and take down the barriers between them and their next funding source.
With Acefone's online portal, It is easy for organisations to keep on top of their spending. This simple tool allows managers to see exactly what has been spent in any given amount of time, with transparent call costs available at any time. 
2. Boost internal communications 
Quite often, there are many different departments operating within an NPO. It can be difficult for these departments to collaborate if they are busy supporting users, and complicated communication mechanisms make this even more difficult.
With cloud telephony, departments can easily collaborate in a number of ways. Calls between staff are completely free, so it is as simple as calling their extension number and you will be connected to the person you need. The simplicity of cloud telephony means that any member of staff will be able to pick this up without an issue, regardless of their technical knowledge. They can also use whatever device they are comfortable with, meaning no need for complicated desk phones if it doesn't work for your business!
Another useful collaboration tool with cloud telephony is the conference calling feature. Volunteers from around the world can dial into meetings from their own devices and work together to provide updates for easy problem-solving. 
Communications are strong and clear as cloud telephony works through your Internet connection. Therefore, you don't have to deal with any lags or delays. Being able to dial into meetings also means that staff who are on the go don't miss out on important meetings—all they need is their laptop or mobile, and they are connected within seconds.
A further collaboration tool with cloud telephony is call groups. This is useful if you don't need one particular person's help, but you need to contact a whole team or department. An example of this would be in marketing support. There may be multiple people who can support you, so you can simply make a call group wherein the whole team is ringed together and any free member can pick up. This is a great way to increase collaboration across a not-for-profit organisation and ensure that departments share relevant information at the right time.
3. Employees can work on the go
Many not-for-profit organisations have employees who are constantly on the go. They could be out meeting businesses, attending networking events, or any number of other activities pertinent to the running of the organisation. 
To prevent employees from being out of the loop, you can use cloud telephony and use any compatible device which is connected to the internet to connect easily to your phone system. This means that these staff can connect to meetings and access any notes or customer information they might need to assist the client they are visiting.
You can also store important marketing materials, forms, or documents on the phone system; so whoever needs the information can access it quickly and easily, perhaps when visiting a client or business. Cloud telephone systems can also connect with powerful CRM apps, so employees working on the go can update records while they are out, limiting the amount of information which might go missing or be forgotten.
Working on the go is one of the most prominent reasons why many NPOs switch to cloud telephony. These phone systems truly set your employees free from their desks, while ensuring that they still retain that connection to your business without missing a beat. With plenty of remote working features such as voicemail-to-email, call flipping, find/follow, and more, they can represent your business with confidence and ease. They won't become disconnected from any important updates and collaboration opportunities.
4. Keep detailed notes on client enquiries accessible to all
Cloud communication providers often provide an online portal for managing and tracking your office phone system. 
In addition, to call costs and other analytics, the portal has a space for leaving detailed notes about customers on their accounts. These are accessible by any employee you authorise and help with a number of different things—like marketing preferences, information on support the customer is receiving, and more. 
Your employee can access all the information they need to pick up where the last person left off, delivering a seamless service to the people. This is particularly useful during the pandemic when staff are working from home and are not sharing information as they might in the office.
If some caller's enquiry needs a follow-up, call notes make the process much easier and efficient. You can also use them to keep track of people's needs and tailor your services accordingly—the opportunities are endless!
5. Enhance your productivity
The wide range of cloud features provides many ways for employees to enhance their productivity. With easy access to all the information they need from the detailed notes on customer accounts, it is much easier to call a client and engage them in conversation.
As cloud telephony can connect to your CRM, this frees up some staff time since they won't need to input data manually from their phone system. They can use this time more productively to support customers, rather than getting stuck in a cycle of administrative work which might not be the best use of their skills. 
With easy access to anyone in the business through Internal calls and conference calls, employees can have productive meetings with their colleagues with just a few clicks. This open communication and collaboration make employees more productive, as they feel included and connected to the business and their colleagues—even when miles apart.
With crystal clear and reliable communications, cloud telephony can also increase productivity in the sense that more meetings can be conducted over the phone. Whether this is internal or with clients, phone meetings help cut out travel time as well as expenses. This time can be put to better use supporting an extra client or applying for new funding! Not to forget, the cost-saving benefit is of utmost importance.
Get cloud telephony for your business
Your not-for-profit organisation can also benefit from cloud telephony—get in touch today! 
Call us on 0800-084-3663 to get started and explore additional benefits for your business.

Acefone provides a broad range of cloud communication services to businesses of all sizes, which includes Hosted Phone Systems, Free Phone Numbers, and Cloud Contact Center Solutions. Being the UK's leading provider of VoIP service provider, we always strive to provide excellent customer service and high-quality custom solutions to our customers.
https://www.acefone.com/blog/wp-content/uploads/2021/04/how-npo-can-benefit-from-cloud-telephony.jpg
376
737
Acefone Editor
https://www.acefone.com/blog/images_acefone/logo.png
Acefone Editor
2021-04-01 08:32:11
2023-03-21 08:36:36
How Not-for-Profit Organisations can Benefit from Cloud Telephony?