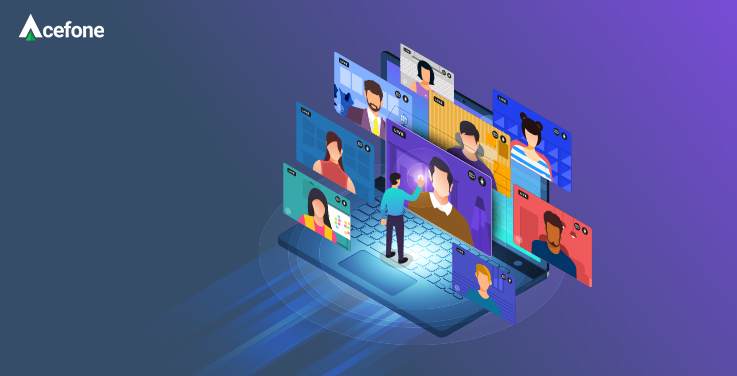 Nowadays, working from home is becoming a common practice among businesses.
Though it can be an effective strategy, there is a chance of it falling apart if proper communication among the team members is absent.
Thus, to eliminate the chances of that happening, many organisations take different measures to ensure the connectivity among the team members.
This includes a variety of communication ways such as internal chats in the organisation, exchange of information over e-mails, having one to one conversations, etc.
One such method is Call Conferencing. Conference calling is without a doubt, one of the best practices for businesses to keep the team connected.
Below are some benefits of implementing call conference among your team members.
Always Stay in Touch
Conference calls allow multiple people to hold a meeting to have valuable discussions and conversations.
It not only brings the whole team together at the same time, but it also opens a way for cross-team interactions.
The ability of conference calling to bring a large number of people in a single call makes it possible for different teams to interact with each other and connect whenever needed.
For managers and team leaders, call conferencing makes it easier to give a message to the whole team instead of connecting to each member separately.
Holding regular conference calls is one of the best ways to keep the team connected and updated with each other.
Even video calls can be organised to make everyone feel as if they are present in an actual conference.
Keep The Office Culture Alive
Managers can pass down important notices and information to the whole team, or different teams, at the same time implying official vibe.
Just like in the office premises, employees can interact with each other and raise questions and follow-up questions in case of any doubt or confusion.
Via conference calls, a manager can even announce credits and praises for the better performing employee so that they feel motivated even when they are located remotely.
A conference call can simply be assumed as a normal conference meeting that takes place in an office and participation of all the employees present in the call is appreciated in similar ways.
This makes the employees feel less disconnected with their colleagues and organisation, and even while working remotely, they feel like actively being connected with the team.
If an employee comes up with an idea that can benefit the team, it is better that they discuss it over a conference call rather than a mail thread.
It is difficult to decipher the tone of a person over a written mail which can cause misunderstanding within the team.
However,  during a call, the tone and feelings of a person are more clear which allows efficient communication.
It is also a great way to exchange thoughts with the team and take feedbacks from one another to improve the overall performance.
An effective communication between the team members can drastically affect their performance in a positive way.
Managers can even organise casual conference calls to relieve stress without the employees working remotely and just exchange their views about the company's strategies and plans.
Casual meetings like these are a good way to encourage a more friendly and comfortable environment within the team and helps increase the team's bonding and collaboration spirit.
Solve Each Other's Problems
If an employee has any kind of problem, they tend to turn to their colleagues for help.
However, most of the times an employee alone is not able to solve a problem, and they often discuss it within a group to find a suitable solution.
Without a conference call, if an employee is working from home and encounters an issue, he might have to call everyone individually, which will end up wasting a lot of time.
Just one conference call among a few employees can help solve the issue a lot faster, not only saving time for everyone but also increasing the cooperation.
If a new technology or application is introduced in the organisation, managers or the technical team can easily explain its uses and working and also solve queries over a conference call.
Keep The Team Organised
Keeping the team organised is one of the major issues while working remotely.
It is hard for managers to keep track of everyone's activity, and they might often lose track of the progress of each employee's work, and how they should assist them in continuing further.
However, with conference calling, this complicated task becomes much simpler.
Managers and team leaders can discuss the work plan, set priorities for a project, discuss the expected issues that the team might face during a project, ask about everyone's progress at the same time making it easier for them to assign roles accordingly, etc.
It becomes simple for the managers to analyse the position of each team member better and provide them suitable roles while being on a conference call with the team.
This not only makes the managers work easy, but it also allows the employees to be more productive.
Bottom Line
Call Conferencing is a must-have feature for any business that has a remote team.
It is not only essential for any team to have uninterrupted communication, but it is also crucial for them to feel the office environment to maintain the workflow.
Conference calling ensures that no matter where your team members are located around the globe, they will always feel like working together as a group.
This induces collaboration in the team which eventually leads to better results and performance for every employee.
Even managers feel more empowered when they can connect with their team without any hassle and keep the work culture intact.
Acefone provides cloud communication solutions for business that provide uninterrupted conference calling for your team ensuring your business seamless communication, always. Contact an expert at 0800-084-3663 to get your business the communication it needs.

Ratnam is an SEO enthusiast and content writer working as a Digital Marketer with Acefone. He is fond of traveling and new experiences. He is a huge Marvel fan and is always open to learning.
https://www.acefone.com/blog/wp-content/uploads/2020/05/how-call-conferencing-keeps-your-team-connected.jpg
376
737
Ratnam Sinha
https://www.acefone.com/blog/images_acefone/logo.png
Ratnam Sinha
2020-05-15 13:40:03
2022-04-25 10:57:13
How Call Conference Keeps Your Team Connected